UCLA to offer free mental health screening services to new students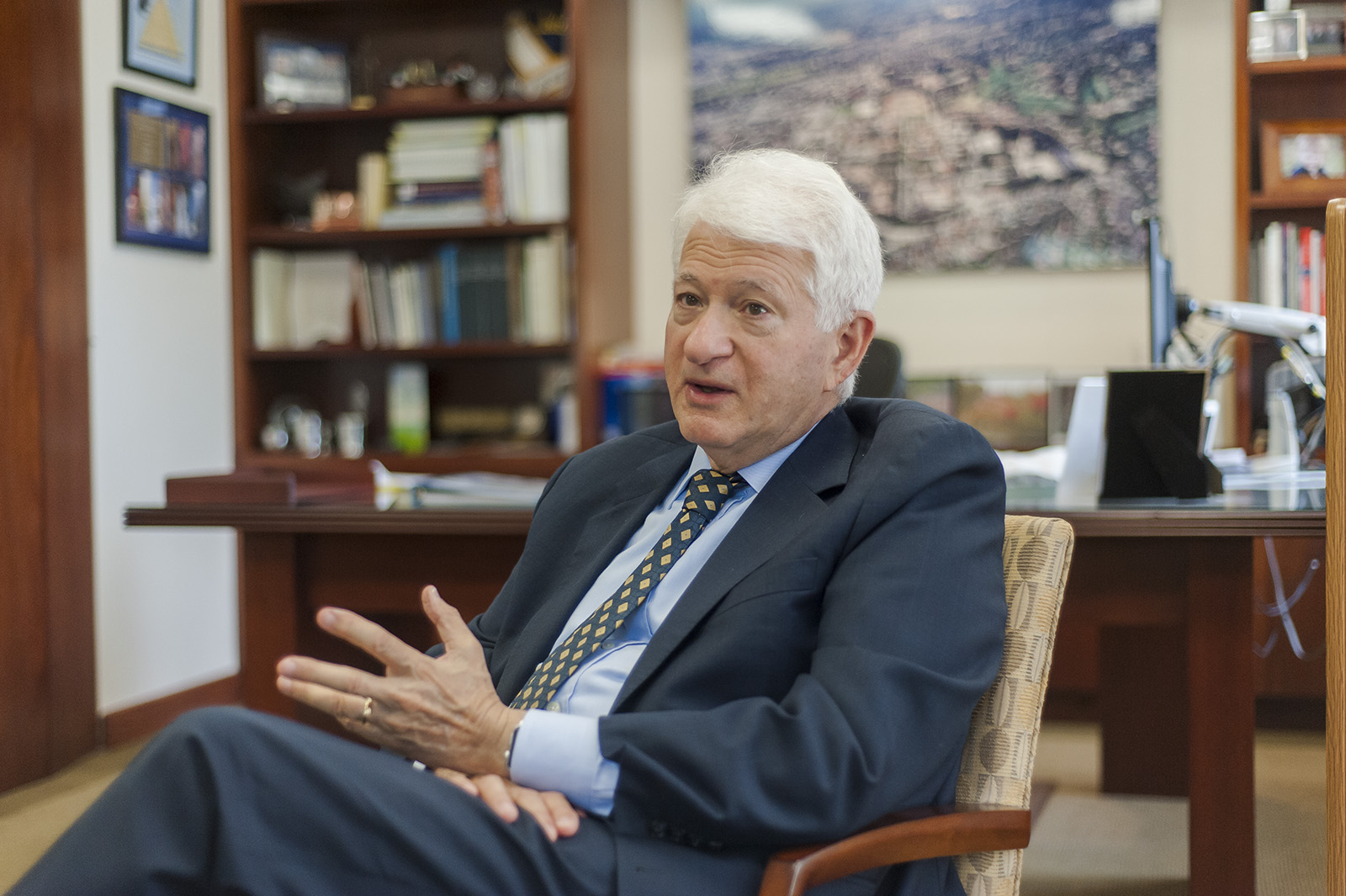 Chancellor Gene Block announced the UCLA Depression Grand Challenge, an initiative to change the perception and treatment of mental illness and provide free mental health screenings to incoming freshmen and transfer students. (Owen Emerson/Daily Bruin senior staff)
UCLA will now be offering free mental health screenings to all incoming freshmen and transfer students, Chancellor Gene Block announced Thursday.
In a speech at the One Mind Initiative at Work summit, a conference on mental health and wellness, Block said that students who choose to participate in the screenings will be examined for various mental health conditions, including depression, anxiety and suicidal tendencies. He added that students will also be provided treatment if necessary.
"We've conducted pilot studies that convinces us this was doable, and that we could, and should, roll this out in a big way," he said.
The screenings are part of the UCLA Depression Grand Challenge, a research initiative launched in 2015 aiming to decrease the economic and health impact of depression by 50 percent by 2050.
"With the Depression Grand Challenge, we are aiming for nothing less than a transformation in how depression is detected, diagnosed and treated," he said. "And as we develop these new tools, we will use them first to help our own students, staff and faculty."
Block said the screenings will involve an internet-based therapy treatment calibrated for individual patients to track their progress, and will provide data for researchers on depression and mental health.
The screenings will be funded through federal grants, philanthropic donations and private investments, said UCLA spokesperson Brian Haas.
Christina Lee, Student Wellness commissioner in the undergraduate student government, said she thinks the screenings are like a normal checkup and will help normalize mental health care.
"Mental health is something everyone has, and everyone needs to check up on," she said. "Mental health isn't something to be addressed only when it's serious, and the screenings provide preventative care."
Lee added the Resilience Peer Network, another part of the Depression Grand Challenge, provides peer-to-peer counseling outside of a clinical setting for students with depression.
"The experience can be relatable and rewarding because you have similar peers around you going through the same thing," Lee said. "Students with that common ground can connect on a deeper level."
Incoming students will be invited to take the screenings over the next few weeks, according to a UCLA press release. Haas said the university will send emails to students with details on how to sign up for screenings. The screenings will eventually become available to the entire campus community.
This post was updated on
Nakahara is the assistant news editor for the science and health beat. She was previously a contributor for the science and health beat.
Nakahara is the assistant news editor for the science and health beat. She was previously a contributor for the science and health beat.