UCLA faculty members protest, discuss DACA decision in demonstration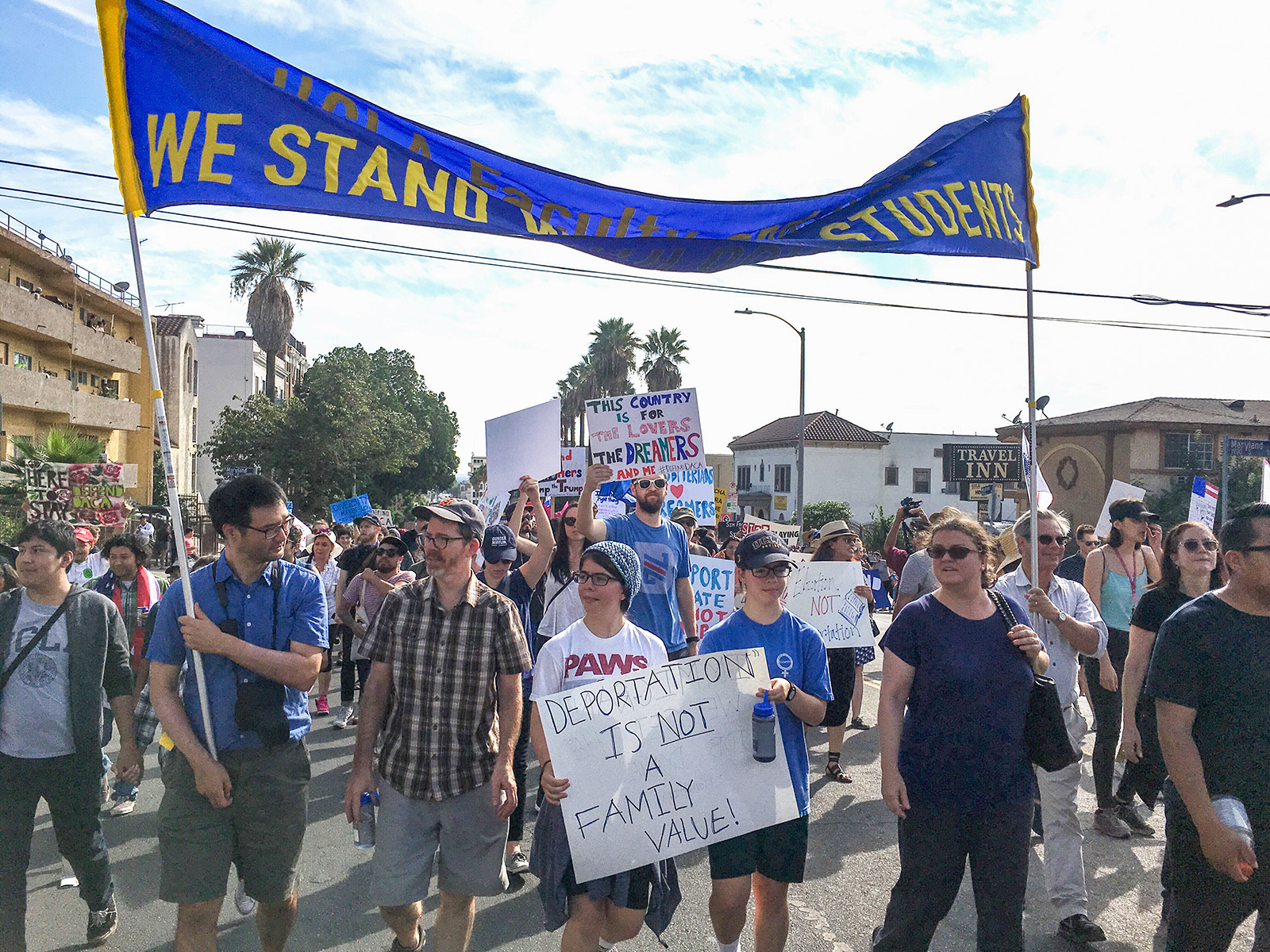 UCLA faculty and staff joined hundreds of others in marching in support of undocumented individuals at a protest in downtown Los Angeles on Sunday.(Sharon Zhen/Daily Bruin senior staff)
Sept. 10, 2017 10:04 p.m.
Jorge Herrera migrated to the United State at the age of 4, and he did not think he would go to college.
"In my head I would (ask) myself what was the point of me going to college if I couldn't put my degree to work," he said.
However, the Deferred Action for Childhood Arrivals program allowed him to work legally in the U.S., and paved the way for him to go to UCLA and graduate with honors.
On Sunday, Herrera, along with UCLA community members and hundreds of others, marched from MacArthur Park to Echo Park in downtown Los Angeles in support of DACA.
"I'm here to show my presence in the march … to defend DACA," Herrera said. "I am a DACA recipient myself so I feel like it's my obligation to be here."
On Tuesday, President Donald Trump announced he is ending DACA after six months. DACA, enacted by former President Barack Obama in 2012, has helped thousands of undocumented individuals procure the documentation necessary to get jobs, open bank accounts and obtain driver's licenses in certain states. The University of California filed a lawsuit Friday against the Trump administration, challenging the constitutionality of the decision to end the program.
Dozens of faculty members, staff and alumni gathered at the UCLA Labor Center before the protest to view an exhibit of students who are DACA recipients and their stories. The multimedia exhibit, which featured visual art, told the stories of students who have migrated to the United States as children, sometimes unaccompanied.
The UCLA Labor Center, normally open Monday through Fridays, decided to open its doors Sunday because it was across the street from MacArthur Park, where the protest was taking place, said Abel Valenzuela Jr., professor of Chicana studies and urban planning and director of the UCLA Institute for Research on Labor and Employment.
"(We) thought (the Labor Center) would be a great space to use to get faculty to look at our exhibit that's highlighting the undocumented students and leaders, and to introduce them to some of the great work we do at the Labor Center," Valenzuela said.
Raúl Hinojosa-Ojeda, a professor of Chicana/o studies who participated in the protest, said he thinks President Trump's decision to end DACA is absurd.
"The very notion of thinking you could deport more than 800,000 of exactly the best and the brightest is wrong," he said.
He added that his research shows deporting DACA recipients would reduce economic activity by about $170 billion a year.
"It's potentially leading to a bankrupting of the U.S. economy, clearly a bankrupting of the spiritual and idealist quality of the country," he said.
Michael Chwe, a professor of political science at UCLA, said he thinks it is important to show support for the rights of immigrants.
"We have to protect those people and fight for DACA and passage of the new Dream Act," he said. "This administration is just beating up on people … it's not just about DACA students, it's about trying to protect the most vulnerable around us."
The Dream Act is a proposed law that would guarantee a pathway to citizenship for DACA recipients.
Namhee Lee, professor of Asian languages and cultures at UCLA, said she thinks it is a tragedy that close to a million people would possibly face deportation and separation from family members.
"As someone who studies modern Korean history, which had a very tragic history of separation of millions of family members … I think I know the pain of the separated families," she said. "I know the place of immigrants in American history, the contributions that immigrants make, and I believe DACA students should have the right to stay here in the U.S."
Ana Luz Gonzalez, a lecturer for the UCLA Institute for Research on Labor and Employment, said she thinks undocumented students are among the most hard working students she knows.
"I'm here to show my support and have (students) know that we support their dreams, their hopes and that we also are looking out for their future," she said. "They sacrifice, they work multiple jobs so they could go to school and be able to help their families."
Herrera said that before Trump ended DACA, he and his family were saving money to buy a home, but he is no longer sure if he will be able to do so any more.
"(When DACA ended) I think it was very devastating for myself and I think for my parents as well, Herrera said. "We were building on goals, and out of nowhere you slowly see them slipping away from us."
Zhen is an assistant news editor for the national and higher education beat. She was previously a contributor for the campus politics beat and an online contributor.
Zhen is an assistant news editor for the national and higher education beat. She was previously a contributor for the campus politics beat and an online contributor.