Panel of immigration lawyers, university staff discuss Trump ending DACA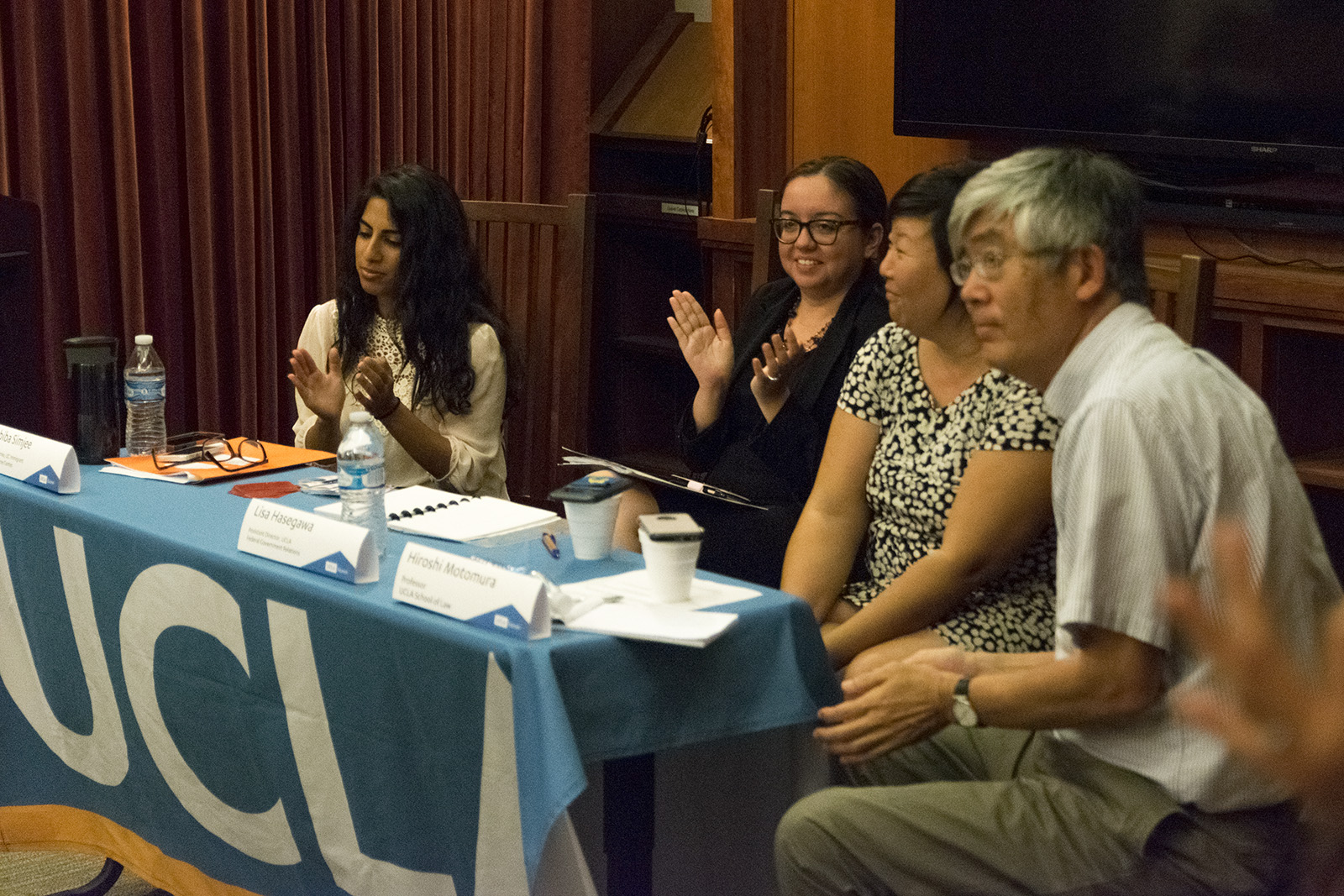 At a Thursday panel organized by the Undocumented Alumni Association, immigration lawyers and university staff said that although Deferred Action for Childhood Arrivals has ended, there are still resources available to support undocumented students.
(Michael Zshornack/Photo editor)
September 10, 2017 11:22 pm
Immigration lawyers and university staff discussed the impact of President Donald Trump's decision to end a program that deferred deportation for thousands of undocumented individuals at a panel Thursday.
On Tuesday, Trump ended Deferred Action for Childhood Arrivals, a program enacted by former President Barack Obama in 2012 that deferred deportations for undocumented individuals brought to the United States as children. The program helped thousands of undocumented individuals receive work permits, open bank accounts and obtain driver's licenses in certain states.
At the panel, organized by the UCLA Undocumented Alumni Association, immigration lawyers and experts talked about resources undocumented individuals can access and efforts to support DACA recipients.
Habiba Simjee, staff attorney at the Bruin Resource Center, said new applicants can no longer apply for DACA. However, individuals whose DACA work permit expires between Sept. 5, 2017 to March 5, 2018, can still renew their permit before Oct. 5, 2017, she said.
Undocumented students and family members are eligible to receive free direct legal service at the Bruin Resource Center, Simjee added. She said the resource center can also help students see if they qualify for other forms of immigration relief.
Other forms of relief undocumented individuals could receive include family petitions and the U Visa, Simjee said. Family petitions allow U.S. citizens to petition for their foreign family members to reside in the U.S., and the U Visa is for undocumented victims of crime who cooperate with law enforcement.
Simjee said that although DACA has ended, employers cannot terminate DACA recipients' employment as long as their work authorization is still active.
"An employer is only responsible for reverifying employment authorization when the employment authorization document is actually expiring," Simijee said.
Simjee added that state laws allowing undocumented students to attend state colleges and receive in-state tuition still apply.
Ignacia Rodriguez, a UCLA law alumna who works at National Immigration Law Center, said the center will represent undocumented clients and employees in a lawsuit that 15 states and the District of Columbia have filed against the Trump administration for terminating DACA.
Lawsuits against the ending of DACA can help mobilize political support for the program, said Hiroshi Motomura, an immigration law professor at the UCLA School of Law.
"Lawsuits play in movements to … create spaces where communities and advocates can get involved," Motomura said.
"(Undocumented people) will not be used as a bargaining chip for political gains," she said.
Lisa Hasegawa, the assistant director for the Office of Federal Relations at UCLA, said her office, which works with members of Congress, can help advocate on behalf of undocumented students. She added Sen. Kamala Harris and Rep. Ted Lieu plan to hold events with undocumented students at UCLA.
Hasegawa said her office will maintain relations with California's Congressional delegation, including Republicans, to advocate for undocumented students.
"(We) will use any means possible to get our message to anyone," Hasegawa said. "(In order) to have bipartisan support (our) role is to meet with Republicans and folks who are willing to listen to us and to different sides of the story."
Zhen is an assistant news editor for the national and higher education beat. She was previously a contributor for the campus politics beat and an online contributor.
Zhen is an assistant news editor for the national and higher education beat. She was previously a contributor for the campus politics beat and an online contributor.