Q&A: UCLA staff member explains importance of sun in light of the eclipse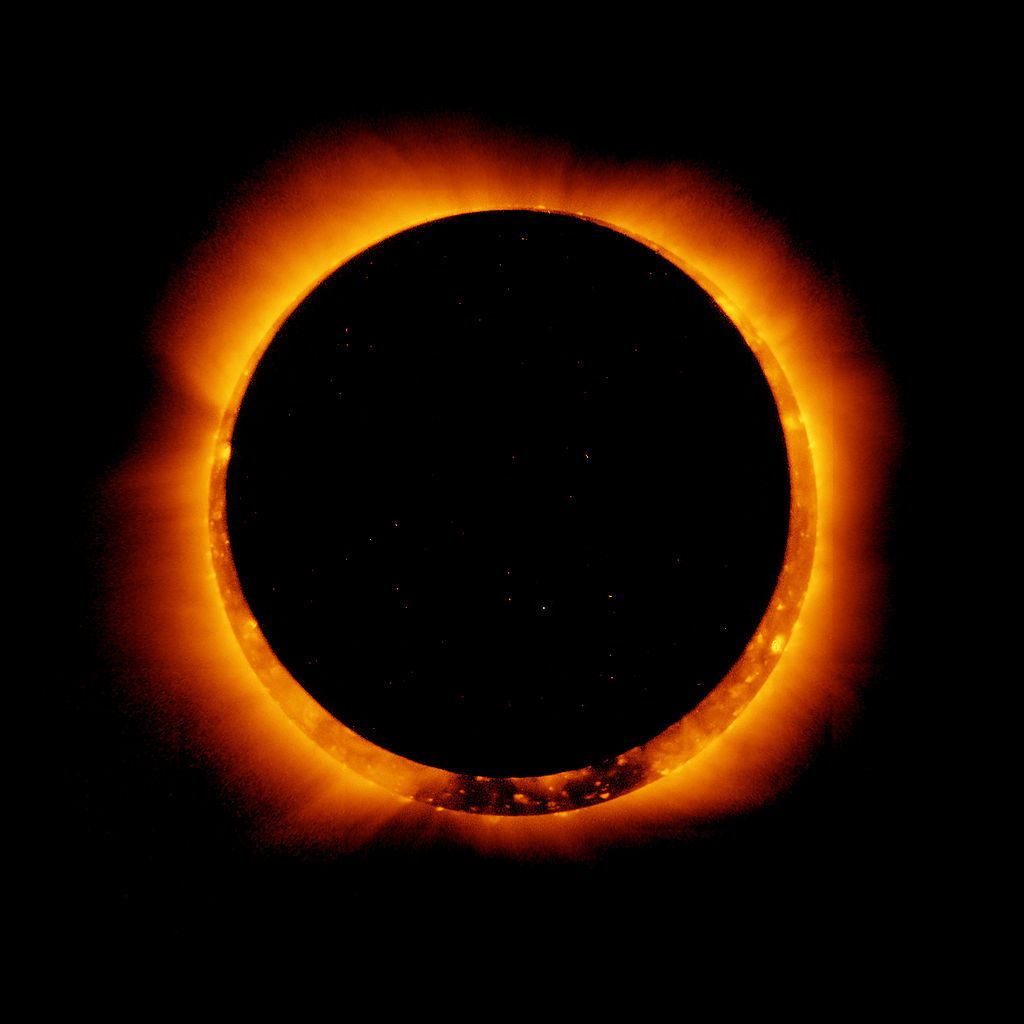 Those attending the "The Great UCLA Eclipse" on Monday morning can learn about and view the eclipse through safe viewing glasses and telescopes. (NASA)
A total solar eclipse will pass through the United States on Monday. Although Los Angeles is not under its path of totality, or the area where the moon will completely block the sun, the UCLA community will be able to view a partial solar eclipse on campus.
Emmanuel Masongsong, the earth, planetary and space sciences department's administrative specialist, has organized "The Great UCLA Eclipse," the largest solar outreach event by the department. From 9:30 a.m. – 11:30 a.m. in the Court of Sciences, students and community members will be able to see the sun through safe viewing glasses and telescopes, learn about basic space science and talk to earth, planetary and space sciences professors and researchers. The event will also be streamed in real time on the UCLA Facebook page.
The Daily Bruin's Evolet Chiu spoke with Masongsong to discuss the safety measures students should take when viewing such celestial events and the importance of space weather.
Daily Bruin: What are you hoping to achieve with this viewing event?
Emmanuel Masongsong: I want students to learn more about how our sun is constantly changing and how it sends out material that can affect our modern society and technology via its solar wind. The sun is not just out there – it is connected to our planet. For example, satellites, GPS and radio communications that we take for granted could be disrupted during a solar storm; automated cars could veer off track and cause accidents. I hope people can start to become aware of solar storms and the hazards they pose.
DB: What can students expect at this event?
EM: We will have about 10 telescopes set up to look at the sun in white light, and hydrogen filters to see the surface and shape of the sun and moon in more detail. On the edge of the sun, there are solar materials that fly off in ribbons and flares. It is a really exciting chance for people to see how dynamic our star is and how it affects us in so many different ways. We will have different exhibits and demonstrations about the eclipse, and students will also have a good chance to see our meteorite collection, which is the fifth largest in the United States and second largest at any university. It will be pretty magical to see such a rare celestial event and then see space rocks.
DB: How can students view the eclipse safely?
EM: People should never ever look at the sun directly, even briefly. Any continuous view of the sun can cause permanent eye damage. We will be providing some viewing glasses that have a special filter to block out 99.99 percent of the sun's damaging light. Even if it is tempting, make sure not to look up to view the eclipse with your bare eyes.
DB: What kind of research is UCLA conducting in the field of space research?
EM: We are doing lots of research on climate change, weather and atmosphere, and satellite engineering to study conditions in space. We have satellites around the moon, which discovered that there was ice at the north and south poles of the moon, and are involved with next summer's launch of (the) Parker Solar Probe, which will be the closest that any satellite has gotten to the sun. Additionally, we are launching (the Electron Losses and Fields Investigation) next fall, which will be UCLA's first satellite built on campus by undergraduate students, engineers and technical staff. UCLA is just rich with this research, and it is an exciting time to realize that there is more out there than just what we experience on a daily basis.