Q&A: New track and field director Avery Anderson talks UCLA legacy, future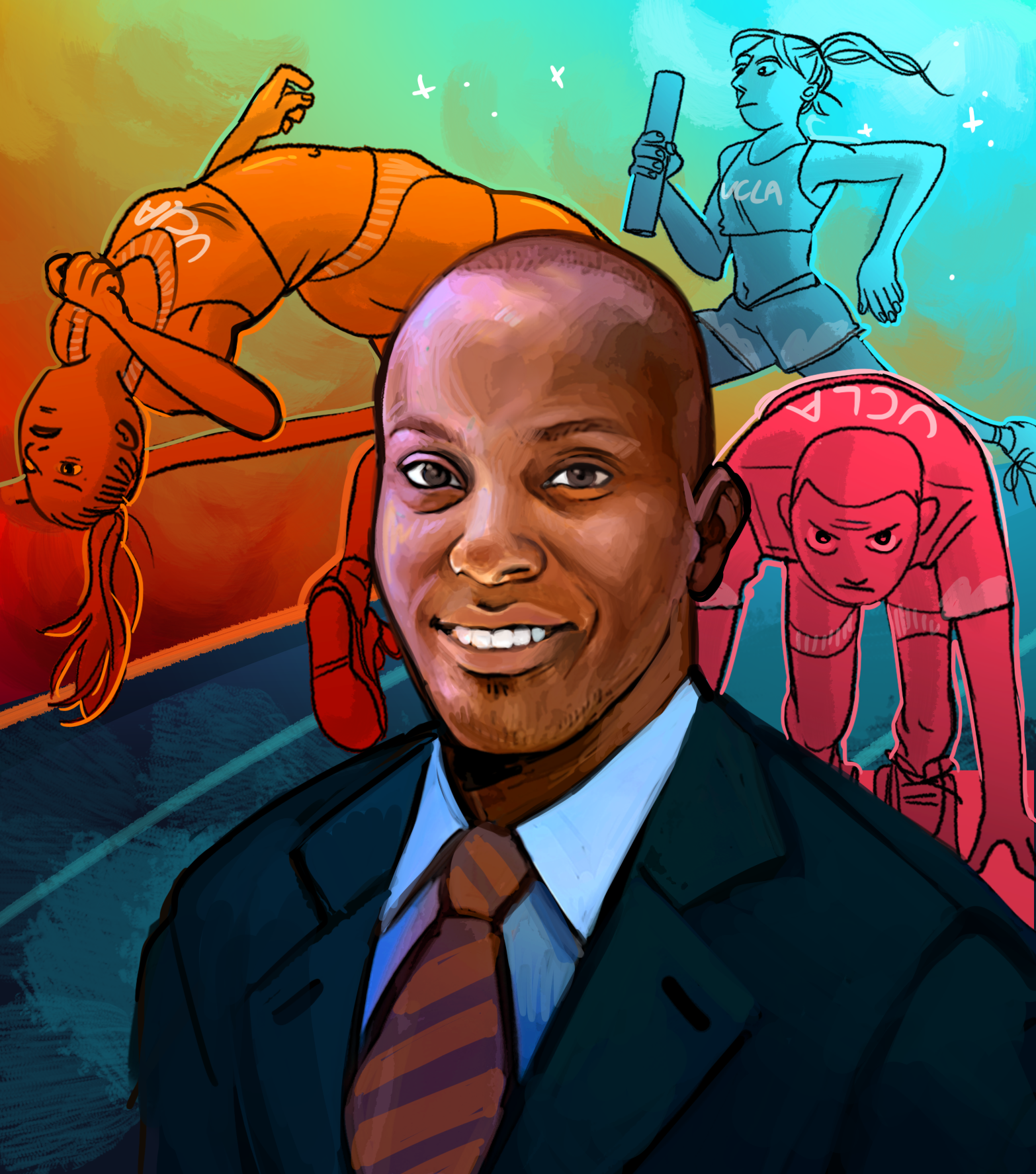 Alumnus Avery Anderson returns to UCLA after more than two decades, not as an athlete, but as the new director track and field. (Juliette Le Saint/Illustrations director)
UCLA track and field sent more athletes to the NCAA Outdoor Championships this season than it had in any year since 2004. However, 2017 hardly resembles the 20th-century glory days that saw both teams place in the top-10 – if not the top-five – nearly every year.
The new director of track and field and cross country Avery Anderson competed in Westwood alongside dozens of internationally renown legends of the sport from 1992 to 1996, and Daily Bruin Sports had the opportunity to catch up with Cal State Northridge's former director on what the past culture was like at UCLA and how he plans to reshape the program.
Daily Bruin Sports: What does it mean to you to be the director of your own alma mater's program? Did you ever see yourself in (former coach Bob) Larsen's shoes?
Avery Anderson: No, it's absolutely incredible. It's hard to describe – it's still surreal. I've been here a few weeks now, but it's an awesome feeling to know that I'm able to come back and charged with bringing the program back to the caliber it was when I was here as a student-athlete. I just always knew it to be the best program out there. That's what I see, and so I'm excited to get the opportunity to do that and lead us back there.
DB: What was the culture like for UCLA track and field back then? Is it similar or different now?
AA: It's definitely different now. I think the excitement of that time was kind of unrealized every moment when you go out to practice every day and you live through the days, and the weeks, and the months and the whole season. We knew that it was something special, but even looking back it was far more special.
I don't think that culture and atmosphere and environment will ever necessarily be duplicated – I think that what we'll do when we get back to the top is going to be in a different way. The difference is, then, you had the men as a team and the women as a team and those were separate programs, but you had legends on opposite sides of the track.
John Smith was the sprint coach and hurdle coach; Bob Kersee was sprints, hurdles, jumps coach on the other side. Some coaches shared duties, (like coaches) Art Venegas and Bob Larsen. So I think just the caliber of the athletes that were on the campus at the time and on the track and even working on opposite sides of the track – it was pretty awesome to see and take in. Now looking back, I'll know that that's what existed then. I think we'll get back to that point, but we're not there right now. It's different now.
DB: What do you see as the future of UCLA track and field culture then?
AA: I think that the accomplishments can be duplicated; I have actually every intention on even surpassing the accomplishments. But when you look back and you realize I was training with (Olympic long jumper and heptathlete) Jackie Joyner-Kersee, that's something that I think will be duplicated, in the sense that we'll have elite athletes of that caliber; we'll have Olympic champions and world champions and world record holders, but I think the era was different.
When you have the (Olympic sprinter and hurdler) Gail Devers and the on and on and on, (Olympic hurdler) Kevin Young and people like that, I think that those caliber athletes are what UCLA track and field is. I think that's what we'll get back to, and I hope we supersede some of what happened.
The couple championships that were won I want to be many more. I think there's a different way that it's going to happen. The basics are the same – bring athletes in, you coach them, and you win – but I think the day and age of track and field now is going to require a different method.
DB: Is that just because the sport is so much bigger now than it was in the '90s, or are there other factors as to why it's going to require different methods?
AA: It's a bigger sport. I think, worldwide, it was always that way. In the U.S. now it's more college-focused, whereas when I was growing up it was the Carl Lewises and the Evelyn Ashfords, and the people were the professionals, and you had the great college teams of UCLA and USC, but not on a national scale. …The sport now in the U.S., I think, is really college focused.
Even though there are the professional athletes that still aspire to go to the world championships, there are a lot of college athletes that are doing that, and back then there weren't as many. But the sport, the knowledge, the science of it, it's enhanced at the college level. I think that's where the development is happening, to take that step from high school to elite, so I think that's one of the challenges right now that exists.
DB: What's your analysis of why the program has gone downhill since then, and what do you plan on doing to get it back up there?
AA: I don't want to look back in a way that might come across as criticizing; I really want to focus on moving forward. There are things that I see and I have an opinion about, but I wasn't sitting in (the director's) chair, so I really don't want to comment on too much of it.
But in ways that I see moving forward, it's about excellence. This is the best university in the world to me and, I think athletically and academically, the balance is that we have to be what UCLA is, and that's compete on a level of excellence. That includes recruiting the right student-athlete – and that means the character of the person, the student and the athlete all have to be a mesh that makes it so that we're on the same page of achieving excellence, and that's kind of where you start.
And then the coaches: There has to be the same level of expectation with the coaching staff – for myself, but also my assistant coaches. We have to understand that the standard is a lot higher than maybe it's been and that's where we're going as we move forward. So we coach student-athletes, including mentoring them as young people to develop into the most successful person they can be. A big part of that is going to be their athletic development, and we're aspiring to great heights with that. There's, I think, no limit to where we can reach. But I know we're not going to have a standard so low that there's room for the program to exist where it has.
DB: What was your favorite memory from when you were an athlete in the program?
AA: That's a good question. There's a lot. It's funny because it's really the experience, and that's a memory that's broad – it's specific but it's broad. It's being at practice, it's being around the team. A lot of it is centered on what I remember about practice in that corner at Drake Stadium, but also on that bus and on that plane and at that track meet. So really it was the experience, the overall experience with the teams that we had and the great people.
Some of them were great athletes, but a lot of them were great people. The coaching staff then (are) still great friends of mine now, and great mentors and great leaders. I think that's the thing that I'd say was one of my favorite memory was just the experience.
DB: Academically and athletically, you said you want to draw the best people here. What's your pitch to get those type of athletes here?
AA: I don't want to give you my secrets (laughs), but honestly it's just what I mentioned. There's a level of expectation that we'll have and it just operates on the side of being excellent, being great. Like I said, this is the best university in the world, we're in the best city in the world, we're in the best location in that city, we have the best facility in the country in my opinion. All of these things align with one common theme, and that's "the best." That's what the pitch is: This is the best, you want to be the best, (and) it's here for you in Westwood.
DB: This is a kicker, but in about a span of a week or so this past month, UCLA had (men's sprints coach Darrell) Smith go, (NCAA 400-meter-hurdles runner-up) Rai Benjamin transfer to USC, (NCAA 110-meter-hurdles qualifier) Misana Viltz transfer to Cal and (sprinter) Angie Annelus go to USC with Rai. Does that present any obstacles going forward as far as sprints go?
AA: You know, I realize why that looks like it presents an obstacle, and obviously, it's an obstacle when you lose talent like that. Before they transferred, I did meet with all of them. We had a great conversation. Them transferring had nothing to do with me personally; I understand that and they were clear about that. That's just where they were with the experience they had here, up to that point before I got here.
But in terms of the overall mission of UCLA track and overall goal in the long run, it doesn't present as much of an obstacle as it would if you have people who are here who don't want to be here. That's a bigger problem. This is UCLA; if a person does not want to be here, then they're free to leave. There's not going to be many people that fit that bill, and so those athletes that decided to transfer, I can only wish them the best. I don't have any ill will toward them; I'm going to cheer for them and root for them and things like that, but it's not going to stop what we're going to do.
Our mission to be the greatest track and field entity in the world, that's what I'm about. And that is going to be inclusive of people that want to be here and are on board; and those that aren't, it's ok.
DB: We've talked a lot about track, but the second half to the job is cross country. The men are coming off one of their best seasons last year; what do you expect from cross country this fall?
AA: I think that momentum that's been built is what we expect to keep going. We're in different places on the men and women's side, but I think the goal will still be the same – we want both teams to get into the national championship meet, run as well as they can, and, through the season, build.
There's a lot more focus on doing better this year than we have in a long time, on the part of the student-athletes. And I know coaching-wise … what we're looking at is how we navigate the season and to be as good as we can nationally.
Email Hull at [email protected] or tweet @michaelchull.
Hull joined the Bruin as a freshman in 2015 and contributed until 2017. He was an assistant Sports editor for the 2016-2017 academic year and spent time on the men's water polo, women's water polo, women's soccer, track and field and rowing beats.
Hull joined the Bruin as a freshman in 2015 and contributed until 2017. He was an assistant Sports editor for the 2016-2017 academic year and spent time on the men's water polo, women's water polo, women's soccer, track and field and rowing beats.