Amazon opens location in Westwood with added benefits for Prime members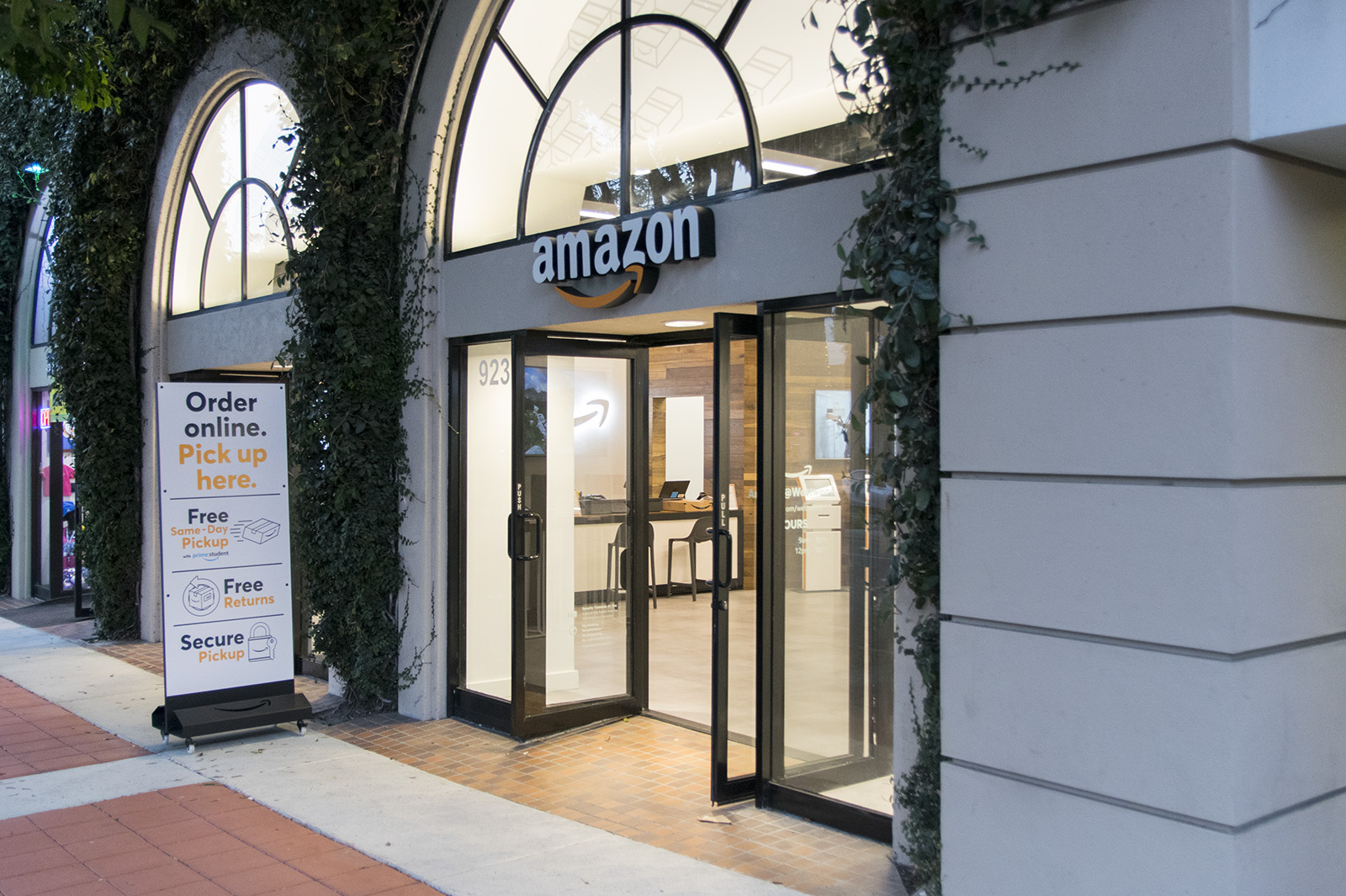 Amazon opened a pickup location in Westwood on Tuesday. Students with Amazon Prime and Prime Student can receive same-day pickup on items ordered and shipped to this location before noon. (Michael Zshornack/Photo editor)
Students can now receive textbook orders from Amazon within a day at Westwood Village's latest offering.
Amazon opened a staffed pickup location Tuesday on Westwood Boulevard. Members of Amazon Prime and Prime Student receive free same-day pickup on items they ship to this location if they place their orders before noon, said Carly Golden, an Amazon spokesperson.
Golden said the location also features a device station, where people can try out Amazon products like the Kindle, the Fire TV Stick and the Echo. Customers can also return items purchased online at the location.
"Amazon is a huge presence in all of our lives," said Andrew Thomas, executive director of the Westwood Village Improvement Association. "A brick-and-mortar location will be a great presence in our community."
Golden said this is the 21st staffed pickup location Amazon has opened near a college campus. Other campus locations include UC Berkeley, UC Davis, the University of Texas at Austin and the University of Pennsylvania.
"When you're a student on the go, nothing is more important than getting the things you need, when you need them," Golden added.
Yusrah Ishtiaq, a rising third-year biology student, said she thinks the location will eliminate the stress of waiting for a textbook or having to deal with lost or stolen packages.
"I'm definitely going to use this facility often," Ishtiaq said. "I use Amazon for a lot of things."
Henna Dialani, a rising third-year statistics student, said she thinks the location's quick delivery will result in increased competition for the UCLA Store.
"It's going to give students more choice in buying things like books and clothes," she added.
Dialani added she might check out the store's device station, because she is interested in buying a Kindle.
"(The location) is spreading the brand name of Amazon devices, because it's like a showroom for (them)," said Anjali Revanur, a rising third-year psychobiology student.
Thomas said he thinks the store's easy access to parking makes it convenient for individuals in Westwood.
Revanur said she thinks the store will further business for Amazon among UCLA students.
"I think more people will consider getting Prime for the number of benefits (the store would) provide them," Revanur said. "I'm not a Prime member, but seeing these benefits, I'm considering getting it."