Students protest arrests at Merced City Council meeting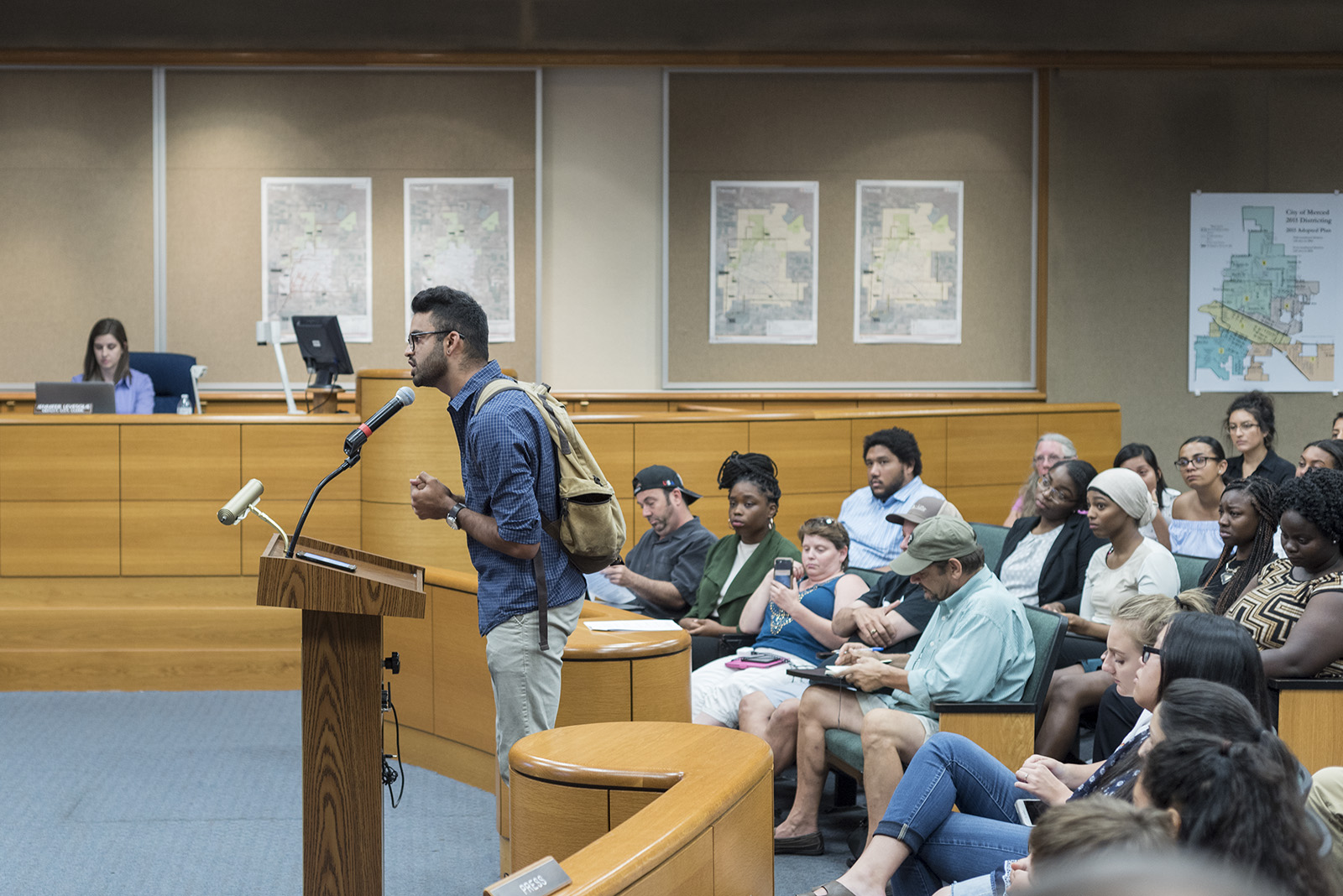 UCLA and UC Merced students protested the arrests of several students at a Merced City Council Meeting on Monday night. Isa Bey, a UC Merced student, was arrested for battery on a police officer in a smoke shop in Merced. (Alexandra Del Rosario/Daily Bruin)
MERCED — UCLA and UC Merced students and city residents protested the arrests of several students – including one from UC Merced – at a city council meeting Monday night.
During Merced City Council's public comment session, students gave personal anecdotes of their encounters with police and suggested ways the city could improve its police department's protocol. The students also requested that the charges against the arrested men be dropped. The city council meeting follows several protests by students at UC Merced and throughout the city.
Isa Bey, a UC Merced student, and four other students from Laney College, Diablo Valley College, Merritt College and Bethany College, were arrested July 9 in Chandelier's Hookah Lounge and Smoke Shop in Merced. Bey and two others were arrested for battery on a police officer after officers arrived at the venue searching for someone wanted for arrest on a warrant. Two other students were arrested for obstructing or resisting a police officer.
A video of the incident surfaced showing police officers entering the hookah lounge bearing riot guns, rounding the venue's crowd into corners and pushing them down to the floor.
Ituah Uwadiale, fourth-year mechanical engineering student at UC Merced, said he thinks the police may have unfairly targeted African-American people.
"Part of the issue with us as black men is that the police don't understand our struggle," he said. "When someone doesn't understand that, that's very dangerous – especially in the job they do because they can come off as biased."
Violet Barton, an interdisciplinary humanities graduate student at UC Merced, said she connected with the incident because soldiers mistreated her when she was a student in El Salvador during a civil war.
"When I was a young person, I experienced a war and I had a gun facing me," she said to the council. "That experience has never left me and so I'm here to speak in solidarity with the students who have been criminalized by the police department."
Barton asked council members to drop the charges against the students because they would affect the students' chances to succeed.
"Our students deserve an opportunity to fulfill their dreams, their academic goals, their education, and incarceration is not the answer," Barton said to the council.
Divya Sharma, the Academic Affairs commissioner at UCLA's Undergraduate Students Association Council, said he thinks Merced City Council did not take enough action against the incident.
"Education is the key to liberation, (but) we see these students having their keys to their chains being taken away," he said to the council. "We cannot stand idly by as these systems keep playing themselves out."
Keith Ensminger, a Merced resident, said he thinks police officers should modify how they approach such situations and present themselves to the community.
"If you've ever been behind a gun or had a gun pointed at you, you know what kind of threatening experience that is," he said. "As a parent, if I had seen something like this and my kid was at UC Merced, I would have been livid."
Ensminger said he thinks police officers should receive training on steps they can take to avoid shooting in emergency situations.
Danielle Bermudez, an interdisciplinary humanities graduate student at UC Merced, said she was traumatized to see the police arrest and use force against students she had taught as a teaching assistant.
"It just broke my heart to see Merced (Police Department) treat us that way and to see again another instance of police brutality against black students," she said.
Uwadiale, who is Bey's friend, said he thinks charges on Bey's record will jeopardize his career after graduation.
Uwadiale added the arrest makes him feel targeted as a black man in his community.
"It's definitely impacted me on the level that I look over my shoulder a bit more because now I don't feel that (cops) have our back," he said. "They see us, black men, as a target."
Merced City Council members did not comment on the case during the meeting but were available to speak about the incident afterward.
Matthew Serratto, Merced City Council member, said the charges are outside of the council's discretion because the council does not have the authority to tell police to drop or press charges.
Serratto said he thinks there is no place for police brutality in society but added he thinks there first needs to be an investigation into the incident before making a decision on the students' cases.
"These cases are very fact-specific, and they're very dependent on what happened in this particular incident," he said.
Serratto said he thinks these kinds of incidents can worsen relations between law enforcement and citizens, and he thinks law enforcement must be balanced in its use of force.
"It's an important part of democracy to have that debate and find that balance," he said. "We need to find that right spot and draw that line."
Del Rosario is the 2018-2019 prime content editor. She was previously an A&E staff reporter.
Del Rosario is the 2018-2019 prime content editor. She was previously an A&E staff reporter.