Social sciences dean terminates appointment of lecturer Keith Fink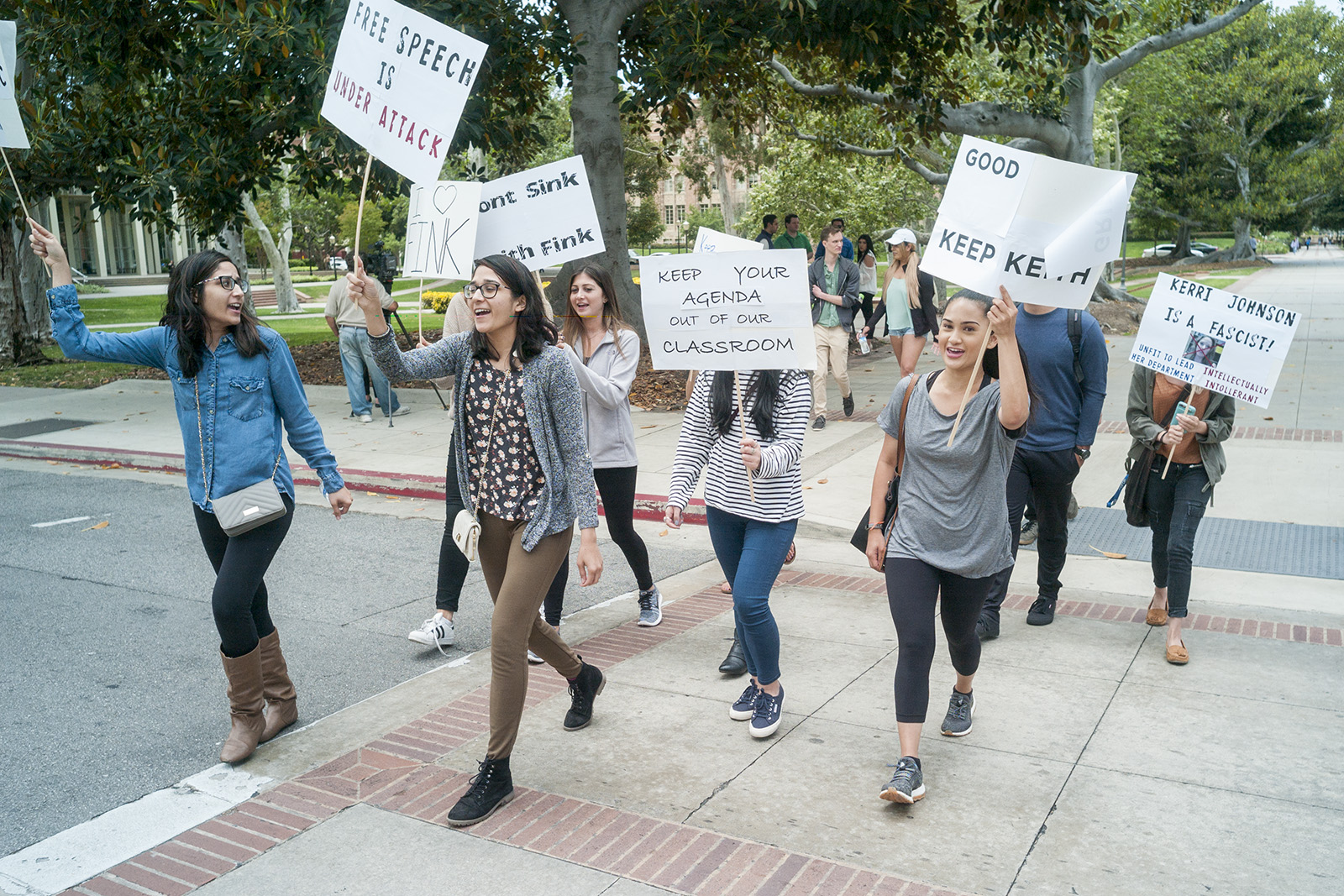 Last month, a group of students and alumni protested to support former continuing lecturer Keith Fink. They demanded the university keep Fink as a continuing lecturer and that Kerri Johnson, the communication studies chair, resign. (Ken Shin/Daily Bruin)
This post was updated June 29 at 6:10 p.m.

The department of communication studies ended the appointment of a lecturer following a review process that began in May.
Laura E. Gómez, interim dean of social sciences, issued a notice of termination to Keith Fink, a former continuing lecturer, on June 27. UCLA spokesperson Tod Tamberg said in an email statement that the standard review part-time lecturers undergo determined Fink's teaching did not meet academic standards. Fink's termination is effective June 30.
The excellence review process takes place during a lecturer's 16th to 18th quarter of teaching and determines whether the lecturer keeps his or her appointment. As part of the excellence review, a committee of nine tenured faculty members in the communication studies department voted on whether or not Fink met academic standards. The committee that reviewed Fink tied its vote, so Gómez made the final decision on his appointment.
UCLA uses five criteria to evaluate excellence for lecturers, including student evaluations and other academic qualifications.
Tamberg said the academic review process is a matter of university personnel and could not be discussed publicly.
A group of UCLA students and alumni called Keep Fink at UCLA claims the university treated Fink unfairly during the review process because he is politically conservative. Last month, the group organized a protest to support Fink and demanded the university retain him.
Fink has publicly criticized the communication studies department and said he thinks they mistreated him during the review process. Earlier this year, Fink claimed the department restricted him from distributing permission-to-enroll numbers to students.
Associate professor and communication studies department chair Kerri Johnson said in a statement that PTE petitions for Fink's class were allocated consistently and were not actually denied.
Fink also said he sent the communication studies department a list of faculty he believed to be biased against him. The union contract on continuing appointments states that a lecturer under review can raise concerns about bias on individuals involved in his or her review, and the academic review file will include those concerns.
The department appointed two faculty members on his list to review his performance, he said.
He added he thinks Gómez should not have made the final decision on his appointment because he has criticized her on multiple occasions, which Fink said he thinks made her biased against him.
"(The communication studies department) let Gómez make the (tie-breaking) decision instead of someone unbiased," Fink said. "At the department hearing, professors Johnson and (Greg) Bryant, two of the three people I listed as biased, refused to recuse themselves."
Andrew Litt, Fink's former teaching assistant, said he thinks the communication studies department terminated Fink's appointment because they disagree with his political views.
"(Fink is) not afraid to say things that sometimes people perceive as politically incorrect (or) speak out about something the school did. Some administrators really dislike that," Litt said. "They want to push him off (his position). His excellence review just happened to be the right way to do that."
Fink said he thinks his criticism of UCLA administrators affected his excellence review. He said he has criticized Gómez for funding classes he thinks are biased against President Donald Trump, and called the Office for Equity, Diversity and Inclusion unnecessary.
"This should send shock waves to every teacher," Fink said. "If they cross Johnson or Gómez, if they speak badly of Chancellor (Gene) Block or (Vice Chancellor for Equity, Diversity and Inclusion Jerry) Kang, they have the risk of not having their contracts reviewed for no reason – that's frightening."
Johnson said in an email that she cannot comment on academic personnel cases.
Fink said he thinks the department prevented him from teaching during summer by not sending him the paperwork required by his union contract regarding summer sessions. He added that he did not choose to cancel his classes.
Johnson said in an email that Fink's former teaching assistant asked the department to remove Fink as the instructor of record on the summer courses he was scheduled to teach.
"The department made numerous attempts to contact Mr. Fink directly regarding this withdrawal, but received no response," she said.
Fink said he plans to establish a nonprofit foundation to offer legal services for UCLA students.
"I am never going to give up on UCLA students," Fink said. "I want to be a resource for students who face free speech and due process issues."
Yara Hejazi, a UCLA alumnus, said he thinks Fink is a well-regarded professor among students and found it suspicious that the department announced Fink's termination during summer.
"If (Fink is) not excellent then I don't know what is, I can't make any sense of (the termination)," said Hejazi. "I'm just speculating here, but the timing of this decision is suspect."
Hejazi added he thinks that terminating Fink's appointment is unfair to students who wish to take his class in the future.
"The worst thing that is going to result from this is students won't be able to take his classes in the future – and his classes are invaluable," Hejazi said.
Zhen is an assistant news editor for the national and higher education beat. She was previously a contributor for the campus politics beat and an online contributor.
Zhen is an assistant news editor for the national and higher education beat. She was previously a contributor for the campus politics beat and an online contributor.