The Quad: Students have plenty of options for summer music festivals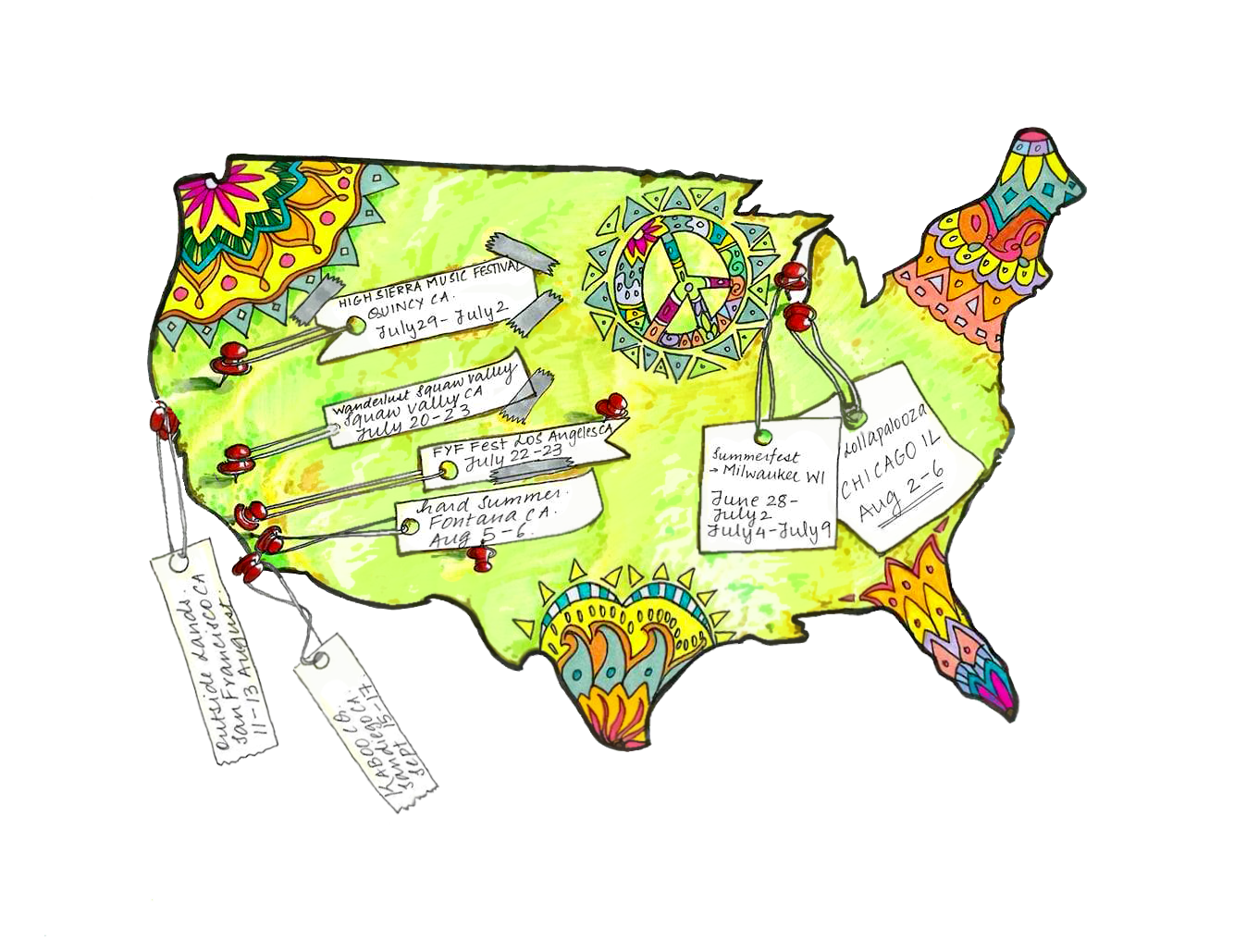 (Shreya Mantri/Daily Bruin)
Music festivals have a hard time staying out of the headlines – from Beyonce's Coachella cancellation to the gigantic dumpster fire that was Fyre Festival. While many students take a break to road trip out to Coachella Valley, it can be hard for others to escape the demands of spring quarter. We also miss out on festivals like Bonnaroo and Governor's Ball since we are stuck in Westwood until June. However, there are a plethora of other festivals in California and the rest of the country happening throughout the summer to jam out at. Here's a look at them:
Location: Milwaukee
Dates: June 28-July 2, July 4-July 9
Headliners: Red Hot Chili Peppers, Luke Bryan, Paul Simon, Zac Brown Band, Pink, The Chainsmokers, Tom Petty and the Heartbreakers, Dierks Bentley, Future, Migos and Big Sean
They call themselves the biggest music festival in the world, and probably for good reason: between 800,000 and 900,000 people visit this festival every year. This year the festival will hold special giveaways and events to commemorate its 50th anniversary.
Location: Quincy, California
Dates: June 29-July 2
Headliners: Trey Anastasio Band, Ween, STS9, Gov't Mule
High Sierra Music Festival, located up in Plumas National Forest, is geared more toward classic and alternative rock groups. The festival features themed costume nights, fire performances and "body and spirit" workshops.
Location: Squaw Valley, California
Dates: July 20-23
Headliners: Lettuce, Little Dragon
If you want to branch out from the traditional music festival scene and try something new, this could be the festival for you. It's not really a music festival though – this is a straight-up yoga festival posing as a musical festival. People attending this festival can expect to practice a lot of yoga with world-renowned gurus and maybe hear a set or two from the two music headliners.
Location: Los Angeles
Dates: July 22-23
Headliners: Missy Elliot, Björk, Frank Ocean, Nine Inch Nails
Stuck in LA this summer for class, a job or an internship? Look no further than FYF Fest to solve your music festival FOMO. This festival covers a pretty diverse range of music – hip hop, alternative and rock, to name a few – and is held in Expo Park.
Location: Chicago
Dates: Aug. 3-6
Headliners: Chance the Rapper, The Killers, Muse, Arcade Fire
I have a special spot in my heart for this festival since I was born and raised in the Midwest. I am not a fan of camping when it comes to musical festivals – after a long day of battling crowds and heat, I want to be able to return to modern amenities, like a hot shower and comfortable bed with a nearby outlet to charge my phone. Lollapalooza rocks because it's held in Grant Park, which is smack in the middle of downtown Chicago.
Location: Fontana, California
Dates: Aug. 5-6
Headliners: DJ Snake, Justice, Rae Sremmurd, Zeds Dead, Snoop Dogg, Bassnectar, Dog Blood, Migos
Inland Empire Bruins, this festival is the one for you. Hard Summer likes to feature electronic and alternative acts along with up-and-coming artists.
Location: San Francisco
Dates: Aug. 11-13
Headliners: Metallica, The Who, Gorillaz, Lorde, A Tribe Called Quest
Outside Lands is another option that's fantastic for people who hate camping, since the festival is hosted in Golden Gate Park. It focuses heavily on its environmental impact: Every year the festival partners with local nonprofits to divert waste from landfills, provide refillable water stations, set up a farmer's market and host composting workshops.
Location: Del Mar, California
Dates: Sept. 15-17
Music headliners: Red Hot Chili Peppers, P!nk, Tom Petty and the Heartbreakers, Muse
Kaaboo differentiates itself from other festivals by providing a "uniquely curated," total-package experience. The festival features comedy and art lineups in addition to music lineups and provides a vast array of food and drink options for guests who visit Del Mar for this event.