Editorial: UCLA should encourage ride-hailing zones, not enforce with citations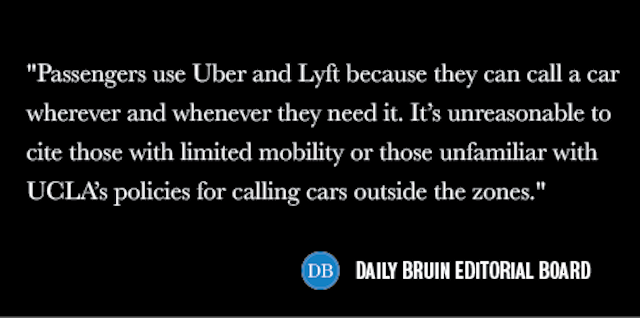 Ubers and Lyfts holding up traffic are a common sight at UCLA. But the administration's latest attempt to police where these vehicles can stop is much like the traffic congestion it's attempting to reduce: inconvenient and impeding.
UCLA Transportation partnered with Uber and Lyft during commencement to designate six pickup and drop-off locations around campus, including De Neve Turnaround and the Luskin School of Public Affairs. Dave Karwaski, a senior associate director for UCLA Transportation, said UCLA created these zones to reduce traffic congestion, and that it plans to create permanent ride-hailing areas later this summer.
Students would be cited for calling ride-hailing services at locations other than the designated zones.
Giving citations may have been effective during commencement, when students and family members were heading to the same destinations for ceremonies, but it's unfeasible in an everyday setting. Hundreds of people travel between UCLA and various places around Los Angeles, and the sheer size of campus makes it inefficient to police where all students and employees can call ride-hailing services.
UCLA Transportation should ditch the citation policy and instead recommend optimal locations around campus for students to call ride-hailing cars. Doing so would better suit administrators' hope for traffic reduction while avoiding unnecessary restrictions and penalties for passengers.
This isn't to say the zones are a bad idea. Traffic in Westwood is big problem, and the advent of ride-hailing services has only exacerbated that. Directing cars to central streets is a good way to address backups.
The problem, however, lies in handing out citations.
Many students and employees live off campus and use ride-hailing services to get home. Combine these commuters with the number of campus members using Lyft or Uber to travel for other purposes – it would be impractical to dish out citations to every person calling a car outside the designated zones.
Limiting where campus members can hail rides is also an impediment to those who have disabilities or are new to campus. Passengers use Uber and Lyft because they can request cars wherever they want. It's unreasonable to cite those with limited mobility or those unfamiliar with campus for calling cars outside the zones.
UCLA Transportation should drop the citation policy and introduce the zones as recommended areas to call ride-hailing services and avoid traffic. The focus should shift away from enforcing the citation policy and toward educating the campus about optimal places for pickup and drop-off. The administration could easily do this through road signs and campuswide emails.
Certainly, UCLA could partner with Uber and Lyft to limit where campus members are picked up and dropped off. Such an arrangement, however, would need to take into account passengers' mobilities. People should be able to use the zones by choice and shouldn't be punished for trying to catch a convenient ride outside the designated areas.
Traffic at UCLA is no joke, and the administration is right in looking for ways to streamline pickups and drop-offs around campus. Strictly enforcing the ride-hailing zones, however, would be an even bigger headache than UCLA's persistent traffic congestion.