UCLA Lab School encourages inquiry, applied learning in STEM and art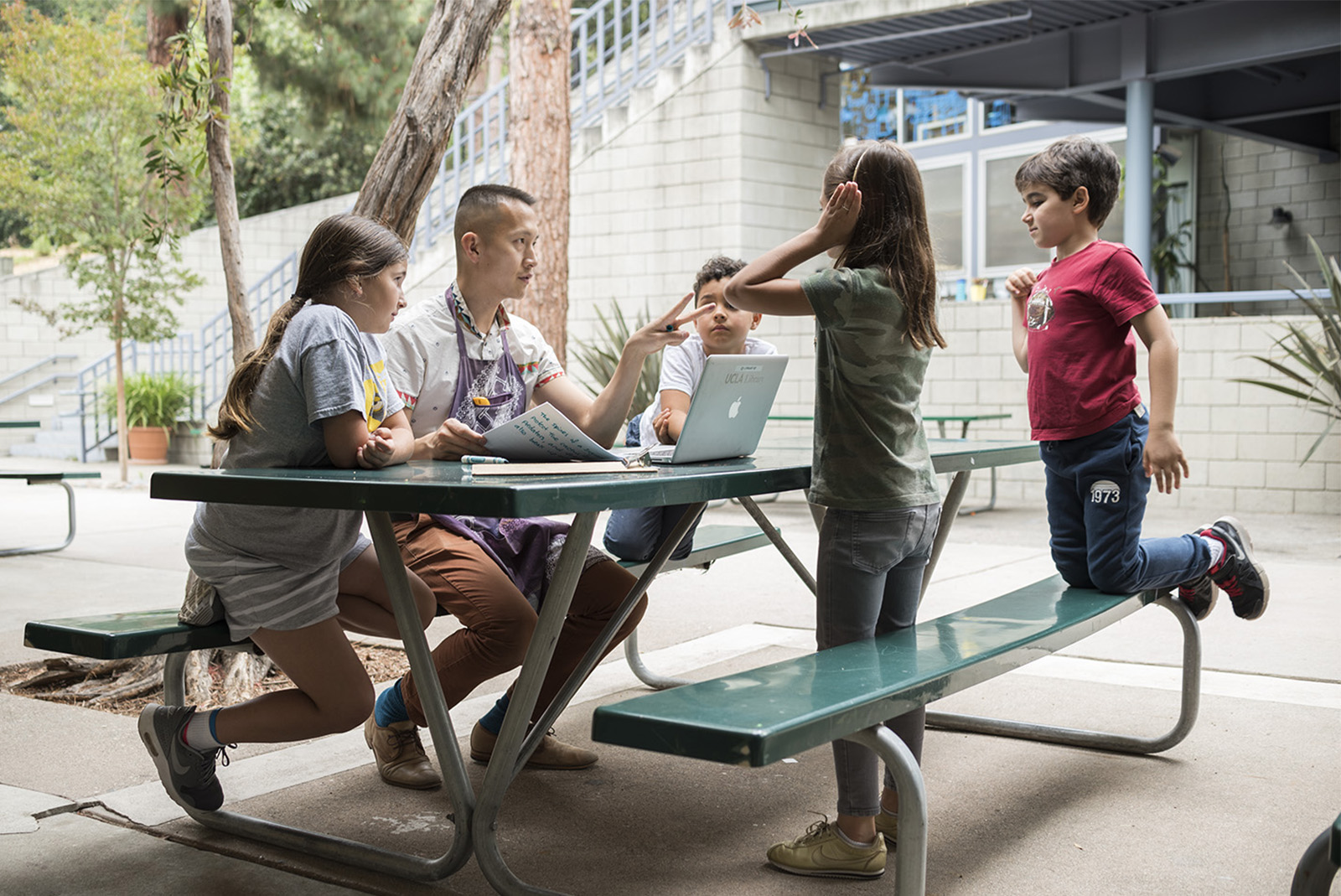 iSTEAM teacher Ding Kong engages with first- and second-grade students at the UCLA Lab School. iSTEAM stands for inquiry for science, technology, engineering, art, and mathematics.
(Andrew Arifin/Daily Bruin)
Correction: The original version of this article incorrectly stated that the UCLA Lab School is a K-8 institution. In fact, it runs from pre-kindergarten to sixth grade.
This post was updated June 29 at 1:25 a.m.
It's noon in the schoolyard, and laughing children swarm wooden play sets and build tunnels from plastic waffles that fit together like blocks.
This is recess time at the UCLA Lab School, a pre-kindergarten through sixth grade institution nestled behind the UCLA Anderson School of Management.
This year, the experimental research school celebrated its 135th anniversary of educating Los Angeles youth. A staff of instructors, assistants and students from the UCLA Graduate School of Education and Information Studies teach and conduct research daily on innovative educational methods.
The UCLA Lab School originally opened as a teachers' training facility in 1882 where the Los Angeles Central Library stands today. But in 1929, it relocated to Warner Avenue in Westwood as the University Elementary School. UES changed its name to the UCLA Lab School in 2009.
Early childhood teacher Hasmik Cochran began working at the school 24 years ago. In her classroom, abstract portraits and a shelf – with leaves and insects encased in glass – stand near a comfy reading couch.
When she first joined its faculty, Cochran said she noticed the school approached education more holistically than some public schools.
"In public schools, we see a lot of teachers nurturing the academic realm of students," Cochran said. "We see them trying to fill up a vessel. But we look at children as full vessels – children bring in a lot of (information), and we work to unlock those gifts."
In another wing of the UCLA Lab School, the doors of a room called the iSTEAM Lab open to reveal rows of paper and wire mobiles dangling from the ceiling. Woodworking machines and bins of recycled material line the studio walls.
UCLA Lab School Principal Norma Silva, who joined the school's staff as a director in 1996, introduced the iSTEAM program, which stands for multiple disciplines such as science, technology, activism and music, two years ago.
Two on-campus labs offer resources such as 3-D printers, clay-firing kilns and computer programming software to develop students' imaginations through problem solving, Silva said. Even the preschool-age group has undertaken complex projects, such as deconstructing a vending machine and building life-size puppets with the laws of basic physics.
"What we want to do is support students' understanding of their world," Silva said. "The most important aspect (of my leadership) is building upon the pedagogy of the past and contemporizing it for the future."
UCLA Lab School alumnus Axel Sarkissian, a second-year political science student at UCLA, added he thinks the school was very progressive for its time. For example, physical education classes introduced him to activities like stilts, archery and skateboarding.
Cochran added teachers listen to students when coordinating field trips and projects. Student interest led her to schedule tours of the Robotics and Mechanisms Laboratory at UCLA, as well as the local police department.
"Whatever we need to teach … is what they're interested in learning," she said.
The school tries to teach children about ethnic, cultural and socioeconomic differences in Los Angeles by offering a Spanish-English learning in two languages program and accepting admissions by lottery to make the student body more diverse, Silva said.
She added the school aims to increase outreach to inner-city schools.
Silva said reuniting with an alumnus from the '90s was one of her most memorable moments as an educator. The student, who as a boy frequently visited her office for misbehavior, curated a widely publicized art exhibit in Highland Park, California, last year called "Duality: Blaxicans of L.A."
"His mother gave me a hug and said, 'Thank you for not expelling my son from school,'" Silva said. "'Look at what he's able to do today because of the foundation he received at the lab school.'"
UCLA Lab School alumnus Andrew Weiss, who graduated from the lab school in 1984, said he remembers the school provided him unique perspectives and experiences, such as a field trip his third-grade class took to a Hopi and Navajo Native American reservation. His three daughters will all be students there this fall – two are returning, and the third will be starting kindergarten.
"They're excited when they get to go back to school," he said. "I was hoping that the school preserved the magic I had when I was there."