The Quad: Thank you bobber, it has been a year to remember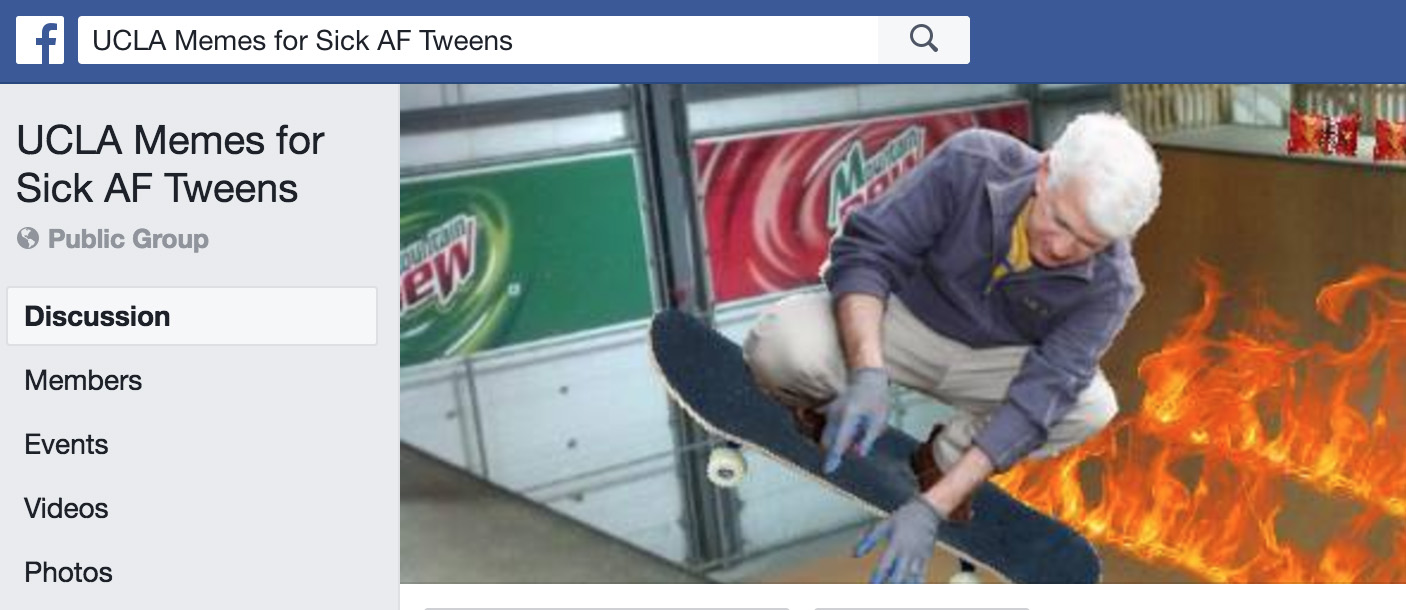 (UCLA Memes for Sick AF Tweens)
For students of an institution as acclaimed and competitive as UCLA, we sure spend a lot of time creating and sharing memes.
Since Nov. 22, the "UCLA Memes for Sick AF Tweens" group on Facebook – a group dedicated to spreading only the spiciest UCLA-related memes – has garnered astounding popularity. It currently boasts over 38,000 members and has helped to launch what Mic.com calls the "elite meme wars of America's most exclusive colleges."
We can't avoid memes anymore, especially since they have started to infiltrate the reporting of prestigious and time-honored news institutions.
Meme pages have stayed in the spotlight not only because of their massive followings – the number of members of UCLA's meme group is greater than the number of currently enrolled undergraduate students – but also for their controversy. Just this week, Harvard rescinded the acceptance of 10 incoming freshmen based on their involvement in posting racist and otherwise offensive memes in a group chat.
While "UCLA Memes for Sick AF Tweens" definitely hopped on the meme-trend train often, seven out of the top 10 most liked posts were actually original content that didn't follow a fad popular elsewhere on the internet. As of May 22, the most prolific meme creator had over 38,000 likes on his various memes.
Popular targets of "UCLA Memes for Sick AF Tweens" included Gene Block, North Campus majors, Bruin Plate aficionados, exams, the quarter system and the "Can I ask you a question?" guy that frequents Bruinwalk.
Here's a look at some of this year's trends in memes in review:
"The saddest thing…"
This is the meme that launched a thousand memes early in "UCLA Memes for Sick AF Tweens'" existence. What started as a student's observation on major-bashing posts quickly spawned many spoofs, such as the one below.
Blinking eye guy
The blinking guy meme originated from from a screen cap of a gamer from a video-game live streaming video. People tweet or post a caption with the blinking eye guy meme to express indignation or annoyance.
"Thank you ___"
A perennial favorite of mine, this meme pops up around midterms and finals week. The basic premise includes posting a picture, usually of a small dog or Gene Block, with a promise that the commenter will have easy midterms and finals if they type "thank you bobber," "thank you Gene" or some variation of the phrase. I myself have typed "thank you bobber" or "thank you blocker" many a time.
Enlightened guy
Officially called the "who, whom, whomst" meme, this meme seeks to put a sarcastic spin on different habits and situations. As the situation gets more ridiculous or absurd in the creator's eyes, the brain of the person depicted gets larger and shows more "brain activity" to imply various stages of intelligence or enlightenment.
Mocking SpongeBob
The mocking SpongeBob meme took "UCLA Memes for Sick AF Tweens" and the rest of the world by storm in May. It's pretty self explanatory, however, it has garnered a lot of critique on the Twitter-sphere for being ableist.