Student group for formerly incarcerated sees first graduating class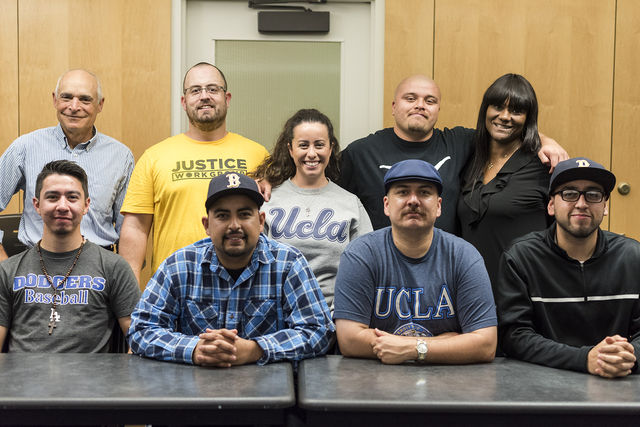 The Underground Scholars Initiative offers academic resources and support to students who were either once incarcerated or affected by the criminal justice system. (Daniel Leibowitz/Daily Bruin)
As a formerly incarcerated student, Armando Tellez's path to higher education was far from traditional.
"I got shot when I was 21. That was the same year I enrolled in college," said Tellez, who will be graduating with other formerly incarcerated students this week as part of the Underground Scholars Initiative.
Tellez will be graduating with a degree in sociology and pursuing a master's of higher education leadership from the University of Texas at Austin next Fall. He transferred to UCLA from East Los Angeles College and is a McNair Research Scholar, which prepares undergraduate students for doctoral programs in the humanities and social sciences.
USI is a student group that provides academic resources and support to students who were either incarcerated or have had family members be incarcerated.
Many of the Underground Scholars, including Tellez, had been impacted by the criminal justice system from a young age, spending time in and out of juvenile detention and having family members involved in gang activity.
Originally called Recidivism Education Diminish Incarceration, USI at UCLA started in 2016 as a partnership with USI's founding chapter at UC Berkeley.
"Being able to find a space like this has really helped me," Tellez said. "The Underground Scholars Initiative really motivates us to go above and beyond. We don't just want to survive; we want to thrive."
After its first year of recruitment, USI has 17 members, with 12 graduating this June. Among the graduates is Javier Rodriguez, the group's student leader, a fourth-year sociology student. Rodriguez will stay at UCLA after graduating to pursue a master's degree at the Luskin School of Public Affairs.
"Just making it here is one battle, and then to finish is another battle," Rodriguez said.
A total of 13 students in USI were originally slated to graduate this year, but one member, Jose Ortega, died from a heart condition one unit under the graduation requirement. Members of USI will be asking UCLA's Academic Senate to grant Ortega with an post-mortem honorary degree.
"This graduation is something bigger than us," Rodriguez said. "Not to just recognize what we've accomplished but also to give hope to others who are coming out of the (criminal justice system) now."
Rodriguez said that USI's primary goal is to use advocacy and education to provide formerly incarcerated people a pathway not only to UCLA but to any other school in the UC system.
In the fall, USI members held a workshop at Santa Monica College to help formerly incarcerated students with the college application process. In winter quarter, USI students hosted tours of UCLA, meals at the dining halls and panel discussions about going from prison to university.
"We want to share our stories to create a pathway for others to realize that (graduating) could be a dream of theirs and something that they could accomplish," Rodriguez said. "That means going back into our communities that we've come from, saying, 'Hey we did it. Y'all can too.'"
USI received a $500,000 grant from State Senator Loni Hancock's office to establish a program at every UC campus. Rodriguez said he hopes the grant will create a network for all formerly incarcerated students in the UC system.
"For us, it's about undoing the school-to-prison pipeline," he said. "We are trying to create a prison-to-school pipeline. It's about creating that pathway."
Rodriguez explained that the "school-to-prison pipeline" is a term that describes the systematic way many youth from low-income minority communities tend to be funneled from public schools into the criminal justice system.
According to a report by the International Centre for Prison Studies, the United States incarcerates more people than any other country in the world. Since the 1980s, the incarcerated population in the US has risen by 300 percent.
Access to education has been shown to substantially decrease recidivism, the likelihood that formerly incarcerated people will be incarcerated again, Rodriguez said.
USI will be hosting its first graduation ceremony this week, and several political figures including State Assembly member Reginald Jones-Sawyer Sr. and State Senator Ben Allen, will be attending the ceremony.
About 50 people not affiliated with USI have said they will attend the graduation ceremony Friday, said Andrew Winn, a fourth-year sociology and African-American studies student and USI member.
"It's clear that people want to be involved," Winn said. "People want to see us succeed. We are finally getting the visibility that we need."