Iconic Westwood small businesses struggle in retail landscape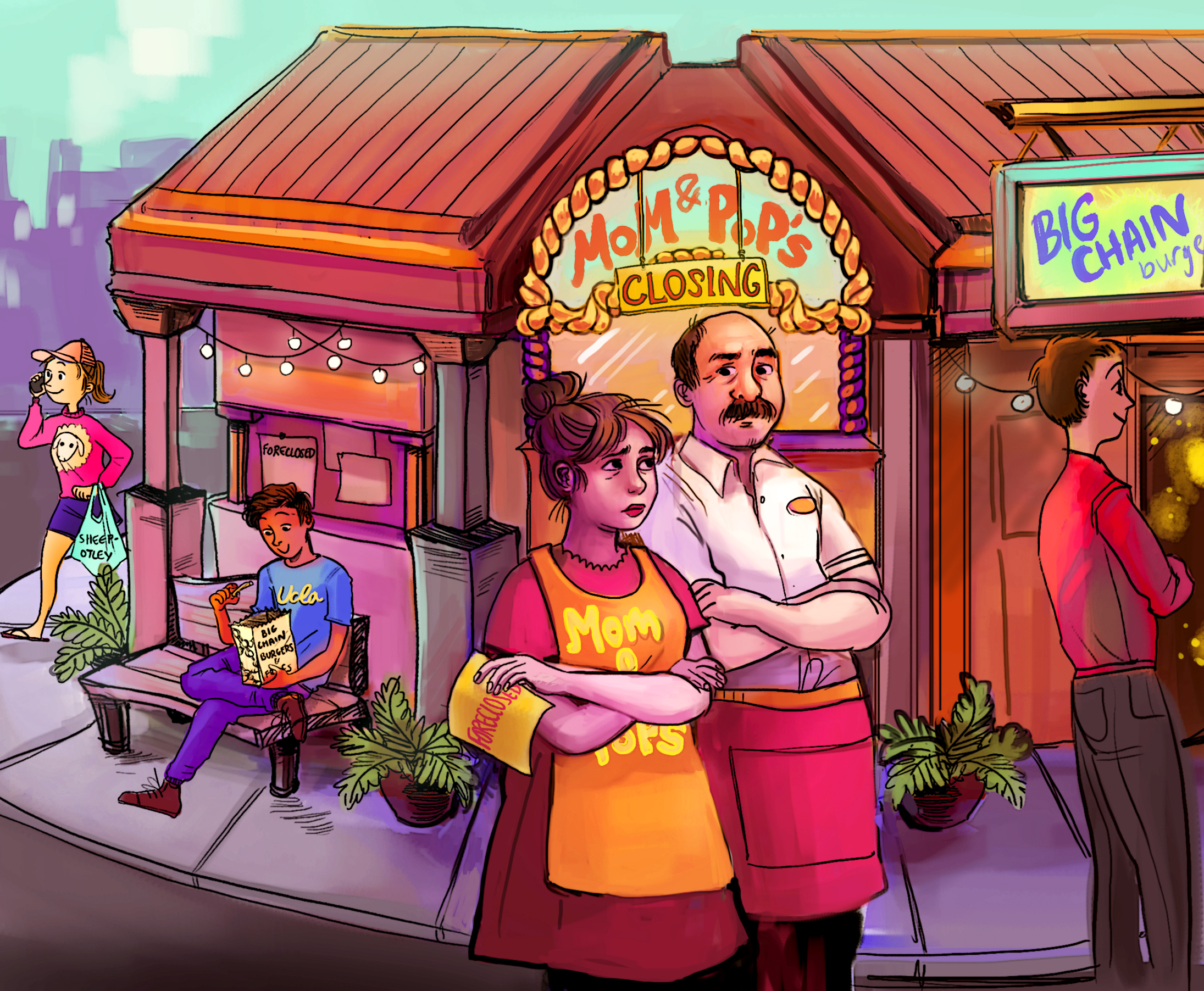 (Juliette Le Saint/Illustrations director)
Oakley's Barber Shop, Westwood's oldest business, lines its walls with glass cases filled with knick-knacks and antique barber equipment.
The barber shop is one of only a handful of Westwood Village businesses that have survived throughout the 20th century. While some businesses have been in the Village for decades, some shop owners say a changing business and technical landscape has led to a decline in independently-owned businesses.
"I think the decline has been a national trend," said Andrew Thomas, executive director of the Westwood Village Improvement Association.
Thomas added he thinks the Village has not been immune to the loss or downsizing of mom-and-pop stores.
Oakley's Barber Shop owner, Clinton Schudy, said his "hair museum" draws in customers, who sometimes leave tips to help him preserve the Village's cultural and historical identity. In light of declining independently-owned businesses, Schudy said he thinks businesses should aim to retain customers that come into their shops.
"You create a unique experience that people want to go back to," he said. "You need to have those experiences, or there's not really anything to do."
Schudy said his clients often continue to get haircuts at Oakley's long after they graduate from college. He added they like the continuity of his shop, even as their lives transition out of college.
Campus Shoe Repair, a shop located on Weyburn Avenue, traces its history back to 1936.
Vicken Bamokian, the current owner of the repair shop, said he has noticed a lot of changes in the Village in the years he has been here. He said the 1980s seemed to be a particularly good time for the Village, but since then there has been a decline in business.
"In the last 30 years, it's been one new business comes, two leave," Bamokian said.
Bamokian added he thinks Campus Shoe Repair has been able to keep its presence in Westwood because of the unique service it offers and the client base it has established. He said competition with larger chains has not been as much of an issue because of its longtime customers and unique business.
"There's only one of us," Bamokian said. "Westwood has too many of the same businesses."
Dan Weinberg, a manager at Helen's Bicycles, a shop on Gayley Avenue, has lived in Westwood for 25 years. He said small brick-and-mortar businesses have been suffering because online marketplaces have become more popular.
"Most brick-and-mortar businesses have suffered, some have closed, and a lot has to do with the internet," Weinberg said. "Customers can find things cheaper online."
Still, Weinberg said Helen's has managed to survive by adjusting to the digital age and selling products online.
"We're looking at the internet as being an opportunity, so we're doing well," he said.
Though Weinberg said he thinks the internet has mostly contributed to the decline of mom-and-pop shops, he said he still dislikes large chain stores. He added he thinks large chain stores that offer cheaper foreign-made products hurt small businesses that make their products in the United States.
Thomas said, however, that overall sales tax revenue for both chain and independent stores have been increasing, suggesting both have been doing better in the Village. He said he recognizes these small businesses may still be taking losses, but said he feels they are a key component of what makes Westwood unique.
"Those businesses are so valuable," Thomas said. "They are key anchors because Westwood is the only place you can go to get their products."
Thomas added that smaller stores, such as landmark Diddy Riese, can coexist with larger stores, such as Sur La Table. He said he thinks both kinds of businesses draw people to Westwood.
Schudy said Westwood was once a bustling area with historic buildings and unique experiences that drew in customers in the Los Angeles area. He added he thinks Westwood's history, and both chain and independently-owned businesses, will motivate visitors to spend more time in the Village.
"We cannot be (the Third Street) Promenade or Century City," Schudy said. "But we can be a mix of specialty stores and chain restaurants."