Grad student teaches ethnic studies program in middle school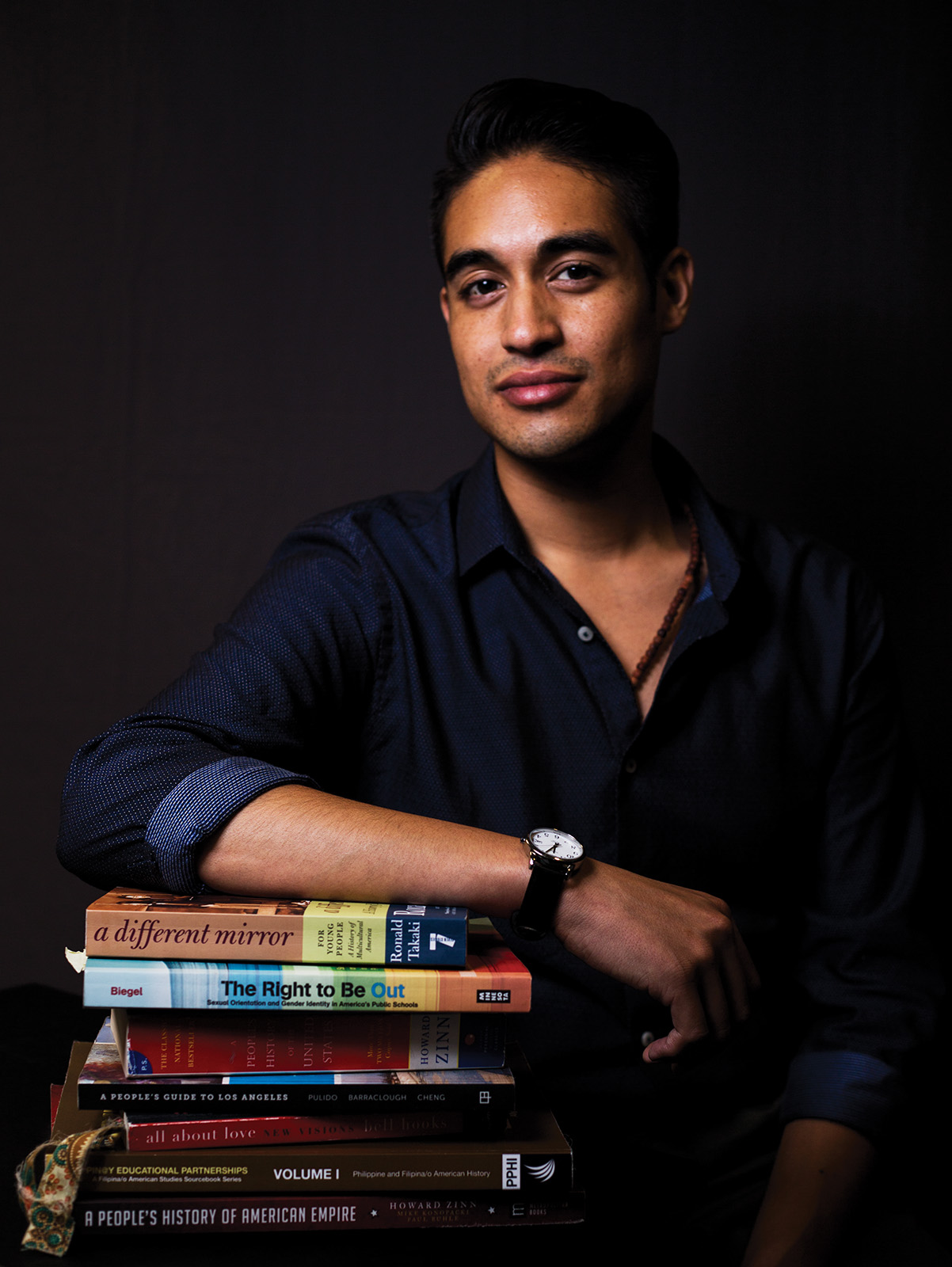 Graduate education student Andrew Gutierrez III created and taught an ethnic studies course at the UCLA Mann Community School. (Alyssa Dorn/Daily Bruin staff)
Andrew Gutierrez almost did not graduate from high school because a teacher wrongfully told him and other students of color that they did not meet graduation requirements.
Now, he teaches middle school students about racial and ethnic history and empowerment in an ethnic studies program he helped pioneer.
When the Los Angeles Unified School District incorporated ethnic studies into its curriculum in 2014, Andrew 'Drew' Gutierrez III, a graduate student in the UCLA School of Education and Information Studies, helped establish an ethnic studies pilot program to train education students how to teach the subject. The pilot was part of the nation's first ethnic studies program within a teacher education program, Gutierrez said.
Gutierrez, who is graduating this month, later taught ethnic studies at a summer program at the UCLA Mann Community School, a middle school where students of color comprise a majority of the student body. He said the summer program was popular with students and teachers, and the school requested Gutierrez return and teach his own ethnic studies course the following school year.
Gutierrez said he faced both racism and homophobia growing up in Stockton, California, as a queer man of Mexican and Filipino descent.
When Gutierrez was a senior in high school, his Advanced Placement English teacher told him he could not graduate because his literacy level was inadequate. He talked to other students the teacher classified as inadequate and they noticed they were all students of color.
They expressed their concerns to the district, which deemed the students ready to graduate and found the teacher was not even qualified to teach her AP course.
Gutierrez said he realized how he could empower other students of color who experienced marginalization by sharing his story.
"These stories became the fuel for me to become an educator (because I realized these things) happen to many other people," Gutierrez said. "Instead of being ashamed by my story, I became empowered by it."
His course at Mann focuses on teaching students of color about their history, communities, cultures, languages and lived experiences.
Gutierrez said he tailors his lessons to his students' backgrounds and veers from focusing on the histories and cultures of Europeans and males.
For example, Gutierrez said he prefers to teach Central American immigration patterns over George Washington, because it relates more to some of his students' experiences.
Students in Gutierrez's course also used media such as short films, audio and photography to tell their stories as people of color in South Los Angeles.
Gutierrez added the students analyzed modern media, ranging from President Donald Trump's speeches to Kendrick Lamar's performance at the Grammy Awards, and how they portray people of color.
Gutierrez said he has fostered a safe space for students by holding "healing circles" in his classroom, in which the students can freely discuss their identities, goals and challenges.
During a recent healing circle, Gutierrez shared his uncertainties about his plans for post-graduation life. When his students told him how much they appreciate him and how he needs to keep teaching, Gutierrez said he was moved to tears.
"If you're humanizing yourself, if you're vulnerable and if you're open (to people), you'll receive that back," Gutierrez said.
Christine Shen, director of the UCLA Community Schools Initiative, said Gutierrez has built strong relationships with the students and teachers at Mann.
She added she thinks the ethnic studies program has empowered the students and changed the way they see themselves in the community.
Emma Hipolito, the chairperson of the ethnic studies committee within the School of Education Ethnic Studies cohort, said Gutierrez was the committee's first member. Hipolito added she thinks Gutierrez is a crucial part of the ethnic studies program at Mann, and that he is always willing to get involved.
Gutierrez said he is deciding whether to continue to teach ethnic studies in Los Angeles or collaborate with other teachers to spread ethnic studies to other communities.
He said he thinks teaching ethnic studies is particularly significant in the current political climate. He added he felt attacked by President Trump's policies towards people of color and aims to create narratives that promote positive views of ethnic minority groups as a form of activism.
"In this political environment, I'm always under attack, (and by teaching) I'm disrupting the system." Gutierrez said. "Teaching this class (helps me heal from) this past trauma … and hope for a positive future."