Finding myself through the Daily Bruin, unapologetic of who I am -30-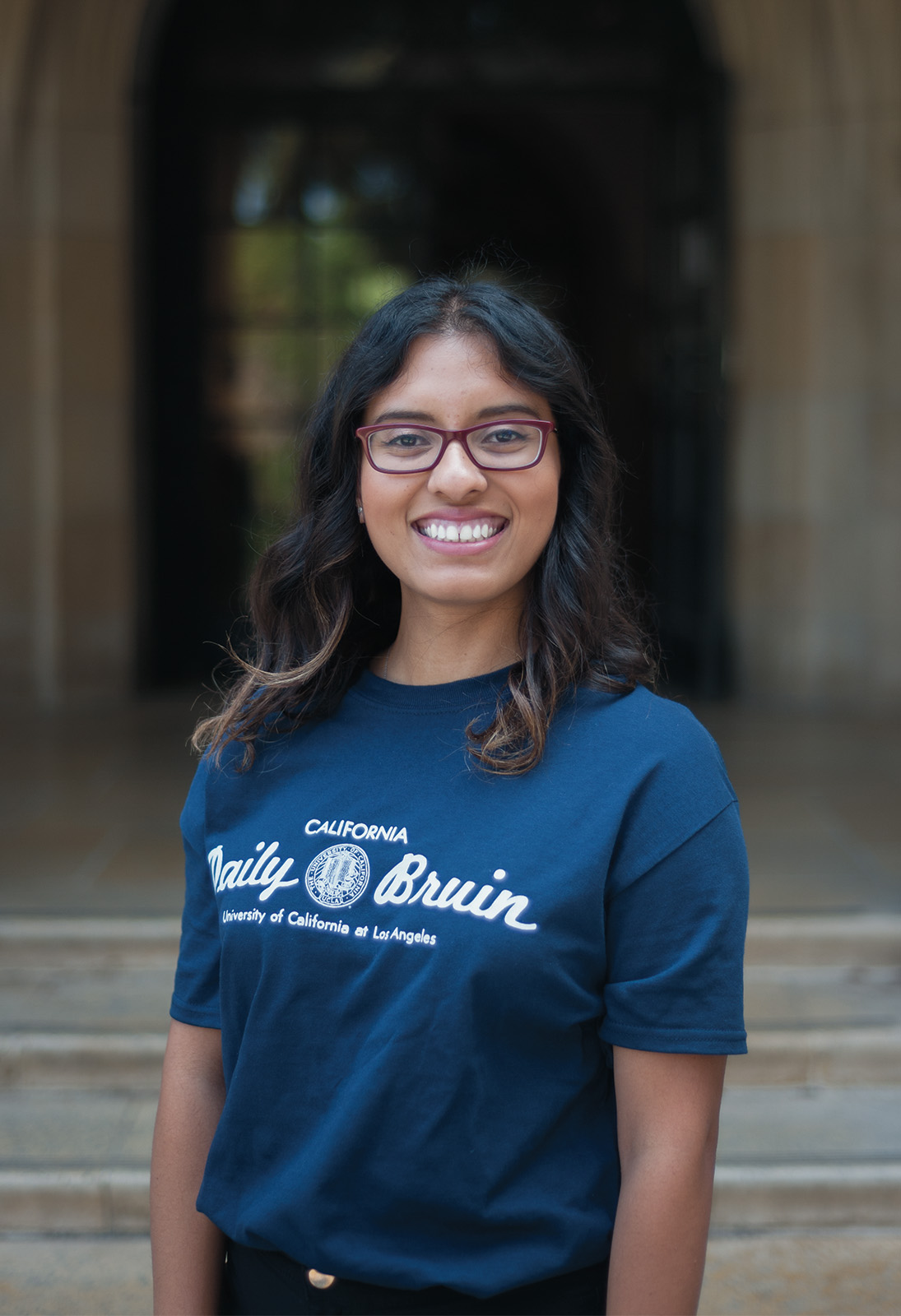 (Michael Zshornack/Photo Editor)
I drank chocolate milk at my first Daily Bruin party. Yes, I know how that sounds. Imagine someone trying to act cool with a red Solo cup filled with rich, silky chocolate milk. Kind of satisfying – that is, if you are not lactose intolerant.
This is one of the many fun memories at the Daily Bruin. I've matured a lot since first year, but, to be honest, I've gone four years without figuring out how or why I decided to join the newspaper in the first place.
I convinced myself for a while it was because I would be pretty good at pressing the shutter on a camera, given that I played clarinet in high school. But now, when I look back on the time I spent cooped up in Kerckhoff 118, it's astoundingly clear why shy, little Miriam made her decision to join the Daily Bruin.
I joined because I wanted to be part of something bigger than myself – something that made me feel normal. I joined because when I photographed different subjects and interacted with people in the office, I didn't feel as if I were different. I didn't feel inhibited by a temporary nine-digit number, and no, I'm not talking about my UCLA ID.
What I mean is that I am undocumented. It is a reality I cannot change, and somehow I've managed to come to terms with it. I am not ashamed, but rather confused by a label I cannot see as applicable to myself – or anyone else for that matter.
And maybe this doesn't mean anything to you, and that's great, because it shouldn't. But as a first-year student, I prescribed myself a boundary of what I thought I could do. Even though I knew I had accomplished so much and exceeded the expectations of my family and community, this label had an effect on what I thought I could achieve.
The Daily Bruin changed that, though.
The Daily Bruin has been my haven for these past few years, and while it hasn't all been fun and games, the support and constant encouragement from my peers allowed me to see past my shortcomings and focus on something much more important: my passion to create.
And that's probably why I spent way too many hours – more than I would like to admit – helping as a contributor and eventually as a Photo editor. Heck, there have definitely been upsides to that: I photographed Michelle Obama, met amazing creators such as Oh Wonder and embarked on a three-month investigative journey across California that left me with battle scars and a new grasp of who I am.
Even when hard times knocked on my door – be it my mother's battle with cancer, ending a long-term relationship or struggling with school – The Bruin gave me the normalcy and confidence to focus on my potential and not on my limitations. And that's because, in the office, it didn't matter that English was my second language; it didn't matter that I felt insecure; it didn't matter that I knew absolutely nothing about photography.
What mattered was whether I was willing to put in the work to grow as a photographer and writer.
The Bruin wasn't just a place for me to express my art, but also a place for me to explore myself. And after four years, I hope I've inspired my contributors and friends to pursue their goals without shame or fear. I've realized there is true fulfillment in investing time and energy into being part of something bigger than yourself.
I've discovered the beautiful yet exhausting world of being a creator in journalism and in daily tasks. The person who I am now and the experiences I've gained from being part of the Daily Bruin extend beyond what I thought I could achieve. I've won awards, traveled to a places around the country and had the privilege of telling the stories of people in the community.
While it is easy for me to get carried away with my never-ending to-do list and the voices in my head, I've learned that everyone will, at some point, judge you for your actions even though they really don't care. And that's okay with me now because I'm no longer afraid to be myself – chocolate milk and all.
Bribiesca was a photo contributor 2013-2015, opinion contributor 2015-2016, assistant Photo editor 2015-2016 and photo editor 2016-2017.