Humanities Dialogues provides casual space to discuss meaning of words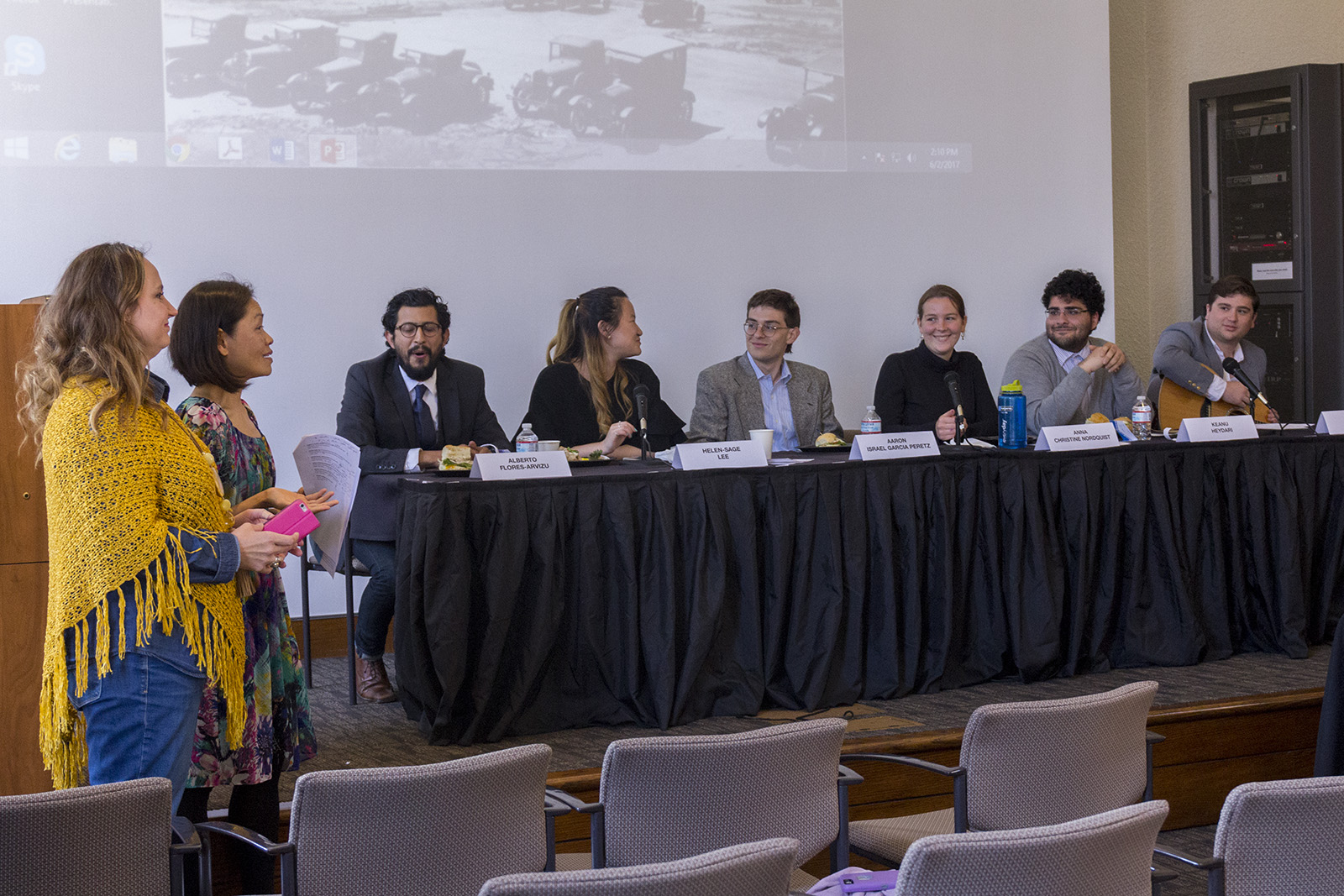 UCLA students, staff and faculty participated in Humanities Dialogues, a program in which participants discussed their interpretations of certain words and how their different cultures affected those interpretations. The program culminated in a symposium, in which students gave presentations on a chosen word. (Chengcheng Zhang/Daily Bruin)
Students, staff and faculty have been discussing what words like "democracy," "humanity" and "heroism" mean in meetings over the course of the year.
Humanities Dialogues consists of biweekly meetings, in which participants discuss a word and the different meanings associated with it. The program was created by various UCLA departments in languages and humanities in 2016 to understand how different cultures interpret certain words and concepts differently.
This year's meetings culminated in a symposium Friday, where students presented on some of the words discussed in the program.
Students who participated in the program said they liked the meetings' openness and informality and felt they were not judged when sharing their opinions on heavy words such as patriotism and duty.
"People don't want to listen; they want to talk," said Aaron Garcia Peretz, a third-year philosophy student and presenter. "And here, people listened."
Alberto Flores-Arvizu, a third-year German student and also a presenter, said he thought the meetings were less like classes and more like casual conversations.
"(It is) the notion of it being 'bar talk,'" Flores-Arvizu said. "It's without judgement – building on conversation from past meetings."
The faculty members who organized the program said they started the program because they wanted participants to understand how different backgrounds can lead to different interpretations of the same word.
"The meaning (of the word) probably varies according to the culture and the history of each (person)," said Hoang Truong, a lecturer in the Italian department.
For example, during one of the meetings, the participants talked about democracy and how cultures can have different views on freedom of speech, with some countries having stricter hate speech laws than others.
Laurence Denié-Higney, a senior lecturer in the Department of French and Francophone Studies, said that because there are not many opportunities for undergraduates to present in a formal setting, the program wanted to offer students a chance to present without having to worry about a grade.
At the symposium, students presented on diverse topics, such as child labor and Marine Le Pen's presidential campaign in France, and related them to words discussed in the program, like "humanity" and "patriotism."
Helen Lee, a second-year philosophy and human rights and technological design student, won first prize for her presentation, "Truth-Telling and Humanity: What is Our Duty to Tell the Truth?" in which she discussed her interpretation of the word "duty." Lee said she drew inspiration for the presentation from a philosophy class, and wanted to explore when it is someone's duty to be completely honest.
"It felt absolutely amazing to know that I could share a personal narrative of my own flair and be able to tie it to a contemporary academic topic and field of research to make my presentation uniquely mine," Lee said.
Denié-Higney said the meetings will resume in the fall and are open to all students, faculty and staff who want to share their opinions or listen in on the conversations.
"We welcome anyone," Denié-Higney said.