Bruin women form noncompetitive club for aspiring female entrepreneurs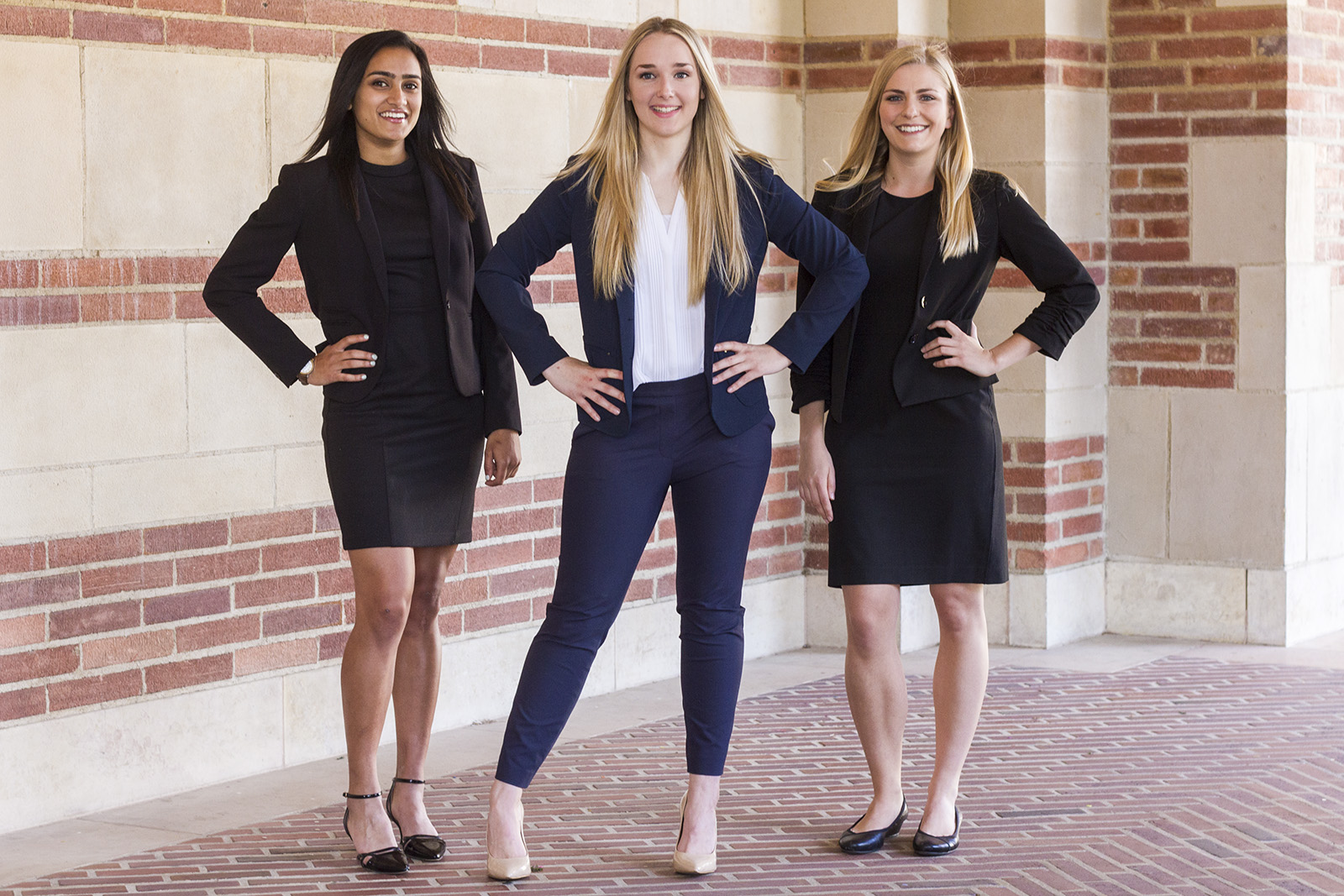 Founders of Bruin Women in Business want to provide a nonexclusive setting for students to learn about business-related skills and careers.
(Habeba Mostafa/Daily Bruin)
Hundreds of students get rejected from the campus's handful of competitive business clubs each year because each has a limited number of spots.
Megan Pierce, a third-year business economics student, was motivated to found a new club, Bruin Women in Business, due to UCLA's lack of a formal business degree program and the scarce opportunities to join a noncompetitive business organization, especially for women. Pierce, the club's president, reached out to fellow business economics students, third-year Devanshi Mehta and fourth-year Johanna Olesen, and the three women launched the organization in winter 2017.
The group aims to help future female business leaders succeed without requiring an extensive application process to join the organization, Pierce said.
"We didn't want the same kids getting into the same organizations because that doesn't really make sense," Pierce said. "There's a huge underserved community of people who are really talented and smart. They just haven't had an opportunity to get involved in an internship or get involved in an organization."
Bruin Women in Business hopes to help students explore the subfields of the business and finance industries to fill in the gaps from what they're learning in the classroom.
"As a business economics major, you're kind of just told about consulting, investment banking and accounting," said Olesen, the club's internal vice president. "There's so much other stuff out there but we don't really get any exposure to it."
Each club member is assigned to a committee based on her career goals. Options include investment banking, consulting, tech and entrepreneurship, accounting and marketing and media, Mehta said. Committee directors are typically upperclassmen with experience in each field who develop lesson plans, which include industry news and local job opportunities, for biweekly general meetings.
General meetings consist of committee lessons as well as a lecture from the executive board on topics such as how to build a LinkedIn profile and cold-email professional contacts, among other career development techniques.
Every other week, Bruin Women in Business hosts a speaker or workshop in which members learn a new skill, such as how to write a resume and cover letter, start the job search or use Excel. This quarter, Mehta said the meetings have focused on how to find and interview for internships.
"We've been working one-on-one with (women) to make sure that they apply to things that are relevant to them, that they're qualified for. … At the end of the year, we want everyone who wants to get an internship to have one," Olesen said.
The three executive board members have their own internships or postgraduation jobs lined up, but organize the meetings in their free time to help younger students discover their specific interests. Mehta, the organization's external vice president, said their jobs sometimes expand beyond formal responsibilities to include picking up Diddy Riese cookies for meetings or printing out brochures at Staples.
"I just wanted to help people younger than me – set them up for that same opportunity outside of Los Angeles or outside of the normal path that a lot of business economics students take here," Mehta said.
Bruin Women in Business currently has about 270 members and the board is trying to set up the club to succeed next year under new leadership.
Mehta said she thinks joining an organization such as Bruin Women in Business can help UCLA feel smaller and give students a place on campus to be successful, especially if there aren't many other women in their classes.
"I think it's building that community that's been great for a lot of these new members," Mehta said. "We're part of something we care about and we're part of something that is helping us be successful as students and just as people looking for opportunities after graduation."
Pierce added she hopes members will learn that taking steps toward their career is necessary in college, especially for those who might not be sure what specific job field would best suit their strengths and interests.
"We really wanted to make sure people felt like they had an understanding of all these aspects of business that they aren't necessarily exposed to, and then have mentors and lessons on how to get to where they want to go and how to understand what they even want," Pierce said.