Track and field sees 14 athletes qualify to NCAA championships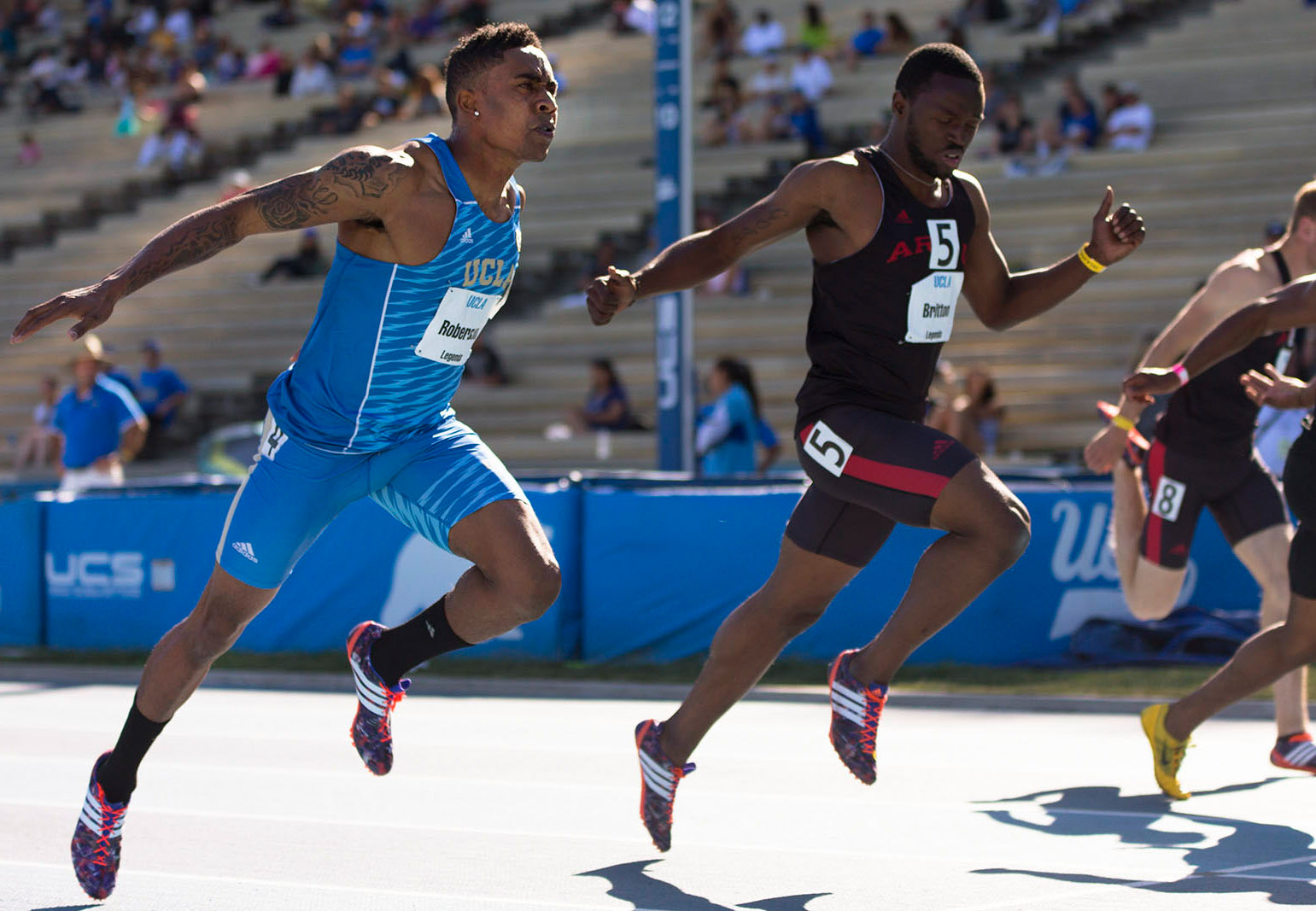 Senior Darnell Roberson combined his efforts with three other Bruins this weekend in the 4×100 meter relay. Together they managed the ninth-fastest 4×1 time in UCLA history. (Daily Bruin file photo)
They say everything's bigger in Texas.
For UCLA track and field this past weekend, that was the stage. On the line in Austin were berths for the national championship meet, and many Bruins put together season-best performances, after struggling with injuries throughout the year, to move on to Eugene, Oregon.
All in all, 14 Bruins are headed to the NCAAs, four of which qualified in one race.
Redshirt senior football wide receiver Eldridge Massington joined the men's 4×100-meter relay team for the first time this season, and was the lead leg. The last three – sophomore Rai Benjamin, senior Darnell Roberson and junior Leon Powell – finished off the ninth fastest relay time in program history.
"My four years here, they've been good, but as far as performance-wise I haven't been at my top capability, getting hurt," Roberson said. "This year things just started clicking, and just to be in that race and looking at the clock, and seeing that we got the auto-qualification and that time, it makes everything all worth it."
The last time the men's team ran the relay was at the Pac-12 championships, where a muffed baton handoff resulted in them not finishing the race. Roberson said that didn't faze the team at all, however, and its 39.32-second comeback has the team entered as the 16th seed in the last meet of the season.
Benjamin also qualified individually in his main event, the 400-meter hurdles. After cruising through the first round, he became only the fifth person in school history to ever break 49 seconds with a 48.91-second personal best in the finals.
It was the second fastest time in the event at the regional level, and the Pac-12 champion has the second fastest seed time at the NCAA championships. Last year, he finished as an All-American in the hurdles after just three weeks of training.
[Related: Rai Benjamin beats foot fracture, leads UCLA men's sprints in 2017]
Fellow hurdler junior Misana Viltz earned his first ticket to nationals with an automatic qualification in the 110-meter hurdles. He ran a personal best albeit wind-aided 13.68 seconds.
Elsewhere on the track, the men's and women's distance team earned three bids to Eugene. Redshirt senior Austin O'Neil qualified in the 3000-meter steeple, junior Daniel De La Torre made it as the 12th-place finisher in the 5000-meter and sophomore Julia Rizk ran a personal-best 2:05.02 in the 800-meter to automatically move on.
After coming back with a broken fibula, she has been alternating between 2:08 and 2:05 nearly all season – the 2:05s all coming at more competitive meets like the USC dual meet, Pac-12s and now NCAA regionals.
"Especially USC or Pac-12s or regionals, you know you have to be below 2:07 to make regionals or below 2:05 to make nationals," Rizk said. "At USC and Pac-12s it was mostly just race strategy, I didn't even realize I was going that fast. … Coach (Forest) Braden did a really good job of preparing us for that type of mental game."
Her finals time is the 18th seed for the national championships, and she'll be the only runner to represent the UCLA women at nationals.
The two other qualifiers for the women are both throwers, who after this weekend are now both in UCLA-record territory. Redshirt sophomore Ashlie Blake uncorked a lifetime best 57 feet, 4 3/4 inches to move into eighth place on the UCLA all-time shot put record board.
The distance was good for third place out of all 48 competitors, a massive improvement from last year when she finished 33rd in the event.
Senior Zaybree Haury was already UCLA's record holder in the javelin, but she now has her first ticket to nationals after claiming an 11th-place finish in Austin.
Of all the UCLA field athletes who moved on, half of them hail from the javelin team.
Freshman javelin throwers Marian Spannowsky and Simon Litzell both threw season-best marks early Thursday to place ninth and seventh, respectively.
Spannowsky got his best distance on his second flight, which shot him all the way up to sixth place at the time, while Litzell fouled and was sitting in 16th with one more round to go.
Litzell suffered a stress fracture in his foot in his first competition at UCLA and hasn't been able to prepare and train as he's wanted, he said, but on his last throw, he hurdled nearly 10 competitors with a mark of 69.14 meters.
"I knew that I had to throw around 69 to qualify, so last throw I just thought 'I know what I have to do and I know how to do it,'" Litzell said. "It was fun to really hit it in the last round and to make it."
He's been taking it easy for more than a month now, and with nationals two weeks away, he's looking forward to training the next two weeks without any hindrance.
To round out the other men's field athletes, redshirt sophomore thrower Dotun Ogundeji made nationals in the discus after coming up short in the shot put, for which he was ranked in the top 10 nationally, and sophomore Michael Burke was one of six people to clear 7-1 3/4 inches in the high jump.
Fourteen athletes is the most UCLA will have at nationals since 2004, when the team sent 17. That year, the women won the national championship and the men tied for 17th.
Hull joined the Bruin as a freshman in 2015 and contributed until 2017. He was an assistant Sports editor for the 2016-2017 academic year and spent time on the men's water polo, women's water polo, women's soccer, track and field and rowing beats.
Hull joined the Bruin as a freshman in 2015 and contributed until 2017. He was an assistant Sports editor for the 2016-2017 academic year and spent time on the men's water polo, women's water polo, women's soccer, track and field and rowing beats.