Students protest to support communication studies lecturer Keith Fink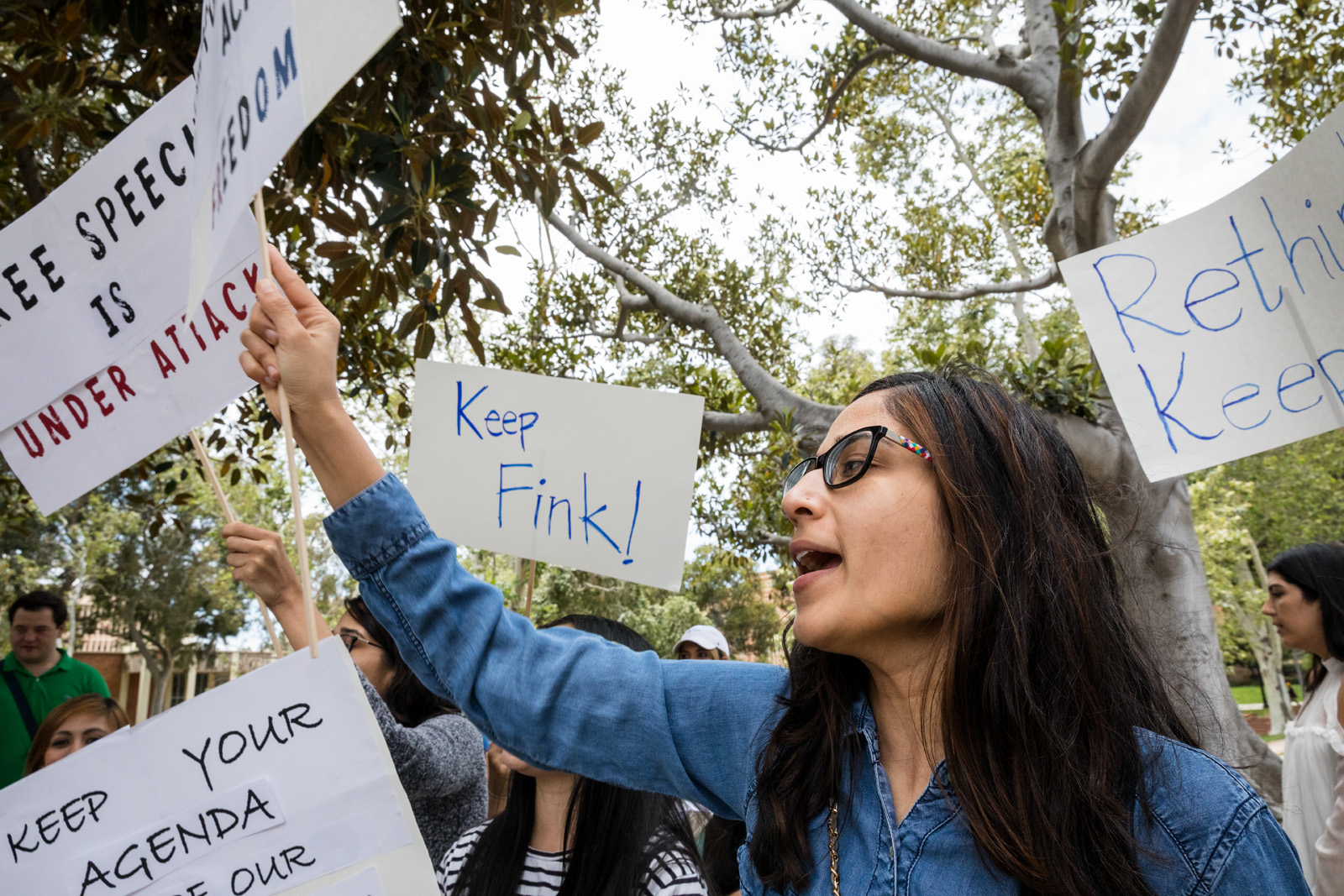 Students demanded the university retain Keith Fink, a communication studies lecturer, and submitted a list of demands to Laura E. Gómez, the interim dean of the UCLA College Division of Social Sciences and a professor of law. (Dayoung Lee/Daily Bruin)
This post was updated on May 29 at 2:25 p.m.
About 15 students protested in support of Keith Fink, a lecturer in the communication studies department, outside Murphy Hall on Friday afternoon.
The protest was organized by Keep Fink at UCLA, a group of UCLA students and alumni that claims the administration is treating Fink unfairly because of his conservative ideology. Local media, including NBC News, sent reporters to the protest.
Fink is currently undergoing an excellence review process, which takes place between a lecturer's 16th and 18th quarter of teaching, and determines whether or not their teaching contract will be terminated. However, because the committee that reviewed Fink was tied in its vote on whether to retain Fink, Laura E. Gómez, the interim dean of the UCLA College Division of Social Sciences, will make the final decision.
Tara Murphy, a second-year political science and sociology student, and Michael Mathis, a fourth-year philosophy student, led the protest. Murphy, who is also the spokesperson for the Keep Fink at UCLA group, and Mathis led students into Gómez's office in Murphy Hall and submitted a list of demands.
The group demanded that the university retain Fink and that Kerri Johnson, the communication studies chair, resign, among other demands. Gómez was not present at the time.
The protesters also held posters saying "Good grief keep Keith" and "Free speech is under attack," and chanted "Keep Fink" and "Rethink, keep Fink."
Ana Ingles, a third-year communication studies student, said she protested because she thinks Fink is a great professor who students love. She added she thinks there were only few protesters because students were scared to show up.
Jennifer Gittess, a second-year communication studies student, said she took Fink's classes and thought they were the best classes she has ever taken at UCLA.
"Nobody pays attention because our campus is so liberal," she said. "Everybody deserves the right to free speech, even professors."
Ryan Davidson, a fourth-year history student, said he wants other students to have the opportunity to take Fink's classes.
"The administration should work on the issue to keep Fink," he said.
Kiran Gill, a UCLA alumna, said she thinks Fink is an amazing professor who is loved by his students. She added she thinks only a few students attended the protest because it was on a Friday before a long weekend.
"It is really wrong what UCLA is doing," she said.
Fink submitted an optional response letter to Gómez for consideration in his review, and said she should receive the letter by Friday.