New Dining Services online feature optimizes meal-time efficiency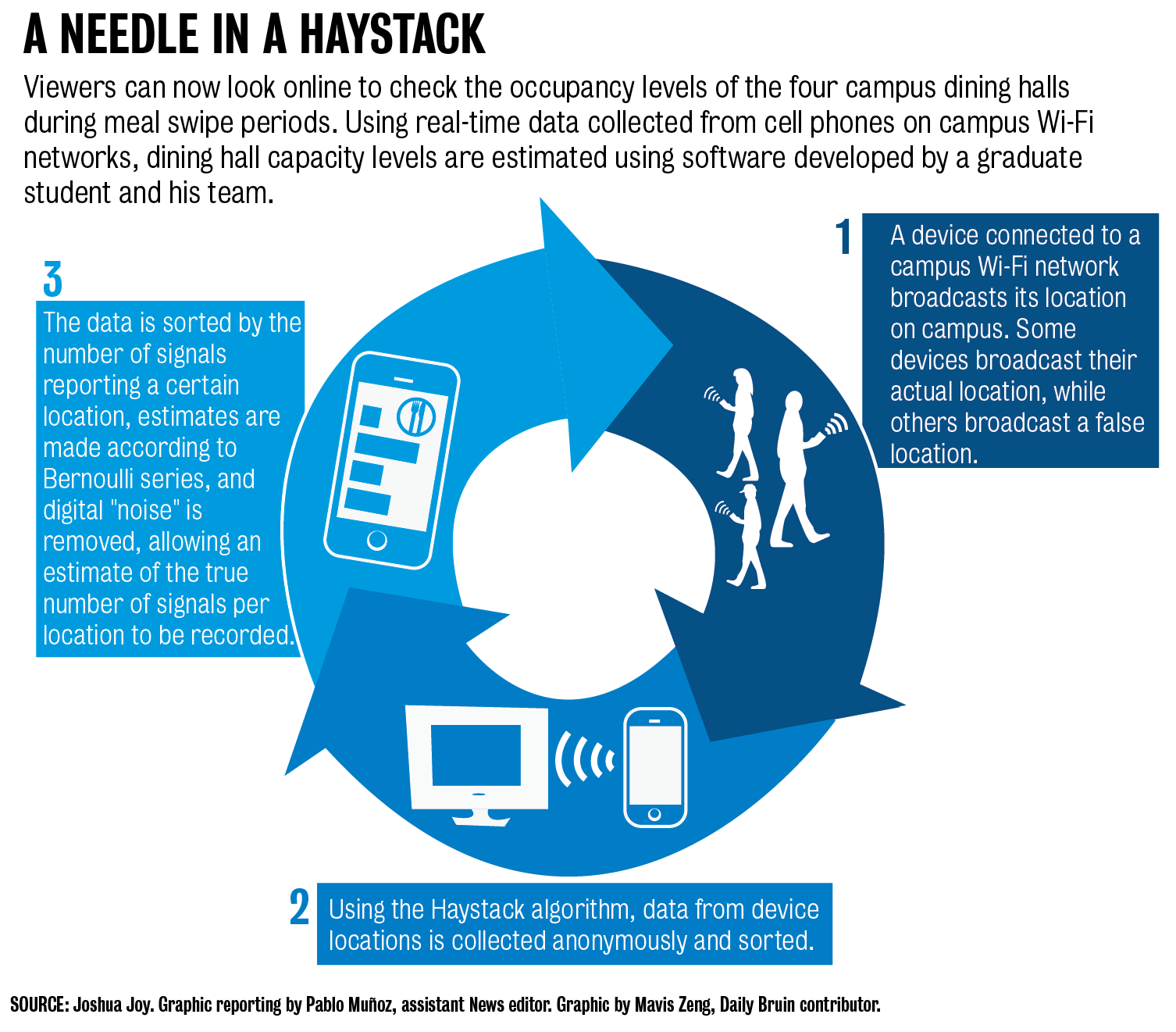 A new feature on the UCLA Dining Services website allows students to see how busy dining halls are during meal times.
The new software system, called Haystack, was developed as a research project by computer science graduate student Joshua Joy. The software on the Dining website went live May 12 and combines historical visitor data with records of connection attempts to Wi-Fi access points to measure activity levels in designated areas.
The restaurant activity level bars on the Dining Services website, which is only visible during meal period hours, indicate how many diners are at each all-you-can-eat dining hall, said UCLA spokesperson Alison Hewitt in a statement.
A team of undergraduate computer science students led by Joy developed the software as part of its research project, called CrowdZen, and provided it to Dining Services for free. The CrowdZen mobile app has been collecting data for more than a year and also displays dining hall activity data for Android, iOS and website interfaces.
Other universities have different ways to monitor dining hall activity, such as UC Santa Barbara's live video feed outside one of its dining halls. However, Joy said he thinks the UCLA dining system is the first at a California university to collect and display activity data.
"The idea here is like Waze for the college campus, where students can see how crowded places are in real-time," Joy said, referring to the Google mobile app that routes drivers according to real-time and crowd-sourced traffic data.
Sarah Nelson, a second-year molecular, cell and developmental biology student, said she has already starting using the feature and likes to wait until the crowds have tapered down.

"I think (the new feature) is a nice way of gauging what times someone can go into the dining halls and get a good seat," Nelson said.
Peterson Nguyen, a first-year biochemistry student, said he thinks the feature will be helpful and could help him avoid long lines in the busier dining halls.
"I'd check (the feature) every once in a while, and if I needed it," Nguyen said.
Unlike Waze's feature where individual users can be tracked in real time, Joy said all data collected by both the CrowdZen mobile app and Haystack remain private throughout the analysis process, protecting users' actual locations.
Joy's research goal is to eventually apply the software to autonomous vehicles, he said. The team already has plans to begin software experiments using vehicles this summer, he added.
"While vehicles are widely accepted as one of the most challenging mobility contexts in which to achieve effective data communications, less attention has been paid to the scalable security, and in particular the privacy, of data emerging from these vehicles," according to the research abstract for the Haystack project.
Joy said he is currently discussing other applications for the Haystack project, including displaying activity levels for other high-traffic areas on campus including Bruin Fitness Center, Wooden Center and Powell Library.
Contributing reports from David Yaghutiel, Daily Bruin contributor.