2017 UCLA Athletics Hall of Fame inductees share memories, advice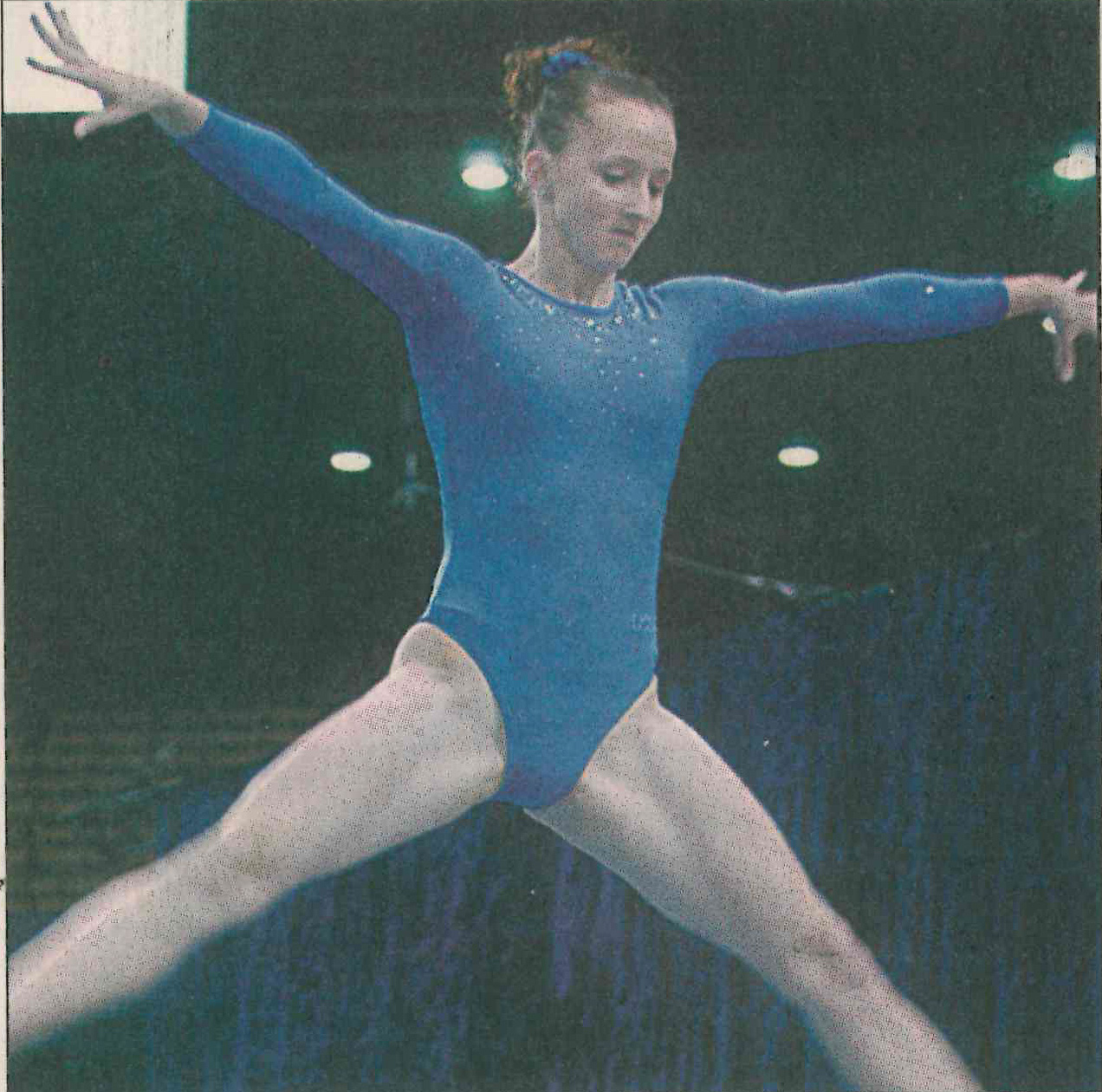 Former UCLA women's gymnast and Olympic gold-medalist Kristen Maloney was inducted into the 2017 Bruin Hall of Fame class. She won All-American honors in 2001 as a member of UCLA gymnastics. (Daily Bruin archives)
Last week, UCLA Athletics announced its 2017 Hall of Fame Class, which included Toby Bailey (men's basketball), Robin Beauregard (women's water polo), Monique Henderson (women's track and field), Maurice Jones-Drew (football), Bob Larsen (men's track and field coach, men's and women's cross country coach), Kristen Maloney (women's gymnastics), Brandon Taliaferro (men's volleyball), Gina Vecchione (softball) and Bobby Field (football coach, UCLA Athletics administrator). Daily Bruin Sports had the opportunity to speak to Bailey and Maloney about their experiences in Westwood.
DB Sports: Tell us about your time at UCLA as a student-athlete.
KM: It was a really great time, I really enjoyed it. I was a psychology major and I was there for about four and a half years from 2000 to 2005. And I competed three out of those five years.
TB: I always wanted to go to UCLA because my father went there. And when I got to UCLA there were a lot of people I already knew. I knew Tyus (Edney), Charles (O'Bannon), Ed (O'Bannon), Chris Johnson and J.R. Henderson, so I knew a lot of people going in and it felt like family from the beginning. I really had a great time, embraced the whole process and enjoyed playing for UCLA and just being a college student.
DB Sports: Do you have a favorite memory from you time here in Westwood?
KM: I love competing so I love when we hosted the NCAAs in 2004. I think that was one of my favorite memories.
TB: Winning the championship was obviously a special moment; that doesn't happen for very many people. So that was definitely the biggest moment in my career at UCLA.
DB Sports: Keep in mind, this could be different people or the same person – who was the coach that had the biggest impact upon your playing career and development as a person?
KM: (Gymnastics coach Valorie Kondos Field) did. She recruited me and I think she cares about her athletes as people and wants to see them grow. With my injuries, she was always very patient and helpful with getting me healthy and coming back. She really helped me take control of my gymnastics and enjoy the sport again.
TB: My dad was the coach that had the biggest impact on my life. He had coached me since I was 5 years old and then he coached me in high school and Amateur Athletic Union teams. Then when I was in the NBA he would coach our summer league team with Paul Pierce, Ricky Davis and a lot of pros and he would coach on that level. So he coached on all levels and had the biggest impact on my career because he was there to guide me through my entire process.
DB Sports: How did attending UCLA affect you later on in life, and how did it develop you as a person?
KM: It was very good for preparing me to be organized and on top of things. UCLA is such a great school academically, it just really prepared me to be ready for whatever is going to come.
TB: My mom was a librarian and she was the one that focused on the educational side of things. I went to Loyola High School, a very Jesuit high school, the oldest in the country and it was a very serious educational institution. So the foundation was there from my mom and my high school. Then once I got to UCLA I knew that no matter what happened, even if I get out early, I was going to have to leave there with a degree. And that's what I did. I ended up having a few classes after because I played on the national team for a few years during the summer. And it was my mom who really pushed me to finish. For me, UCLA just has it all, it's the best of both worlds because a lot of colleges focus on the sports side but they might not be strong on the academic side and vice versa. But for UCLA, it's an institution where you can look around and in any field out there and there's excellence that's been proven all throughout our graduates. And just to be in that environment you have to bring your game – not only on the court, but in the classroom – to another level and it's just a great learning environment.
DB Sports: What does it mean to you to be inducted into the UCLA Hall of Fame this year?
KM: It's a huge honor. It was something that was a bit of surprise but very exciting. You look at all the other athletes in there, not just gymnasts, but all the other sports too. Those are some of the best athletes of all time, in their sport, and so it's a real honor to be in the Hall of Fame with them.
TB: There's almost no words. Like I said, I grew up on UCLA, my dad went there. I am an avid fan and supporter – you know we probably learned the fight song before we could speak. So coming from LA, wanting to come to UCLA my entire life, knowing about all the greats that went here before me – even before we had the internet and all that I knew about the history. I knew about Mike Warren, who was a friend of my father's during UCLA time and played the point guard when Kareem was there. I knew Kareem Abdul-Jabbar, Sidney Wicks and Lucius Allen. I used to go to (John) Wooden camp when I was a kid; I'd go year in and year out and get my picture taken with Wooden. For me, this is the pinnacle, an amazing honor and I'm very proud to be in the history books at UCLA in the Hall of Fame. My entire family is UCLA, my brother went to UCLA and played basketball. He was a point guard on the team with Earl Watson and Baron Davis. His wife played soccer at UCLA, my wife was an All-American in soccer at UCLA and played basketball. Our entire family just lives and breathes UCLA so for us to get this honor is really truly a pleasure.
DB Sports: What advice would you give to current student-athletes?
KM: Enjoy the process, really just enjoy it. There's going to be moments when it sucks and it's hard but if you let it be, it can be some of the best times of your life. Just enjoy it, be a kid, work hard and have fun.
TB: You got time to sleep when you get older, just make sure you take advantage of everything while you're there. It seems like a long time for those four years, or however long you're there for, but it really does go very quickly. People say it's the best time of your life and for a lot of reasons it is. You've got the whole world ahead of you and so many options and directions you can go with your life – try everything, hang out with different people and enjoy everything that UCLA has to offer; don't just stay in your little box. That was one thing I think I would've done differently. When I was there, I was so busy just trying to survive as an athlete and in the classroom that I didn't necessarily have the energy to go check out a volleyball match or a track meet as much as I would've liked to. And now you get older and you see all these Olympians that you could've been checking out for free, or great athletes or great actors performing in the plays. Just go, have fun and soak it all up – that's my advice.
DB Sports: What do you think about the current state of the UCLA gymnastics/basketball team?
KM: I think they're amazing and they just have so much talent.
TB: I think they're doing a great job. Last year we got back on track, we had a great team. We're going to lose a lot of young players which is tough, but it's just a different landscape in college basketball. Year in and year out it's really tough to build a cohesive team when you have so many of your key players leave after one year. Especially if you do a great recruiting job and get that top tier of great high school players. I think they're doing a great job, I'm super psyched and glad that they brought on a piece of the UCLA family in Tyus Edney as an assistant coach. I think he'll be able to add a lot with just his wisdom and everything that he can push onto the kids. I think that'll be a huge asset in the future. They're in a good place.
DB Sports: What's your take on Lonzo (Ball), where is he going in the draft?
TB: He'll definitely go no later than the top three; he'll probably go in the top two. No matter where he goes, I think he'll be successful. He just has some gifts that you can't necessarily teach physically and skill-wise he just has some amazing stuff. So I think he's going to have a great NBA career.
DB Sports: What have you been up to since leaving UCLA and what do you do currently?
KM: After I graduated, I taught gymnastics for a little bit, then I joined Cirque du Soleil and I did that for a couple of years before going back to coaching college. I did that for a long time. And now, I'm a stay-at-home mom – well, kind of – I still work, I do choreography for gymnastics clubs. So I do floor routines and beam routines, at camps and clinics as well.
TB: I played for the Phoenix Suns for a few years, I played for the New York Knicks and then I played overseas for 10 years in countries like Greece, Italy, Belgium and Germany. I won championships over there, won titles and won MVP and now I've been a sports agent for the past six or seven years.
DB Sports: Tell me a little about your experiences with Cirque du Soleil. That was all abroad if I'm not mistaken, correct?
KM: I did a traveling show called Alegría and I did a trampoline act. It was so much fun. It was just a great experience to travel the world and see everything and everywhere and to perform. To build upon my college career of performing and it really built upon my college career of performing.
Sugimura joined the Bruin as a freshman in 2015 and contributed until 2017. He was an assistant Sports editor for the 2016-2017 academic year and spent time on the women's basketball, men's volleyball, women's volleyball, beach volleyball, men's soccer and swim and dive beats.
Sugimura joined the Bruin as a freshman in 2015 and contributed until 2017. He was an assistant Sports editor for the 2016-2017 academic year and spent time on the women's basketball, men's volleyball, women's volleyball, beach volleyball, men's soccer and swim and dive beats.