Editorial: UCLA must build marijuana research center, study effects of legalization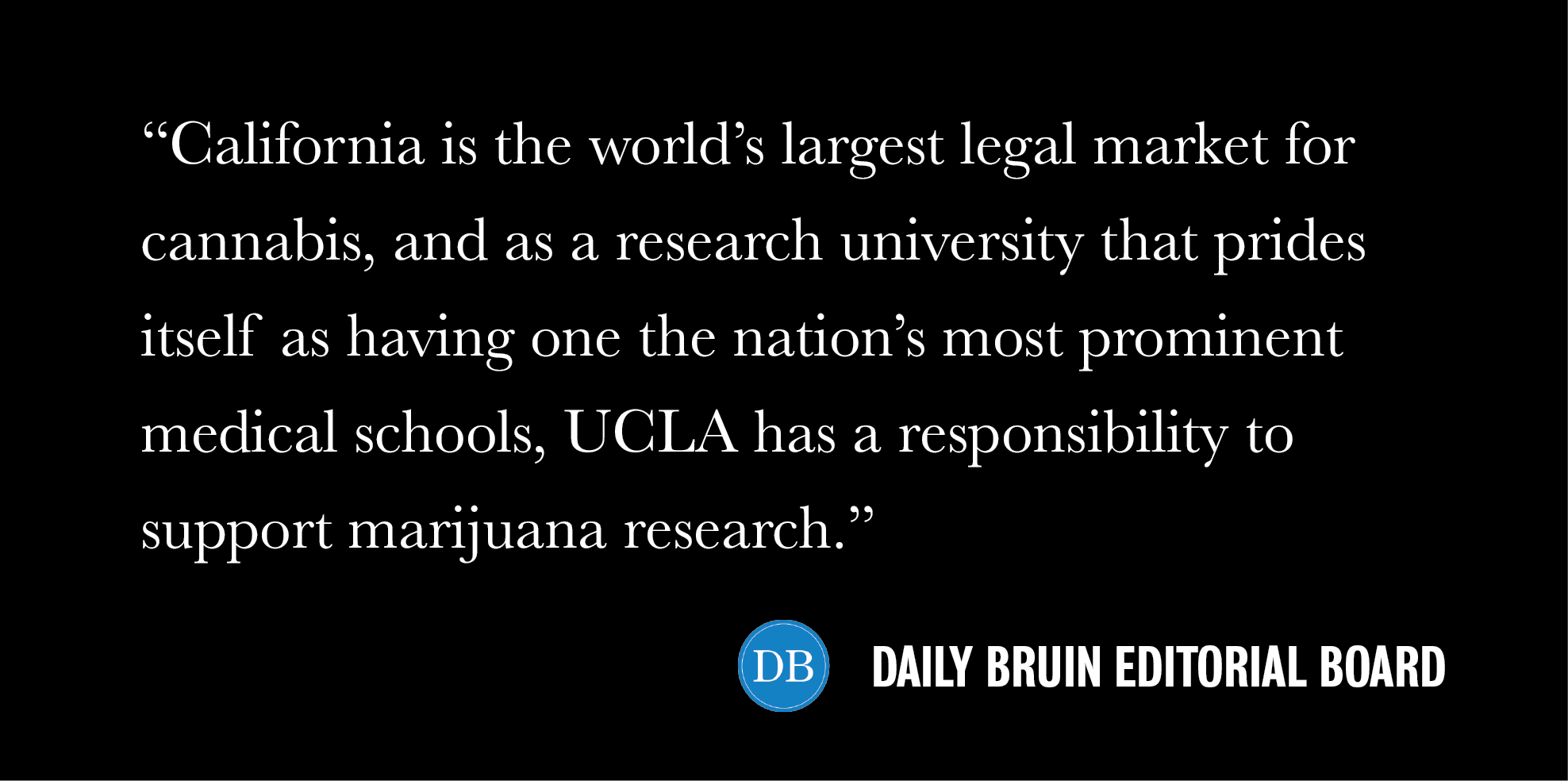 UCLA has a leading medical school, award-winning research departments and thousands of talented students. But the university has still managed to be outpaced by California's marijuana industry.
Californians passed Proposition 64 in November, legalizing recreational marijuana use and bringing the invisible cannabis industry to light. Businesses – especially those in Northern California – are burgeoning and city governments have started to lay the groundwork for regulation. Some students are even running their own full-blown businesses and some are working to institutionalize cannabis research here on campus.
The time is ripe for UCLA to invest in the field – and consequently, its future.
UCLA must connect with marijuana industry members and institutionalize a cannabis research center. California is the world's largest legal market for cannabis, and as a research university that prides itself as having one the nation's most prominent medical schools, UCLA has a responsibility to support marijuana research.
Marijuana has been stigmatized for many years and the federal government still categorizes it as one of the most severe of illegal drugs. Until recently, the University of Mississippi had the monopoly on federally approved cannabis cultivation, but the Drug Enforcement Administration opened up a permit process in 2016 for other institutions to participate in research efforts.
And the results of this move have been promising. Cannabis has shown potential as a treatment for epilepsy, cancer and other diseases, and next year, the California state government will begin allocating $10 million annually for the next 11 years to public universities to conduct research on the effects of legalized cannabis.
UCLA needs to act fast and establish a research presence in the marijuana field if it wants in on this funding.
The manpower is already there. Jeffrey Chen, a graduating medical and business administration student at UCLA, started the UCLA Cannabinoid Affinity Group, which brought 35 researchers together this year in hopes of creating a research center to study marijuana.
And the greenhouses adjacent to the medical facilities on campus are a potential location for growing the plant for research purposes, in addition to the Mildred E. Mathias Botanical Garden facilities. Moreover, the university can build upon its existing network of laboratory facilities to cater to cannabis researchers' needs.
UCLA declined to give a statement about whether the university was interested or pursuing research in the industry. But delaying a stance on the matter would only hinder the university's abilities to enrich its students' and researchers' experiences. UCLA shouldn't pass up this opportunity to study marijuana's possible effects and applications.
Certainly, a UCLA institute might seem redundant since other UC campuses, including UC San Diego and UC Irvine, already have institutions dedicated to analyzing chemical and medicinal qualities of marijuana.
However, Los Angeles is prime real estate for this kind of research. City voters recently approved Measure M, which allows the city to regulate marijuana dispensaries. Furthermore, LA's large, diverse population provides a great base for studies into the socioeconomic effects of marijuana.
As one of the city's – and the country's – top research universities, now is the time for UCLA to be on the forefront of marijuana research.