Baseball powers past Utah in final home series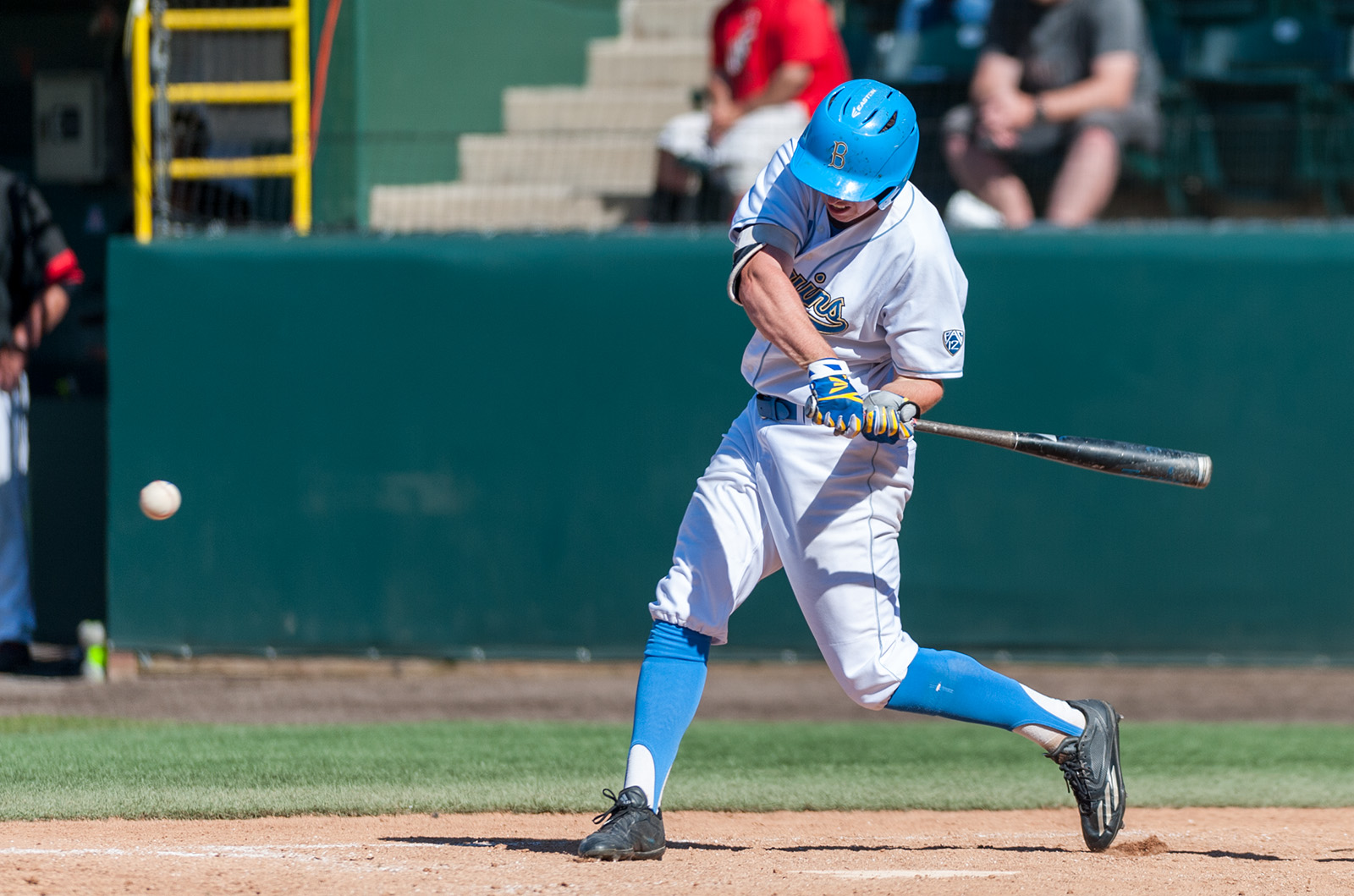 Left fielder Brett Stephens led off in all three games of the senior's final home series as a Bruin. The senior scored twice on Sunday. (Kathy Chen/Daily Bruin)
UCLA baseball swept its final home series of the year in nearly season-best fashion.
Twenty-six hits and five homers paved the way to 20 runs for the Bruins over the three-game stretch, the most that they've racked up in a conference series since early April.
"The power's kind of been there all year … but we were mentally tough this weekend," said coach John Savage. "We took another step in the right direction after a step back last week."
Even with the sweep over Utah (24-24, 12-15 Pac-12), UCLA (28-23, 17-10) still remains a game behind No. 11 Stanford in the race for second place in the Pac-12. The Cardinal also won all three of their games over the weekend, though by margins much closer than UCLA's.
Junior Griffin Canning led the Bruins to their first win Friday night with his third complete game of the year. The right hander recorded 10 strikeouts and gave up three runs.
On the offensive end, UCLA scored seven runs. Freshman third baseman Jack Stronach hit a solo home run in the second inning, which junior first baseman Sean Bouchard followed up later in the inning with an RBI single. In the fifth, Stronach hit a two-run double down the first base line, and a ground out from Bouchard in the sixth gave UCLA its final run of the game.
The 10 hits the Bruins recorded Friday were followed by just a three-hit performance Saturday – all of which came in the first inning. Senior left fielder Brett Stephens scored on a walk with the bases loaded, putting UCLA up 1-0.
Freshman second baseman Chase Strumpf immediately followed with his seventh home run of the season – the Bruins' first grand slam since 2015 – to make it 5-0.
"We feel we have as good a freshman class as there is in the country, position-player-wise for sure," Savage said. "It's a full installment of bright talent."
The early runs allowed junior Jake Bird to pick up his first win as a starter since he sustained a shoulder injury against Gonzaga in late February. Bird pitched five scoreless innings before allowing two leadoff base runners in the sixth. He was succeeded by senior Moises Ceja, who gave up a three-run home run that inning.
The Bruins attacked early and often Sunday. They jumped to a 1-0 lead in the top of the first when Stephens scored on a groundout from Bouchard.
"We were able to adjust, get back on our feet and get back to quality at-bats," Stephens said. "We had some guys that had some sweet swings, and we put up some good numbers."
In the fifth, Stephens knocked an RBI double to right and proceeded to score on a wild pitch. Later that inning, a pair of back-to-back home runs – a two-run bomb from freshman right fielder Michael Toglia and a solo shot from Strumpf – put the Bruins up 6-1.
They did not record a single error throughout the weekend and made several dramatic plays in the outfield. These included a diving catch from Toglia on Saturday and another one at the warning track from sophomore center fielder Daniel Amaral on Sunday.
Amaral, who went 4-for-4 on Sunday, said the live reads the outfielders take during batting practice have greatly contributed to their success in recent games.
"We're fighting to get in the playoffs here," Stephens said. "We thought maybe we'd just win the series, but to get all three against a tough team that's beaten some other good teams on the road, it was a really big deal for us."
Sanders joined the Bruin as a freshman in 2016 and contributed until 2017. He spent time on the baseball, softball and men's soccer beats.
Sanders joined the Bruin as a freshman in 2016 and contributed until 2017. He spent time on the baseball, softball and men's soccer beats.