URC elects new president, creates new student funds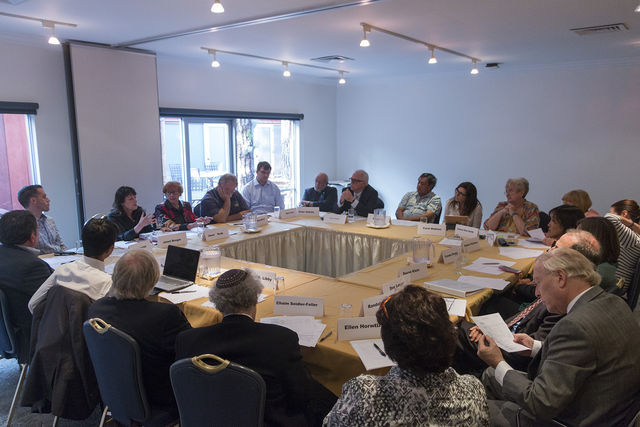 The University Religious Conference's Board of Directors held a meeting Tuesday evening during which it approved to create two new funds for student groups. (Laura Uzes/Daily Bruin)
The University Religious Conference at UCLA elected a new president and created two new student group funds Tuesday.
The organization's board of directors elected Kenn Heller at its board meeting Tuesday evening at the UCLA Faculty Center. The board also voted to pass one $15,000 fund and one $8,000 fund.
The URC is the oldest interfaith organization in Los Angeles. It houses several student organizations and consists of 15 member organizations.
Heller previously served as URC president. He was also the UCLA Assistant Dean of Students in 2003 and was on the Board of Directors about 10 years ago.
Any student group will soon be able to apply to the board's new $15,000 fund, said URC BOD member and outgoing undergraduate student government General Representative 2 Ruchit Majmudar. The $8,000 fund will be exclusively for student trips to interfaith-based conferences.
The URC recently voted to sell their Hilgard property and financed its new funds with money from the property, Majmudar said. The amount in the $15,000 fund could increase if enough groups apply, he added. Students can apply when the applications go live on the URC's website. He did not specify when that would be.
"What the URC lost in space, it gained in resources," Heller said.
The board also appointed a new executive committee, which is part of the BOD, Majmudar said.
The newly elected members are Heller, Vice Presidents Reinhard Krauss and Jeanne Roe Smith, Secretary Mick Deluca and Treasurer Dov Lesel. Deluca is also assistant vice chancellor of Campus Life at UCLA.
Heller said the board is still brainstorming and it is too early to discuss its direction yet.
"There is so much on the table," he said. "So much this year's (previous) board has worked on … We hope to continue the process of enlarging not just those in the board but those interested in the conversation about the URC and what they want to see from it."
Heller said the goals of the URC today are still aligned with what they were when he sat as president years ago, which is bettering the community at large.
The URC has also been discussing implementing paid staff positions, such as student internships, to help the organization run more efficiently. However, Heller said the URC is currently not sure what these new staff positions would look like or whether they'll be implemented.
Heller said he is eager to see what the future of URC will look like, and how that future can be achieved, given their new assets and a new executive committee.