UCLA students and professor call against US weapons in South Korea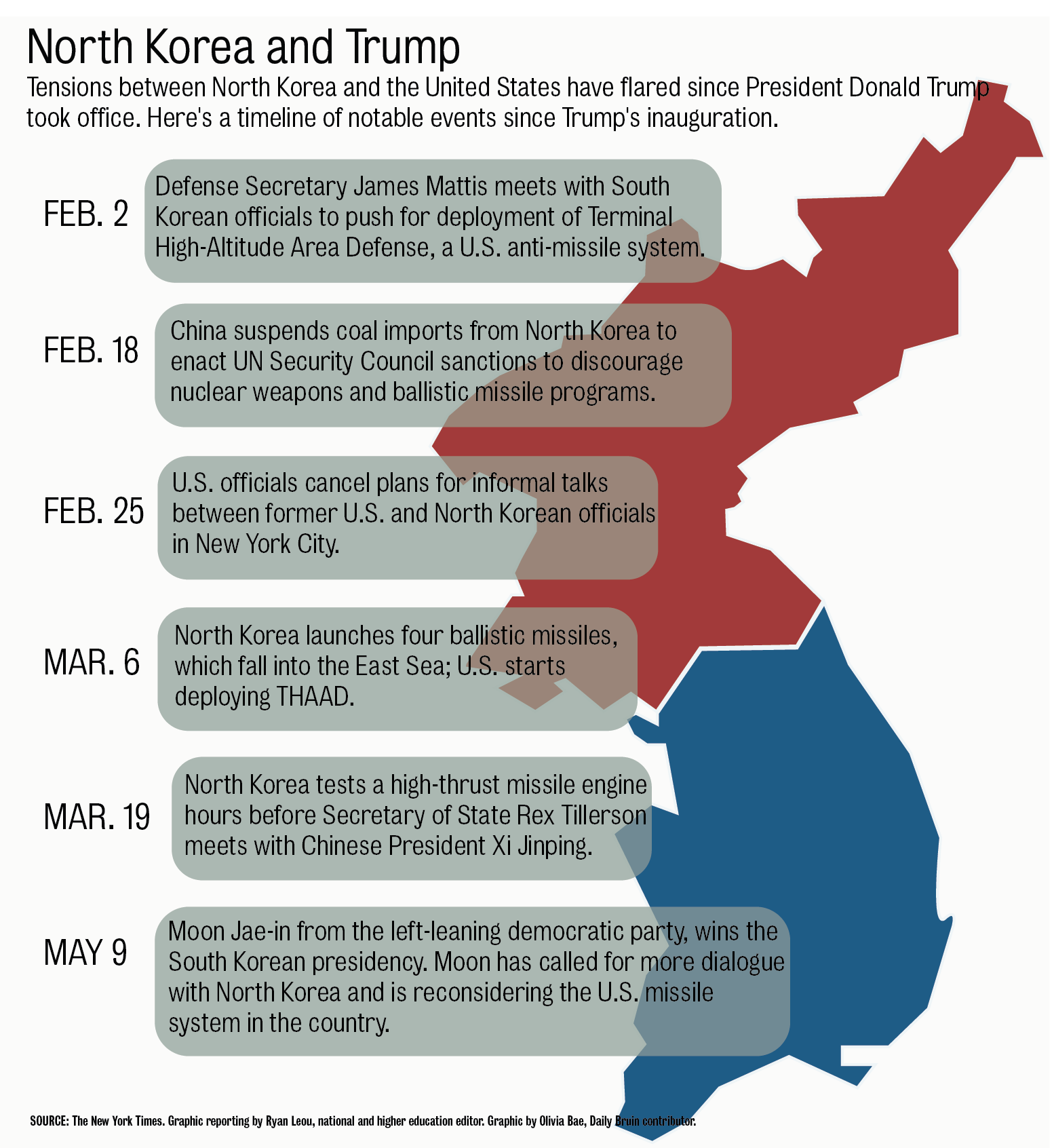 UCLA students and professors said they think the United States' recent deployment of a missile system in South Korea in response to North Korean weapons tests raised tensions between the countries.
Namhee Lee, an Asian languages and cultures professor who teaches modern Korean history, said the American deployment of the Terminal High Altitude Area Defense missile system in South Korea has strained the already charged relationships between the U.S., South Korea, North Korea and nearby countries.
THAAD is an anti-ballistic missile system designed to shoot down short, medium and intermediate range ballistic missiles.
"China and Russia are very upset about this deployment because they basically see it not necessarily a defense mechanism against North Korean attacks on South Korea, but a powerful radar system that can actually collect security information in China," Lee said. "South Korea is the one who is paying dearly, because there is a huge retaliation against South Korea in terms of boycotting its products and tourism from China."
Lee also said she thinks only peaceful negotiation can prevent tensions from escalating further. She added the U.S. and North Korea successfully negotiated under the 1994 Geneva Framework as North Korea agreed to give up its nuclear development for energy sources.
"There is really no military solution to this problem," Lee said. "Only dialogue and negotiation (will) solve the problem, and we have seen in the past that negotiation had resulted in some positive outcome."
Lee also said she thinks President Donald Trump's inconsistent foreign policy toward North Korea will add uncertainty and danger to the process of reaching agreements between countries.
"We don't know which direction he is going, because one day he said North Korea is a threat, (and) the next day he said he would be honored to meet with Kim Jong Un," Lee said.
Lee added she thinks the American people do not have a good understanding of the reasons behind U.S. tensions with North Korea because their only source of information is mass media, which does not adequately provide historical context for the current tensions.
She said Koreans prioritize lowering tensions in the area because they do not want to repeat the Korean War, which killed millions of people and destroyed infrastructure.
"If you understand what the Koreans went through, I am sure you would have better appreciation of how important lessening the tension would be in Korea and for the people who live around the area," Lee said.
Jae-hyung Park, a third-year political science student from South Korea, said he thinks the tension is caused by the power games between the U.S. and China.
"North Korea has been developing its nuclear technology (for) more than 60 years, but the U.S. didn't act that tough, like (it does) today," Park said.
China has long provided economic and military assistance to North Korea, but recently supported United Nations sanctions against its regime.
Jubing Ge, a third-year global studies and economics student from China, said she thinks the international community's sanctions against North Korea are not an effective way to stop its weapons tests.
"First, it makes a weak, isolated country with many enemies more panicked to confront threats to its national security," Ge said. "Second, the heavier the sanction is, the more severe (it) is (on) the North Korean economy, and this loop might lead Kim Jong Un to sell nuclear weapons to other countries, even ISIS."
Ge also said that she disagrees with economic sanctions because, having been to North Korea herself and seen the hardships people face, she thinks the sanctions would only make their economic lives more difficult.
Lee said she thinks North Korea will not give up on its nuclear weapons program, but the regime has consistently made two demands that could lead to peace: a nonaggression pact and re-establishing diplomatic relations with the U.S.
"That's not blackmailing or being blackmailed. It's not giving in, not appeasement, it's a way to get out of this security dilemma, this tension, to promote peace in the world," Lee said.
Lee added she hopes the new South Korean president, Moon Jae-in, can convince both the Trump administration and other regional powers to work together and bring about negotiation with North Korea.
Yi-seul Kang, a third-year global studies student from South Korea who supports Moon, also said she hopes peaceful conversation will open up under the new administration. She added she thinks it is important to negotiate an agreement that will stop North Korea's nuclear development by providing the country with economic and political aid.
Kang also said she strongly opposes the installation of THAAD because she thinks it cannot effectively protect Seoul, South Korea's capital, from nuclear attack and caused geopolitical tension with neighboring countries, such as China.
"When it comes to THAAD, the new Korean president should be straightforward with President Trump," Kang said. "What they need us to do is to talk to North Korea, not to install a weapon that would increase the tension in (the) Korean Peninsula."