UCLA Extension students showcase award-winning short films at festival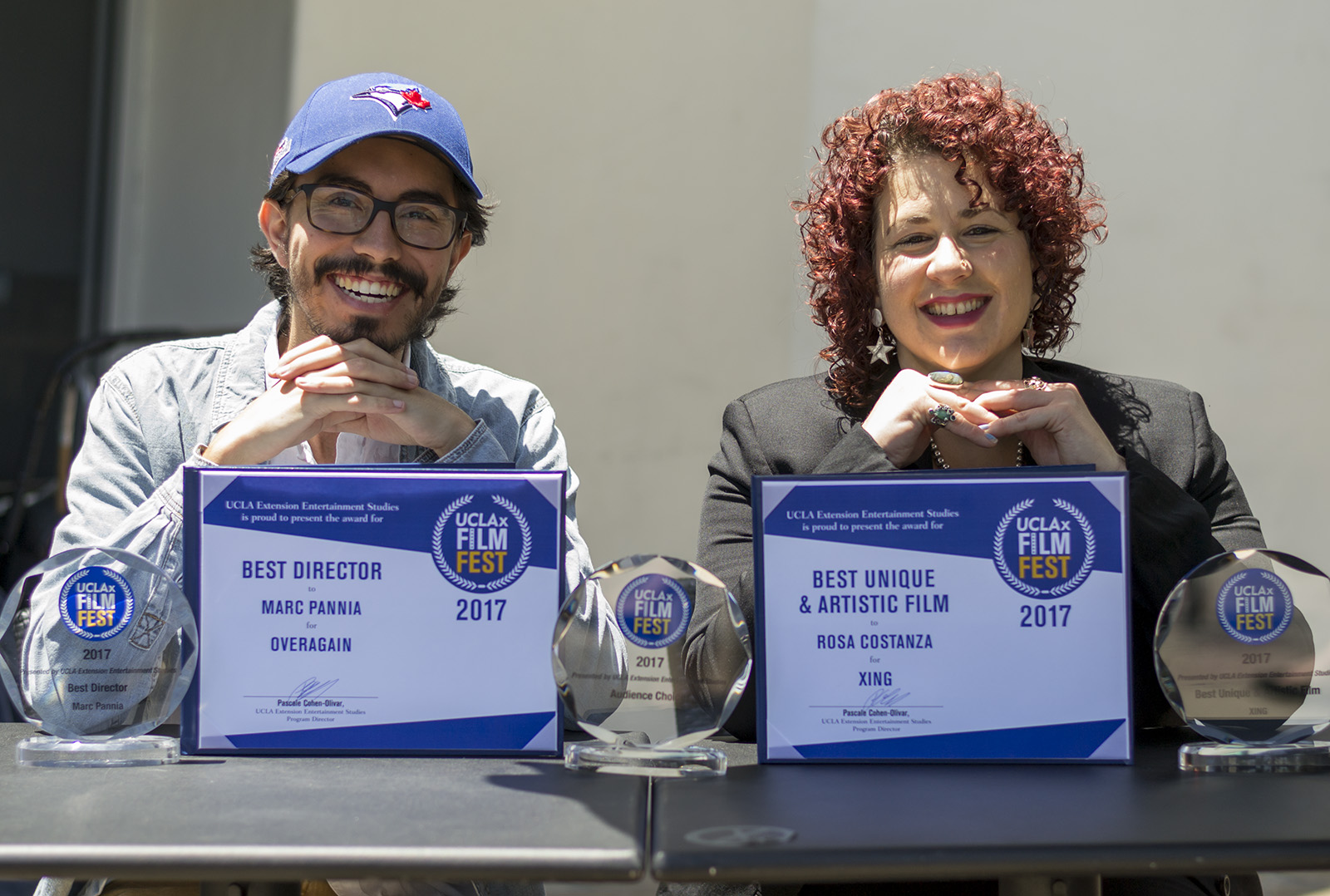 UCLA Extension alumnus Marc Pannia (left) and UCLA Extension student Rosa Costanza (right) won awards at the UCLAxFilmFest event on Saturday at the Landmark Regent Theatre. (Axel Lopez/Daily Bruin)
Santa Monica Pier authorities asked Marc Pannia to leave the pier. He was filming the bright, flashing ferris wheel and arcades without a permit.
The UCLA Extension alumnus was attempting to get footage of an actress enjoying the carnival games at the pier for his film "OverAgain." He ended up shooting scenes of her smiling from under the pier.
Pannia presented "OverAgain" at UCLAxFilmFest on Saturday.
The UCLA Extension Entertainment Studies program's second annual film festival featured 15 short films at the Landmark Regent Theatre in Westwood. The program's current students and alumni could win awards in five categories: best film, best unique and artistic film, best director, Entertainment Studies staff pick and audience choice.
Winners receive free enrollment in any one UCLA Extension course or can work on their original projects with assistance from UCLA Extension instructors under the Independent Study program.
"OverAgain"
Pannia won three awards Saturday for best film, best director and audience choice for "OverAgain."
The short film depicts the beginning and end of a man's relationship with his ex-girlfriend through memories of iconic Los Angeles locations and dates that bleed into each other, Pannia said.
"While we focused on a specific romantic relationship, this movie can apply itself to the general feeling of loss," Pannia said.
The film originated from his sister's memory of a past romantic relationship and the association of a specific object or location, like the Santa Monica Pier, with an ex-significant other, he said. During the writing process, Pannia realized he and his sister could relate about breakups and the feeling of loss.
"I'm currently going through a breakup and it's scary how similar the feelings depicted in the film are to what I'm feeling now," Pannia said.
Pannia said he, like his protagonist, associates certain locations and objects with people who are now missing from his life. He associates the Ralphs on 3rd Street and La Brea Avenue with the night he and his ex-girlfriend binge-watched the "Harry Potter" movie series and went for a midnight snack run.
Pannia's ability to accurately encapsulate feelings that rise from a breakup, like romantic sentiments that make the past seem better and brighter, made his film worthy of best film, he said.
While Pannia went up alone to receive best director, he said he could not have finished the film without his small cast and crew, who suggested details that helped emphasize the feeling of nostalgia to the film.
Pannia's cinematographer, Marco Tomaselli, worked on the transitions between the different scenes to emphasize how memories bleed into each other. To demonstrate the seamless connection the narrator has between the certain objects and memories he has with his ex-girlfriend, Tomaselli changed french fries dipped in ketchup from an earlier memory to a sprinkle donut from a later date.
"Our protagonist's memories just blur together as he just reminisces on the past," Pannia said. "We want to portray that if you keep living in the past and seeing it brighter than it actually is, then you're going to miss what's right in front of you."

"XING"
Rosa Costanza drew from her childhood dream of becoming a DJ to create a short film. It explores the underground house music culture of New York and global society's desensitization to the danger of drugs.
The UCLA Extension student utilized mixed media to portray the dangers of the underground club scene in her film "XING," which won best unique and artistic film.
The film follows Melissa, a young woman striving to achieve notoriety in the house music scene. She sells ecstasy in the underground club market to fund her career.
Costanza added stop-motion animation, voice-overs and street scenes of Manhattan from the early '90s to give the audience a more genuine feel for the club and DJ culture she was trying to portray for her narrative. Many of the actors in the club scenes are part of the music scene off screen, she said.
"To depict the type of people part of the club scene, we hired real ravers," she said. "The characters you see are kids who are from this world, representing club culture and dance music culture."
Costanza creates a sense of reality in her film with the issue of drug desensitization. On screen, Melissa pops greenish-yellow pills as a means of escape and loses sight of her ultimate goal of being a DJ. Melissa only realizes she has lost sight of her dream once her ecstasy pills are hustled away from her by two other teenagers, she said.
"People are uncomfortable with controversial subject matter and don't want to dig into serious topics the ways I do," Costanza said. "Making this film gives me the chance to say, 'Hey look, I'm working on something that's of interest and let's not be afraid to talk about it,' which I think is exactly what films are supposed to do."
"Becoming Lucy"
Protagonist Lucy dyes her hair to impress her crush after her father leaves her mother for a blonde woman.
UCLA Extension student Luisa Novo wrote and directed the film, called "Becoming Lucy," which won the Entertainment Studies staff pick award.
Novo is interested in coming-of-age stories and the concept of being pressured to fit in. She started off with the scenario of her protagonist dyeing her hair to be more accepted by her crush, then developed her personality and relationships.
Novo said the narrative's relatable qualities – a rebellious teenage phase and the concept of changing oneself to be more accepted – could have contributed to her win.
"While staff did not directly come up to me about my film, many strangers came to me telling me that they too went through such phases themselves," Novo said.
After she won her award, a mother approached Novo to say she and her daughter shared a similar relationship to the one presented in the film, Novo said.
Upon hearing the audience's feedback, she felt happy that the story touched people and that she accomplished what she set out to do – release a film people would like and relate to.
The film depicts feelings of isolation and the relatable struggle of finding oneself, but Novo said it also has lessons about realizing and appreciating people who give you support, like Lucy's mother in the film.
"I want young people to see this as a representation of themselves," she said. "I want them to see that they are not alone in whatever they're going through."
Del Rosario is the 2018-2019 prime content editor. She was previously an A&E staff reporter.
Del Rosario is the 2018-2019 prime content editor. She was previously an A&E staff reporter.