UCLA students choose BruinBus and ride-sharing apps for transportation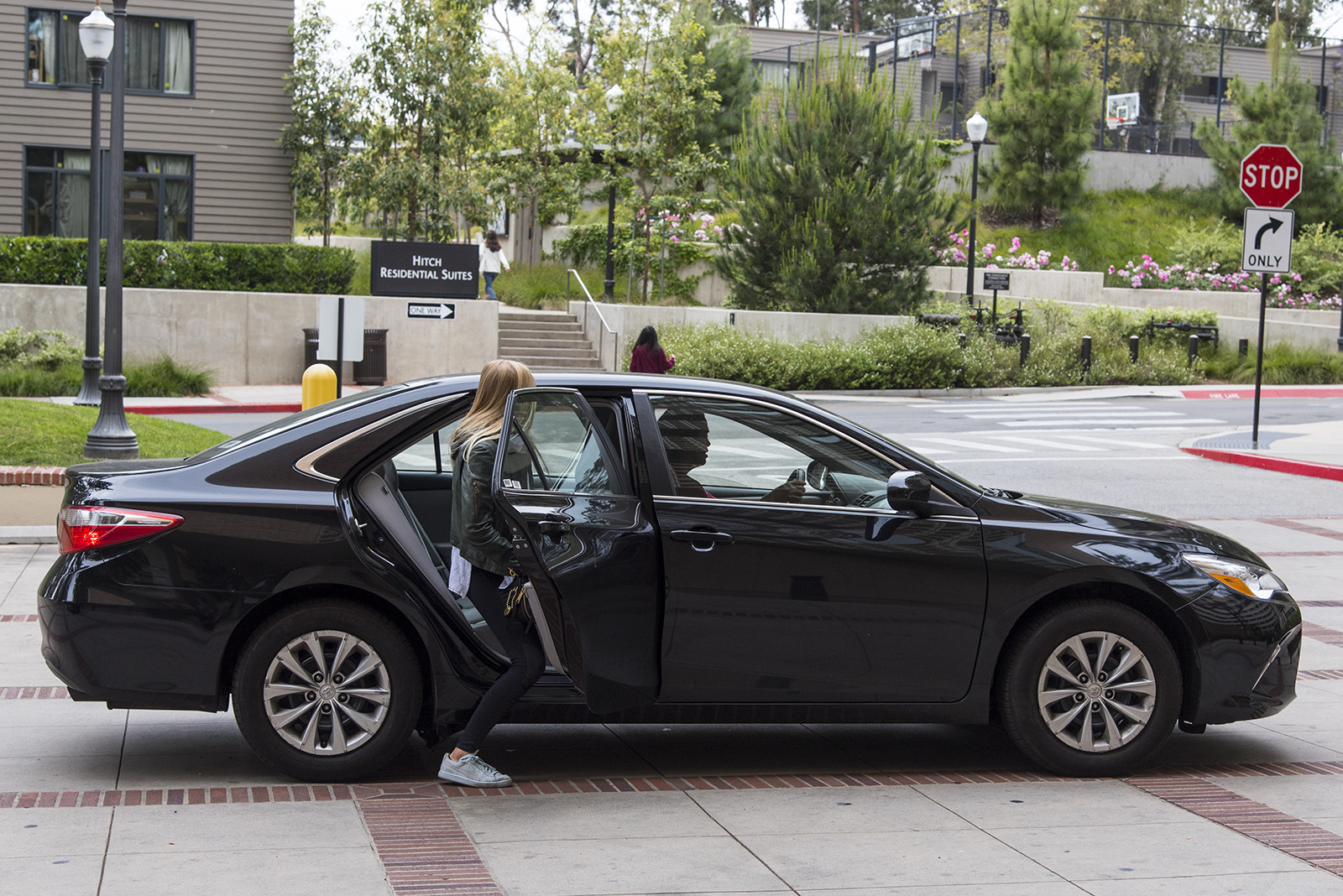 Students are increasingly using ride-sharing apps, such as Uber and Lyft, to get to their classes from the North Village or the Hill. (Daniel Leibowitz/Daily Bruin)
Most mornings, you can find at least a few students on Veteran Avenue waiting for the car pictured on their phones to pull up.
Many UCLA students use ride-sharing apps such as Uber and Lyft to get to campus, which gives them more options for navigating around Westwood and campus. Some use the apps more than university-provided transportation, such as BruinBus.
BruinBus, UCLA's operated shuttle bus, has several stops around Westwood, including stops near university-owned apartments and Westwood Village. Students can take BruinBus to various parts of campus, such as Murphy Hall and the UCLA Medical Plaza.
Leydi Navarro, a third-year sociology student, said she uses both BruinBus and ride-sharing apps.
Navarro lives in the North Village and calls rides from ride hailing apps near Ophir Drive. She said she uses BruinBus more often because it is free, but she added she thinks it can sometimes be less convenient and ride-sharing apps are more available at any time.
"BruinBus is slightly slower – you have to wait for it," Navarro said. "It's not as expensive (as Uber or Lyft)."
Brendon Faleiro, a graduate student in computer science, said he uses BruinBus sometimes but uses ride-sharing apps very frequently because he does not own a car.
"I use Uber or Lyft at least twice a week," Faleiro said. "I take BruinBus if I'm going to Boelter Hall or Bunche (Hall), if I have time and am not running late."
He added he thinks ride-sharing apps are more convenient because of their availability. Faleiro said he lives on Veteran Avenue and needs to walk down to Weyburn Avenue to take BruinBus, so calling an Uber or Lyft is more convenient for him.
"I think the extra money is worth it," he said. "It's better than going to class half an hour or an hour late."
Penny Menton, a UCLA Transportation spokesperson, said BruinBus has not experienced a decrease in ridership due to the popularity of ride-sharing apps. She added 85 percent of riders are students.
Menton said BruinBus recently added more stops to its Wilshire Boulevard route and an additional stop by Murphy Hall. She added the bus routes operate every 10 to 12 minutes.
In response to the growing availability of ride-sharing apps, BruinBus is also working to evaluate routes for efficiency more frequently, she said.
BruinBus is adding technology, such as dashboard monitor for drivers, so drivers can monitor their routes, travel time and ridership, and improve time efficiency of the bus routes.
"We continue to look at ways to improve our service while providing much needed transportation," she said.
BruinBus also plans to add larger buses next year, Menton said.
Though many students use Uber or Lyft, other students prefer BruinBus.
Ada Ruiz, a fourth-year art history student, said she only uses the apps once or twice a month when the bus is not running at the time she needs to travel, and rides the bus about three times a week. She added BruinBus is convenient for her because it travels to all the places she needs to go, such as grocery stores in Westwood or campus.
"It goes into Westwood, and you just hop on and it's free, which is nice," she said.
Menton said BruinBus will continue to improve the user experience for riders with new technology and data tracking.