Gael Adrien Mbama: Student organizations need city funding to tackle homelessness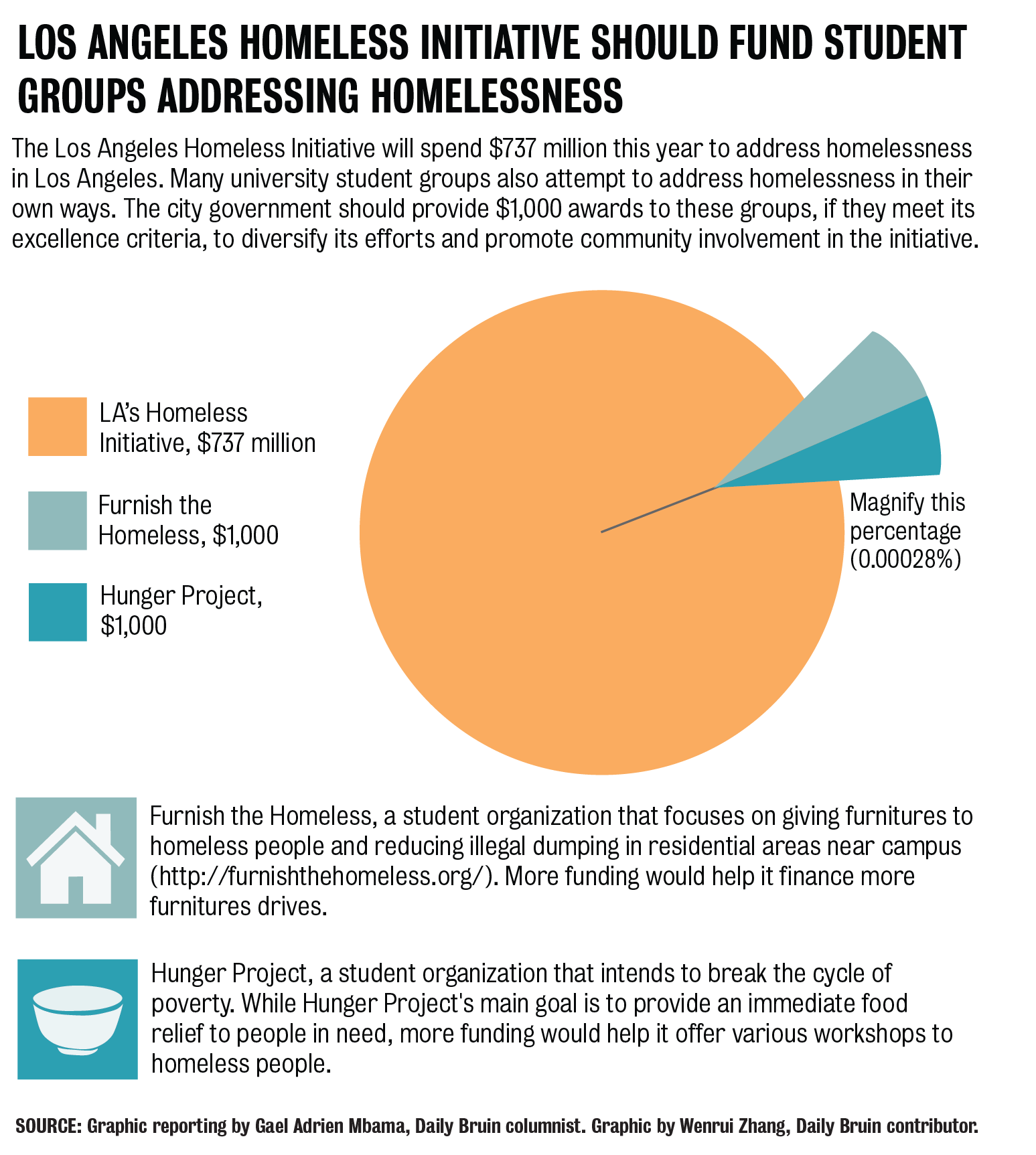 (Wenrui Zhang/Daily Bruin)
Everybody knows Los Angeles has a homelessness problem.
To be clear, homelessness is a complicated, multidimensional problem with no single solution, but LA city and county officials have a well-publicized $737 million plan to tackle it. This massive investment will go toward health and rehabiilitation services, among other initiatives, in order to help break the poverty cycle that perpetuates homelessness.
However, few are aware of the tremendous work done by student organizations throughout LA. Those at UCLA can serve a valuable purpose in the fight against homelessness – if they can get enough money, that is.
There's about 18 student organizations on campus tackling the issue of homelessness in LA. Their services range from distributing food to furnishing transitional homes and even offering long-term shelters. Despite their honorable work, many of these student organizations are financially limited.
UCLA's student organizations dedicated to fighting homelessness should receive a small percentage of the government's allocated $737 million. Indeed, if the city would invest $1,000—less than 0.0002 percent of the total – in each student organization, it could make a concrete difference for those student leaders and the people they serve.
These student organizations represent both the future of the city and tomorrow's leaders, who may someday dedicate their lives to this noble cause. Furthermore, they can bring fresh motivation and energy to LA's efforts to end homelessness. Millennials have a knack for mastering various technological outlets and finding innovative solutions to problems – features that could be useful in bringing a fresh vision to invigorate the city's work.
For example, student organization Furnish the Homeless gives furniture to homeless people and attempts to reduce illegal dumping in residential areas near campus. Stephen Mendoza, a third-year business economics student and president of the organization, said the group has three quarterly drives a year. They collect furniture from local students and donors, and deliver it directly to previously homeless clients who have recently moved into empty transitional homes.
Mendoza said he would like to transform his organization into an on-demand service, instead of having only three quarterly drives a year. But the organization would need more money to rent a place where it could stock furniture. The $300 to $450 that Furnish the Homeless receives each year from UCLA is not enough to fully accomplish the vision the organization has to help the homeless population.
Mendoza is not alone.
Hunger Project, another UCLA student organization, aims to break the cycle of poverty in LA and provides food directly to people in need. Hunger Project also distributes hygiene kits and lunch bags twice a week on Skid Row, the epicenter of homelessness in LA.
However, it could use more money. While Hunger Project's main goal is to provide food relief, Helen Li, third-year mathematics/economics student and the program's executive internal director, said that in an effort to engage the community in different ways, the organization would like to offer various art, painting and book workshops to homeless people.
These groups have a common goal: helping the homeless community of LA. But they need the city and county's help. City officials should consider investing in student organizations that would meet excellence criteria set up by elected officials.
However, Anna Bahr, communications associate in Los Angeles Mayor Eric Garcetti's office, said that the money provided by the city will exclusively go toward direct services and housing. Bahr said that universities will not directly receive any money.
The money provided by the county will go toward medical services, mental health, substance use, counseling, connecting people to employment, training and other initiatives, said Ashlee Oh, consultant in the Los Angeles County Homeless Initiative's chief executive office. Oh said organizations could theoretically apply for funding, but independent contractors usually make these requests, not student organizations. While students can technically apply for funds, the process is extremely difficult because their organizations must meet very specific criteria, like being able to predict an expected outcome for county-funded projects.

While the city's efforts are certainly laudable, student organizations are on the same team as these elected officials. Consequently, they deserve a little support.
While some people would think student organizations are not efficient or large enough in scale to receive funding from the city of LA, it is important to mention that student organizations such as Hunger Project are partnering with well-known organizations like The Midnight Mission, the city's oldest service organization. Moreover, Furnish the Homeless has furnished 52 houses and distributed 307 pieces of furniture between its UCLA and UC Berkeley chapters. And these organizations are only looking to increase their current impact on our society.
The city must reach out to all potential forces to address homelessness because it is one of the most difficult challenges the city faces. UCLA student organizations undoubtedly represent an interesting and useful asset in this fight, so city officials should consider investing in students' efforts. After all, any help should be welcomed and supported.