Throwback Thursday: How the 1994 Northridge earthquake affected UCLA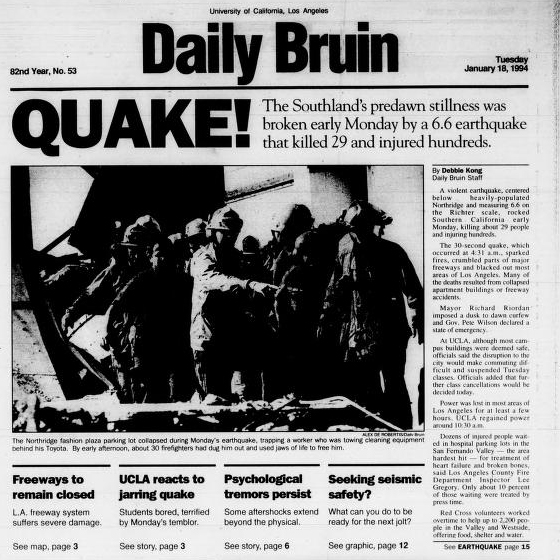 The 1994 Northridge earthquake caused quite a ruckus across Southern California, including at UCLA. (Daily Bruin archives)
As I sat on the floor of my room in De Neve Holly on Monday night, I felt a tremble from the ground. There's been a lot of construction happening since Holly flooded a couple of weeks ago, so I didn't think too much of it. But then posts referencing an earthquake started popping up on the Facebook group "UCLA Memes for Sick AF Tweens," and around 11:30 p.m. the Los Angeles Times confirmed that a 3.0 magnitude earthquake had hit the West Side.
I'm from the Midwest and am much more at home with tornado warnings and huge thunderstorms than I am with earthquakes. However, it goes without saying that LA is quite familiar with the natural phenomenon. According to an earthquake tracking website, the greater LA area has experienced 390 earthquakes in the last 365 days.
The most famous and most devastating earthquake in recent Los Angeles history – the 6.7 magnitude Northridge earthquake in 1994– was over twice as powerful as the one we experienced Monday night,
The January 18, 1994 issue of the Daily Bruin reported on the initial devastation of the quake. On campus itself, Royce Hall's two famous towers cracked, while the spires of Kerckhoff Hall rotated six inches. There were chemical spills in Young Hall and Engineering IV. Rieber's roof flooded due to a broken water tank, and students living on campus were evacuated from their residence halls until officials could confirm that the buildings were safe enough to be occupied.
In the following days, classes were cancelled and students were not allowed to access parts of campus, such as Royce Quad. The UCLA Medical Center treated patients with earthquake-related injuries. The Bruin reported tirelessly in the following weeks, tracking damage and repairs on campus as well as in the general LA area and other quake-related news.
As a result of the damage from the Northridge earthquake, UCLA spent $2.2 billion to make 66 buildings on campus seismically safe. These renovations included improvements to Powell Library, Royce Hall, Kerckhoff Hall, various residence halls and various other buildings on campus. In Royce Hall's case, architects added a concrete structure that gives the building more lateral resistance in the face of a quake.
The plan for seismic renovations also lead to the construction of Ronald Reagan UCLA Medical Center, which opened in 2008 and replaced the old medical center, which sustained damage in the 1994 quake.
UCLA's seismic retrofitting is due to be complete in 2019. Thankfully we'll be a little more prepared the next time something bigger than a 3.0 earthquake hits.