Students protest at USAC meeting, denounce actions of president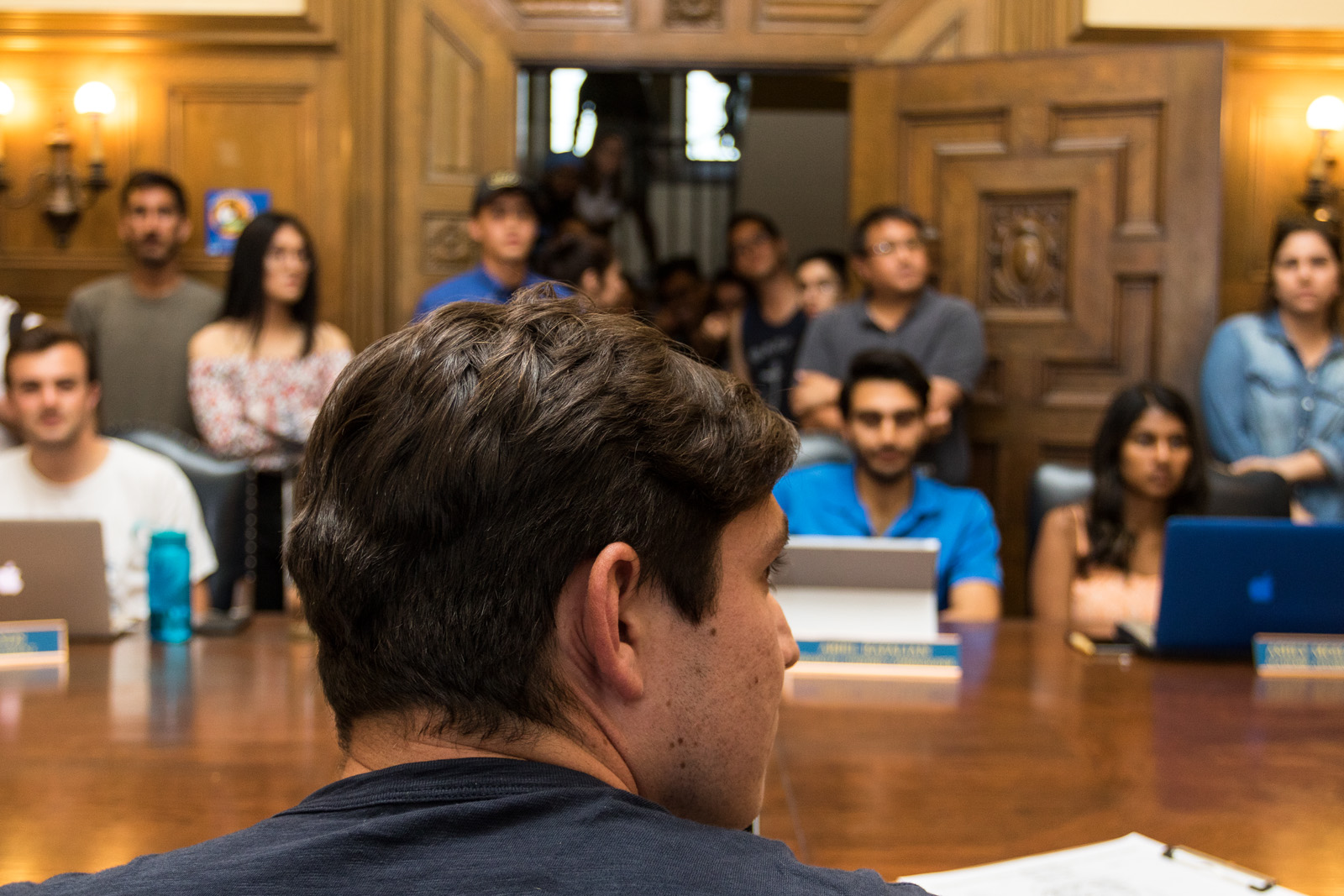 Students condemned the actions of USAC president Danny Siegel, who held up a gang sign in a photo last year, at Tuesday's council meeting. (Jintak Han/Assistant Photo editor)
Students filled Kerckhoff 417 on Tuesday night, chanting "Black Bruins matter!" and "Shame!" at the weekly undergraduate student government meeting.
Dozens of students addressed Danny Siegel, the Undergraduate Students Association Council president, about a recently leaked photo of him making the hand sign of the Bloods, a primarily African American gang. A group of students met at the Bruin Bear and marched to Kerckhoff, where they voiced their concerns during the meeting's public comment session.
About 20 students and campus leaders spoke about how the photo affected them and why they were dissatisfied with Siegel's apology. Many called on Siegel to resign, and others asked him to take action beyond apologizing.
Alicia Frison, chair of the Afrikan Student Union and the first public commenter, said she thinks people should not focus on the issue exclusively in the context of USAC elections.
"This is a campus issue," she said. "The slate may have tried to conceal the issue for a year, and I think we should all be aware and have an open mind for what we're voting for."
Siegel previously said he thinks someone leaked the photo, which was taken about a year ago, to make a political statement or harm candidates currently running in his slate, Bruins United.
Malik D. Flournoy-Hooker, the uncontested candidate for Cultural Affairs commissioner, addressed other council members besides Siegel.
"Every person who had a copy of this photo in this room is equally responsible," he said.
Several council members asked a commenter named Robert Gardner to stop after he exceeded his two-minute-per-person limit. Many students in the room shouted and encouraged Gardner, a fourth-year African American studies and political science student, to continue speaking.
Siegel reiterated that Gardner had exceeded his limit and tried to call a recess. The students began chanting "Shame!" at him and said he was silencing Gardner's voice. Cultural Affairs Commissioner Amy Shao responded that all council members must vote in order to have a recess. The council voted the recess down.
When Siegel emphasized respecting the USAC bylaws, several protestors responded with "do you respect black people?"
The council also voted to suspend a USAC bylaw in order to extend public comments indefinitely beyond the usual 30-minute limit. Shao proposed the vote, and after it did not pass the first time, she admonished her fellow council members and proposed a revote. The council then voted to extend the public comments.
A separate motion to extend the per-person speaking limit to five minutes passed on the first vote.
Most of the room then broke into chants of "Black Bruins matter!" for several minutes. Six council members, all independent or part of the Waves of Change slate, silently held up their fists along with the chanting students. No Bruins United members participated.
Kaitlyn Walker, a first-year student, said she does not think Siegel understands the implications of the photo.
"I dare you to try to put up that sign in my 'hood and see what happens," Walker said. "I dare you to go to any project and try that shit. … You need to listen to the black community, these are people you have offended."
One student said he thinks the issue should be viewed as part of a systemic problem, rather than just in the context of the photo itself.
"The reality is that people die every day because of gang violence," he said. "How long are we gonna chalk it up to white ignorance, before you start waking up? Ignorance is no longer a fair excuse, and was never a fair excuse."
Another asked Siegel if he will face repercussions. He said he would not respond at the moment, and would during his officer report, but did not give an officer report later.
The public comment session lasted about one hour and a half. The meeting resumed after a short recess.
Several council members voiced their disappointment at both the photo and the meeting.
Community Service Commissioner Zack Dameron used his officer report to voice concern about how the council responded to the students' public comments.
"I'm amazed that we just went through 12 officer reports without talking about what just happened," he said. "Danny, you couldn't even give an officer report. (Will you speak) when we're off USAC Live! and we're off the minutes, so it's not recorded?"
Dameron, who has been on council for two years, said he thinks council members' terms are ending this year on a similar note to last year's, when the council voted not to hear a general representative's presentation about racist comments found in a former Bruins United member's Google Drive.
"I'm sorry, but we don't stand with you, Danny," Dameron said. "CSC does not stand with you, and we just hope that you respond to the concerns that came forth today."
Campus Events Commissioner Jordan Dang said he was appalled Siegel kept trying to call recess when public commenters were speaking.
Many students began demanding Siegel resign after he first moved to adjourn the meeting. When he refused, they asked him to state "My action was racist." He initially did not comply with their requests and tried to adjourn a few more times, amid continuing protests.
General Representative 1 Zoe Borden said she thinks the students were bullying Siegel by forcing him to say something he did not mean.
"I'm not defending Danny's actions, I'm defending Danny's character," Borden added.
Many students responded to her comments with outrage and disagreement.
Siegel said he would apologize further if anyone wished, but would not resign.
After a few more rounds of heated discussion, the council members thanked the students for sharing their concerns, and some Bruins United members apologized to the commenters for not speaking up earlier. Others shared their personal perspectives and expressed a desire to learn further.
Siegel adjourned council at 10:44 p.m., almost four hours after it began.