Students respond to leaked photo of USAC president making gang symbol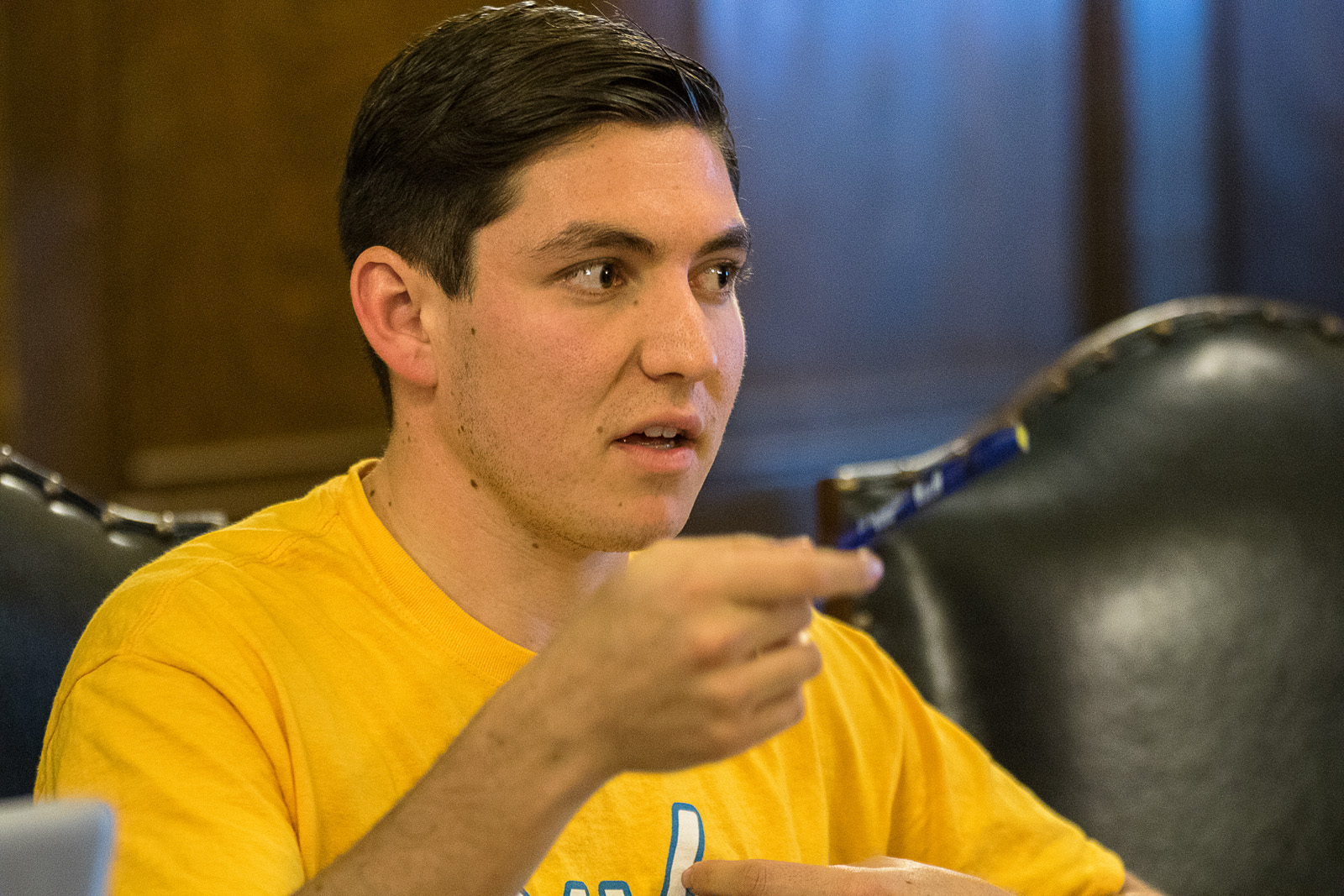 A photograph of Danny Siegel, the president of the Undergraduate Students Association Council, displaying a gang symbol began circulating online Sunday. (Jintak Han/Assistant Photo editor)
Students expressed concern and outrage over a photograph of the undergraduate student government president that began circulating Sunday on social media.
In the photo, Danny Siegel, the Undergraduate Students Association Council president, posed with the hand sign of a primarily African American street gang called the Bloods. Many students said they think the gesture was insensitive to individuals affected by gang violence.
Some students began sharing a screenshot of the photo Sunday, one day before voting for this year's USAC election opened. The photo was originally posted in a GroupMe chat called "Protect the Crown" by Brian Kohaya, Siegel's appointments director. In the chat, Kohaya commented, "Problematic Danny. (Don't you dare repost that photo)."
Siegel, who is a member of the Bruins United slate, said he estimates the photo was taken at least a year ago – before the 2016 USAC election – and the group chat was deleted last year. He posted an apology on Facebook Sunday afternoon.
"This is a result of my white privilege and lack of perspective, something that so many victims of gang violence don't have the luxury of, in fact this behavior can put their lives at risk," Siegel wrote in the post. "I should have known better and take full responsibility for my insensitivity."
Robert Gardner, a fourth-year political science and African American studies student, said a group of African American students called an emergency community meeting Monday night and are discussing how they want to respond to the photo. The students are considering asking for another apology or demanding Siegel resign from the remainder of his term, which ends May 9.
Gardner, whose cousin died because of gang violence, said many African Americans in segregated neighborhoods join gangs for protection or income.
"When a white person throws up the gang sign, they're basically making a mockery of the oppression that African Americans in hyper-segregated neighborhoods face," he said. "A lot of black Bruins are extremely upset at this appropriation of our culture … that's derived out of anti-black racism."
Kosi Ogbuli, a first-year neuroscience student and incoming vice chair of the Afrikan Student Union, said he thinks the photo is inexcusable.
"From where I grew up, it's a sign that implies a lot of things and a lot of danger," Ogbuli said. "It's like a name tag for what gang you're in – that's your set and you're proud of being in it."
He added political figures on campus should be aware of the implications of the sign, even if they do not fully understand the history behind it.
"That's not something that should be mocked or even thought about by somebody that is a student leader," Ogbuli said. "For some students, that might be a reality, a reason why their father or mother is not in the picture."
Amy Shao, the USAC Cultural Affairs commissioner who ran with the slate Waves of Change last year, said she thinks the fact that the photo was taken over a year ago is irrelevant, and it should never have been taken in the first place. She added that she questioned the sincerity of Siegel's apology because she thinks it should have been posted when the photo was taken, not after it became public.
"Being from communities of color, we can't afford to not understand these things, because they impact us every day," Shao said. "(Siegel) has the privilege to decide when to be informed and to pick what he knows. I don't know if he understands that."
She also said she believes other Bruins United members have been trying to flood students' Facebook feeds with more campaign material than usual.
"No one (else) from the slate has said anything," she said. "Their tactic is to cover it up. That's them being quiet, but being loud the whole time."
NJ Omorogieva, a second-year sociology and psychology student, said she knows people on campus who have been deeply affected by gang activity.
"Being part of the black community at UCLA, I know people who do have high stakes (in the issue)," she said. "For someone to mock it is extremely disrespectful. … The only reason why an apology was even given was that the student body found out about it."
Omorogieva added posing with the sign is supposed to represent pride for what gang someone belongs to, and she could not imagine using the sign as someone outside gang culture.
"You know how long it takes to form your fingers into that?" she asked. "In all those minutes, you must have thought about doing it, positioned your fingers, posed for pictures – it takes a pretty long time for you to not realize it's wrong."
Siegel said he does not recall his thought process while taking the photo, but added he did know at the time that it was offensive to certain communities. He added he is willing to talk to anyone who reaches out to him about it.
"I obviously take full responsibility for this," he said. "I regret it, I don't want to say because it's become public, but because students, whether they themselves or their families have been victims of gang violence, that's something that I disrespected and I'm very aware of."
Siegel added he thinks whoever leaked the photo is trying to use it as a political weapon in the ongoing election against the candidates running in his slate.
"The photo was taken more than a year ago and was obviously selectively leaked right now to have some sort of effect or create a conversation," he said.
Gardner said he and a group of other students will attend Tuesday's USAC meeting to voice their concerns to the council.