UCLA students study acidification of kelp in Santa Monica Bay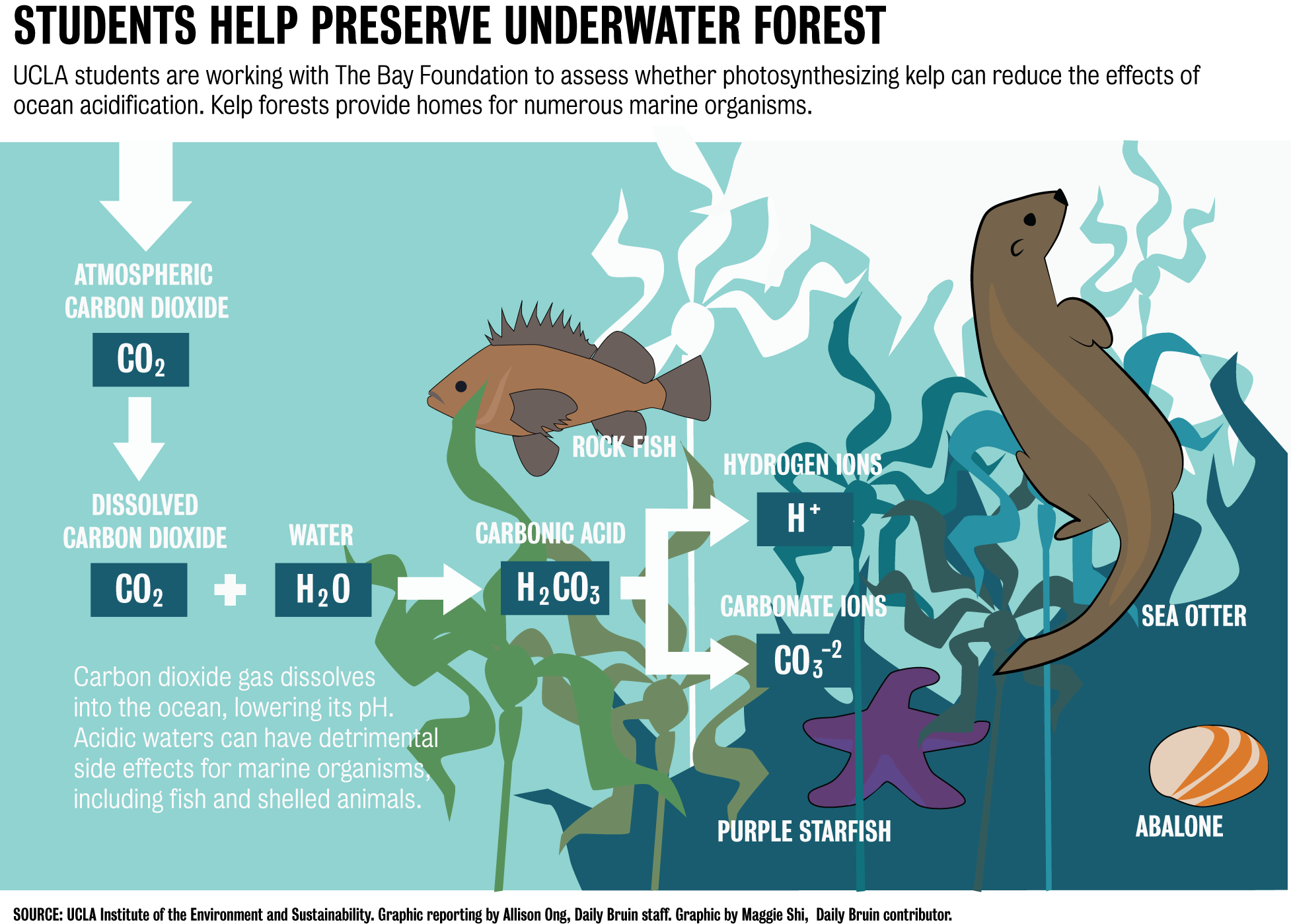 April 28, 2017 12:32 a.m.
Correction: The original version of this article incorrectly stated The Bay Foundation restored 3.9 acres and Ariel Pezner will be a graduate student at the Scripps Research Institute. In fact, the foundation restored 34 acres and Pezner will attend the Scripps Institution of Oceanography.
One month ago, Ariel Pezner spent nine hours straight aboard a research vessel in the Santa Monica Bay, circulating the waves above an underwater kelp forest.
Pezner, a fourth-year environmental science student, is part of a six-person student team studying ocean acidification in a rehabilitated forest of kelp off the coast of Palos Verdes, California. This fall, the students began conducting and communicating their research in collaboration with The Bay Foundation as part of a practicum project through UCLA's Institute of the Environment and Sustainability.
Although it was not required for their project, the team started a blog to educate others on the issues at hand.
"Science is only effective if you share the knowledge," Pezner said.
Ocean acidification is a growing problem for the planet's waters, according to the team's site. Atmospheric carbon dioxide dissolves into the ocean's surface and dissociates into acidic molecules, including bicarbonate. Rising acidity levels can damage shell formation and pose physiological harm to marine organisms.
Oceans absorb between a fourth and a third of all carbon dioxide released into the atmosphere, according to the team's page on the website run by the IOES.
But some researchers hypothesize that giant kelp plays a key role in removing carbon dioxide from the ocean, said Rebecca Ash, a fourth-year environmental science student. Kelp, such as the predominant Palos Verdes species Macrocystis pyrifera, does this by conducting photosynthesis – a natural biochemical process that generates energy driving the aquatic food pyramid.
The practicum team is monitoring water chemistry at several sites in and around the forest to determine if kelp has the potential to combat ocean acidification, she said.
Years ago, The Bay Foundation began rehabilitating the forest by removing millions of kelp-destroying sea urchins from a 34 acre area, Ash said. If student-gathered data supports the idea that kelp could reduce acidity and serve as a refuge for marine organisms, marine biologists could use this information to support kelp restoration initiatives.
"There are a lot of permits, laws and local community pushback (against ocean habitat restoration), especially from fishermen," Pezner said. "So this kind of data is really important for informing those decisions. In the long term, (these studies) could lead to a policy change."
So far, the foundation has taken the students on two daylong field days. Each time, the team visits two sampling sites, where they drop bulky equipment overboard to measure oceanic conductivity, chlorophyll and pH at multiple depths.
In one procedure, the team uses a device called the Niskin bottle to collect water samples in four separated canisters. As the boat continues to rock, the students must filter each sample five times on deck. The entire process takes up to 45 minutes, and then the students start over again with a new draw. At each site, the team takes about four to five draws – hence the long trip time, Pezner said.
Ash said the group is diverse in terms of research experience. Some had done previous oceanography fieldwork, while others had never explored such topics.
"Some of our group members were very taken aback by the amount of work they had to do," Ash said. "It's a learning process for all of us. It brings a lot of perspectives to the table."
The students send their samples to Bodega Marine Laboratory up north, where a doctoral student at the University of California, Davis conducts further tests on physical oceanography. Occasionally, the students also conduct tests at the flow cytometry lab in UCLA's Factor Building to measure phytoplankton levels.
In May, the team is producing an extensive map of the kelp forest. They will use a probe to measure carbon dioxide levels underwater as the boat zigzags over the forest. The probe detects lower levels of carbon dioxide when passing over kelp, enabling the team to digitally reconstruct the size and shape of the forest.
They also enlisted Kyle Cavanaugh, an assistant professor in geography, to create the map using digital imagery captured from a remote-controlled drone. Cavanaugh, who has previous experience mapping kelp forests in Baja California, Mexico, said he expects the drone flight to take about 50 minutes.
Pezner said the journey has reinforced her love for oceanography research. Next year, she will continue studying acidification and coral reef biology at the Scripps Institution of Oceanography at UC San Diego as a graduate student.
Ash said she hopes this year's project will be a stepping stone for future UCLA teams collaborating with The Bay Foundation. She said she hopes one of next year's teams can build upon their current project and further help the foundation explore local ecology issues.
"We really hope that people learn about what we're doing, because a lot of times these practicum projects go unnoticed," she said. "It's relevant to communities we live in like UCLA, Santa Monica and Palos Verdes. It's highlighted to me the importance of communicating your science."