Anderson duo's startup K POP Foods offers taste of Korean culture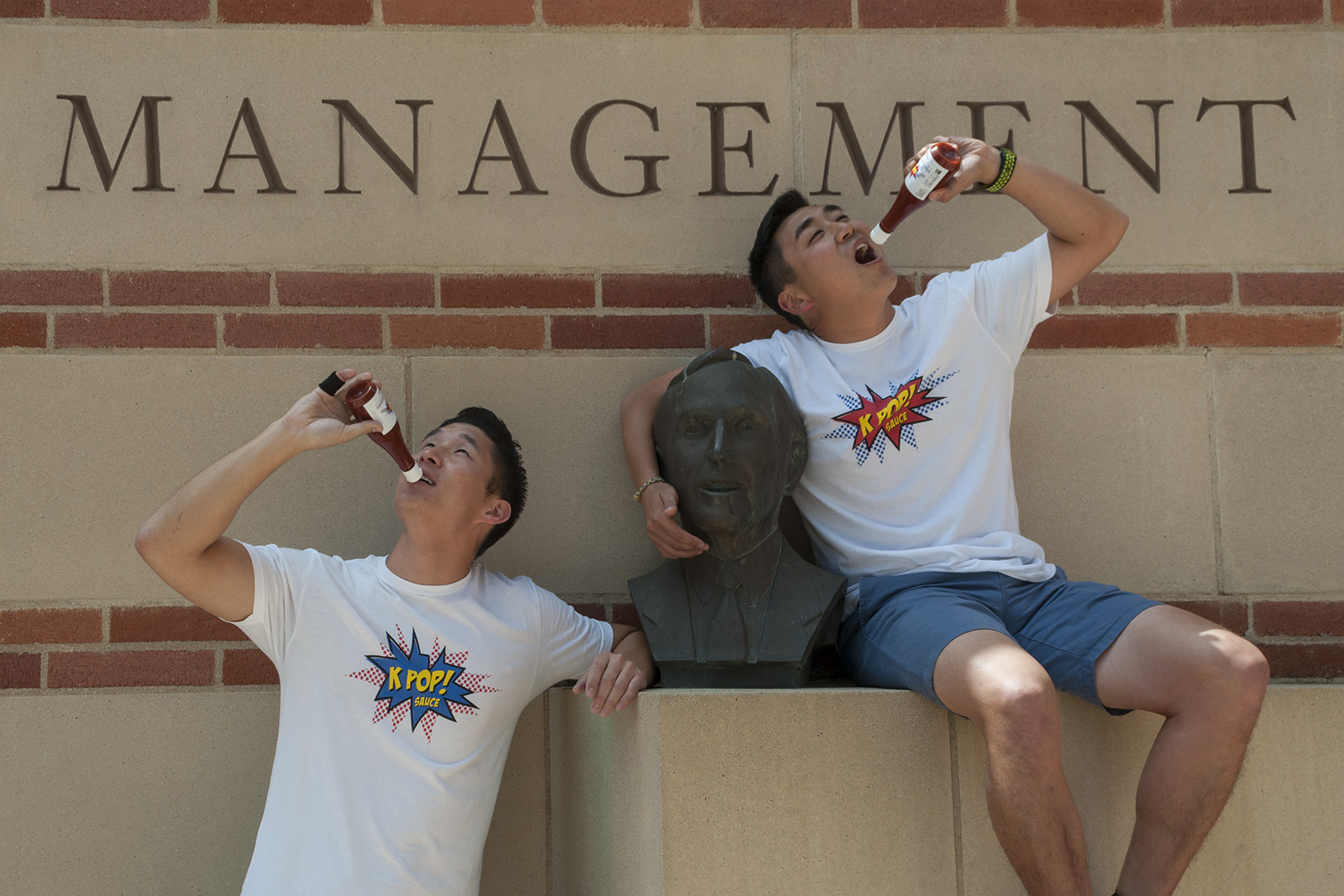 Mike Kim and Theo Lee developed a Korean hot sauce product they hope to market in the United States. (Eda Gokcebay/Daily Bruin)
April 28, 2017 12:33 a.m.
Theo Lee begins to introduce himself slowly in a grayscale video on his startup's Kickstarter page when his grandmother suddenly pops up on the screen.
"Theo, are you trying to bore them to death?" his grandmother says in Korean. The screen brightens, and Lee catches a bottle of hot sauce thrown from off-screen.
Mike Kim and Theo Lee, MBA candidates at the UCLA Anderson School of Management, are beginning to spread the word about their new product, K POP Sauce, a sweet, tangy sauce based on Lee's grandmother's secret recipe. Their Kickstarter page, which features a promotional video, has helped the team raise almost $20,000 to launch their company, K POP Foods.
The company began as their master's thesis and turned into a full-fledged startup this year to share an aspect of their culture with others.
Kim and Lee, both of Korean heritage, met at the Anderson School and bonded over their mutual love for Korean food. They said they wanted to share their appreciation for their heritage and its food with the rest of America.
"We didn't know how special it was until we started introducing it to our friends from all over and they fell in love," Kim said. "Not only with the food itself – the spices, the flavors – but because you're able to bring such a diverse group of people together."
Creating their flagship product, K POP Sauce, was a long process of trial and error, Lee said. He added their team labored for hours in the basement workrooms of the Anderson School to get their startup off the ground.
The team said they will begin producing and shipping their products to their first customers in the summer.
For now, the startup is focusing on using social media to create a presence and familiarize customers with the brand before placing their products on the market, Kim said.
"We haven't used any paid marketing promotion; we want to be as organic as possible," Kim said. "By creating a community … not only can you build your brand, it brings it awareness … so when you bring it to other areas, they have an idea what your brand stands for."
Lee said marketing in this way will help educate consumers about their products' cultural background and applications in mainstream America. He added they want their customers to understand the origins of Korean sauces and know all the different ways to use them.
Kim said diving into a relatively young market for cultural food products, especially Korean food, was difficult because of the lack of similar companies to learn from.
"There's an untapped market for (Korean) American products," Kim said.
The team looked at the success of Chinese and Mexican restaurant industries as a model for their own potential growth, the duo added. They began interviewing industry insiders they met through guest lectures at Anderson to analyze the markets' data.
The team added the Anderson School's diverse business environment and support from their classmates and faculty contributed to their success. They said different UCLA clubs helped shoot their promotional video and run focus groups composed of undergraduate students to taste test their sauce.
The name K POP Foods comes from the duo's appreciation for the Korean entertainment industry's popularity and their desire to keep a light-hearted approach in an often competitive industry, Kim said.
"Food is a very serious industry; for us, it's gotta be fun," Lee said. "I've done so many interviews where I say 'K POP Foods' and they smile. And if they just smile, I'm in good shape."
Kim and Lee are set to graduate this year and plan to continue growing their business.
"Our goal is to become the Korean brand for Korean food in America," Lee said.