Westwood Village plans to offer affordable evening parking program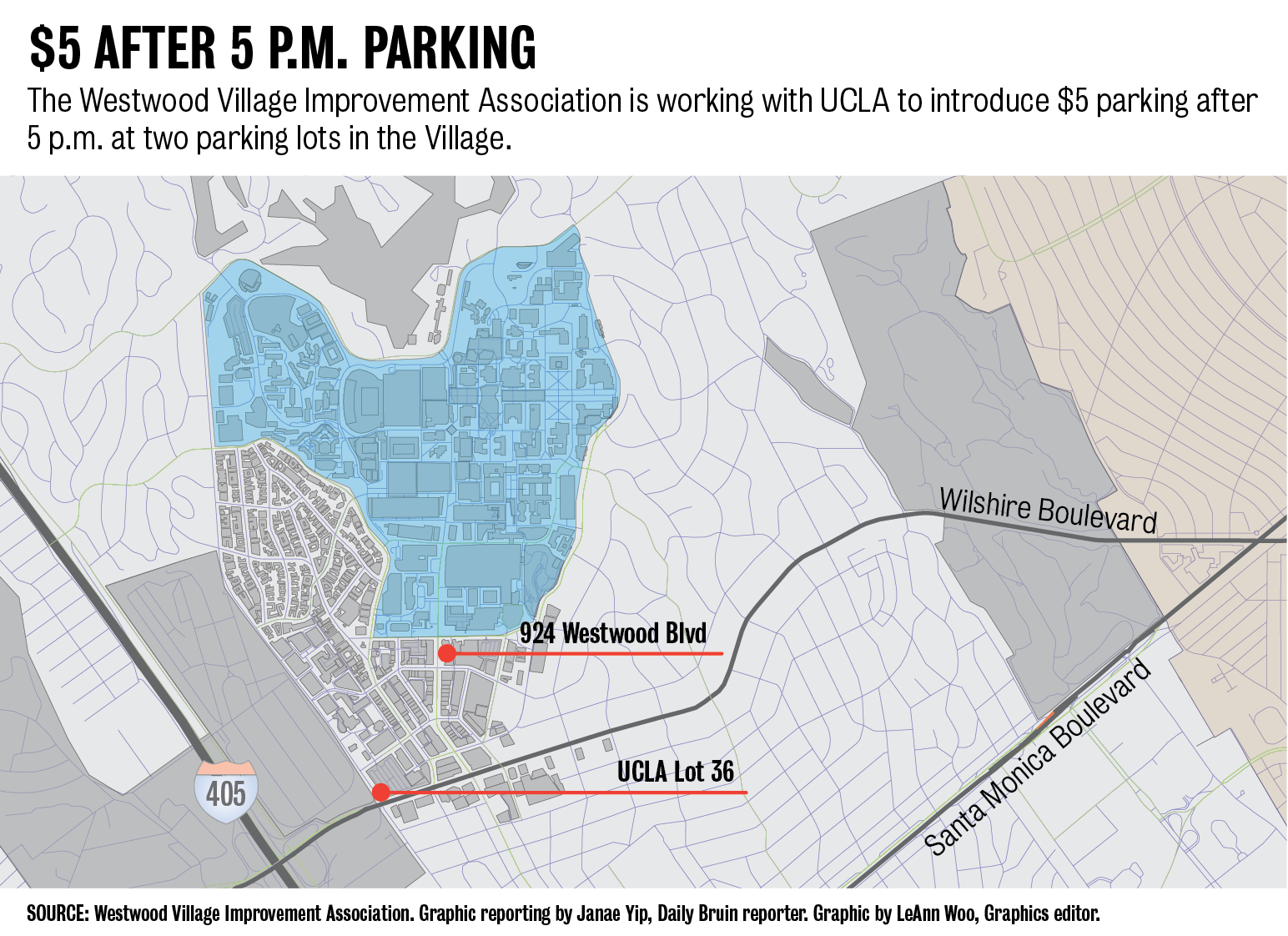 April 26, 2017 11:44 p.m.
Westwood visitors will soon receive discounted parking rates in the evening as part of a two-year pilot program.
The Westwood Village Improvement Association is collaborating with UCLA to offer the "$5 after 5 p.m." parking program at Lot 36 and on 924 Westwood Blvd. in the Village. UCLA owns and operates both lots.
The program, which does not yet have a start date, is meant to encourage consumers to visit Westwood after normal business hours and discourage the notion there is no parking in Westwood, said association Executive Director Andrew Thomas. He added he thinks many visitors avoid the area because they do not want to drive around looking for metered parking or do not believe lots have spaces.
Thomas said the association decided to offer parking for $5 because they felt it was on the low end of the market price and would be profitable for businesses to participate. Businesses joining the "$5 after 5 p.m." program must pay a fee to maintain the lots and pay its parking attendants. He added some businesses have already joined the program and the association is speaking with others to expand the program.
Consulting company Civic Enterprise completed a study six months ago on how to improve parking in Westwood and offered several recommendations, many of which the association implemented, Thomas said.
The company recommended adopting the Los Angeles Department of Transportation LA Express Park program, converting loading zones to street parking and opening up half of the spaces in the Broxton Avenue public parking garage reserved for monthly parking to spots for everyday visitors.
The consulting company's last recommendation was for the association to partner with private parking lots and promote these sites with public signage, which is currently illegal under current Los Angeles County law.
Thomas said the association has been in discussion for several months with LADOT and the city attorney's office about changing the law. Since Westwood is a part of Los Angeles County, any law changes must be put into effect in all parts of the county.
"The program is considered difficult to implement because of how big Los Angeles County is," Thomas said.
Some students said they think the program is a good idea, but do not think offering the parking in the evening will significantly impact Westwood's nightlife scene.
Ayane Tsutsumi, a second-year anthropology student, said she does not think the program will change Westwood's nightlife because there is only one bar in the Village and people typically prefer busier places such as Hollywood. She added students usually go to parties at fraternities at night and do not need to drive and use parking lots.
Elaine Zhang, a first-year Asian languages and linguistics student, said she thinks offering parking for $5 at night is a good way to make use of parking lots that become empty after working hours.
"If the school has the space, they might as well try to make some money of it," Zhang said.
Janae Yip is currently a news contributor covering Westwood, transportation and Los Angeles.
Janae Yip is currently a news contributor covering Westwood, transportation and Los Angeles.