International students concerned about Trump's review of H-1B visa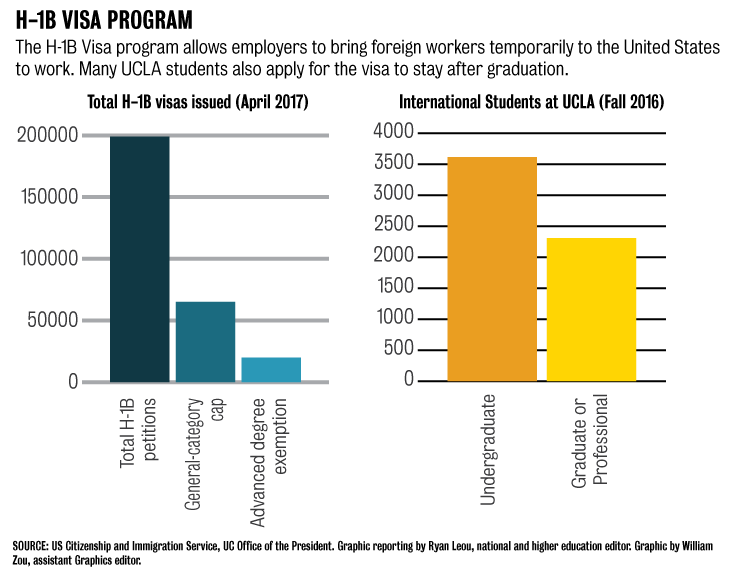 International UCLA students are worried they may not be able to find jobs in the U.S. when they graduate, after President Donald Trump announced a review of the H-1B visa program last week.
Trump signed an executive order on April 18 which directed federal agencies to review employment immigration laws, including the H-1B visa program. International students primarily depend on the program to work in the U.S. after graduation.
The "Buy American and Hire American" order directs the Departments of Labor, Justice, Homeland Security and State to help ensure the visas are awarded to the most skilled, best-paid immigrant workers. The order also calls for a crackdown on fraud and abuse in the current system of work visas.
International students who wish to stay in the U.S. typically apply for Optional Practical Training for an extra three months to stay in the country after their graduation to look for employment opportunities. If they are hired, many apply for an H-1B visa to continue their stay.
United States Citizenship and Immigration Services received 199,000 H-1B petitions for fiscal year 2018. On April 11, USCIS used a lottery to distribute 65,000 regular visas and 20,000 additional visas for workers with advanced degrees.
Leaders from 16 cultural groups formed the International Student Leadership Coalition in March to collaborate on issues that affect all international students, including issues with employment visas.
Jack Guo, the coalition's organizational chair and a fourth-year computational and systems biology student, said the committee has reached out to international student-friendly companies for career opportunities.
However, Guo said he is concerned that the changes proposed by the Trump administration would hurt new college graduates, especially those who studied in humanities and social science.
"Among international students, computer science (students) definitely have an advantage in looking for jobs, while a lot of international students studying humanities have to go home as soon as their OPT expire," Guo said.
Guo said because most entry-level jobs are low-paying, he thinks a visa system that favors the highest-paid workers would make it harder for non-science, technology, engineering and math international students to stay in the U.S.
He added he thinks international students should be more active in using the resources the school offers.
"A lot of international students are not aware of the resources available to them, such as the Career Center and BruinView," Guo said. "Some international students start applying for jobs very late, or even miss the deadline for OPT and have to go home immediately after they graduate."
Wilson Ye, a second-year statistics student from China, said he thinks Trump is targeting outsourcing companies, which are unfair to both American workers and international students.
"On the other hand, his anti-immigration comments during the campaign make people generally nervous," Ye said. "It is still unsure what approach he will take on highly skilled immigrants, including students graduated from UCLA."
Ye also said he thinks Trump's executive order is not targeting international students because he said he wanted to bring in workers with unique skills. He added both Congress and technology companies in Silicon Valley have expressed support for highly skilled foreign workers.
Some students said they think the review could benefit graduates.
Kopal Seth, a third-year economics and psychology student from India, said she is cautiously optimistic about the review directed by the executive order.
"The lottery aspect of the H-1B visas makes it very risky for firms to invest in hiring and training international students, which is the biggest deterrent to international students getting internships and jobs," Seth said. "It is refreshing to see Trump acknowledge that this is something that needs to be reviewed and possibly changed."
Indian workers received nearly 70 percent of H-1B visas issued in fiscal year 2015, and the president has aimed at information technology outsourcing companies, who typically hire from India.
Seth added she thinks this change will potentially have some effect on her personally if the administration implements more difficult measures, such as a cap on the number of applicants from India who can get the visa authorization.