State audit criticizes UC administration for misleading budget practices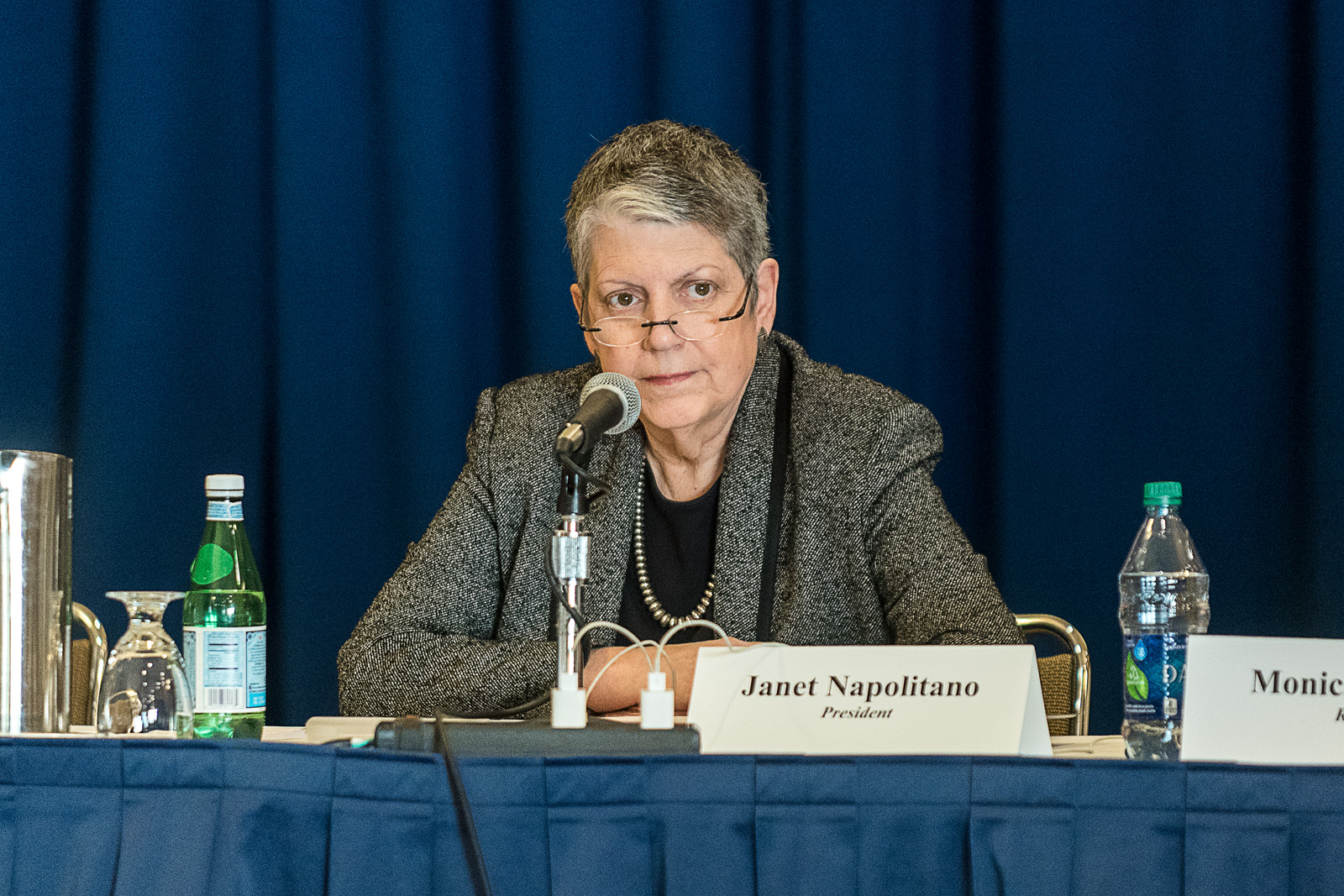 University of California President Janet Napolitano defended the practices of the UC Office of the President after a state audit claimed it had amassed $175 million in undisclosed funds. (Grace Zhu/Daily Bruin)
This post was updated April 25 at 7:15 p.m.
The University of California Office of the President has misleading budgeting practices, which resulted in accumulating a surplus of $175 million it did not disclose, according to a state audit released Tuesday.
State Auditor Elaine Howle said UCOP also provided its employees with generous salaries and failed to justify its spending on systemwide initiatives in her report to Gov. Jerry Brown and the state legislature.
Legislators requested the audit because they were concerned about rising tuition and unjust appropriation of funds by the administration.
The audit found UCOP spent significantly less than it budgeted for and asked for increases based on overestimated budgets from previous years rather than its actual expenditures. UCOP also built an undisclosed budget to spend the reserve funds, which included $32 million in unspent funds it received from an annual charge levied on the campuses. The audit said campuses could have spent those unused funds on students.
UC President Janet Napolitano denied the audit's claim that information about these funds was kept secret.
"In fact, UCOP's budget and financial approaches reflect strategic, deliberate and transparent spending and investment in UC and state priorities," Napolitano said in response to the audit.
UCOP employee salaries are significantly higher than the salaries of other comparable positions in the public sector, and some have benefits other state employees do not, according to the audit.
The UCOP spent at least $21.6 million on employee benefits during a five-year period. Some of these benefits, such as supplemental retirement contributions, are not typical to public sector jobs. UCOP provided a regular retirement plan but also offered its executives a retirement savings account into which it contributed up to 5 percent of the executives' salaries – about $2.5 million over the past five years, according to the audit.
UCOP could not satisfactorily justify its spending on systemwide initiatives, Howle said. She added UCOP could not provide a complete listing of initiatives, their costs or an assessment of their continued benefit to the University.
The audit suggested reducing or eliminating many systemwide initiatives such as the Carbon Neutrality Initiative, the Undocumented Students Initiative and the Global Food Initiative.
Napolitano defended the programs, saying they address the major concerns of both the state and the regents.
"UC's initiatives advance several of the state's highest priorities, including providing resources and support for undocumented students, developing groundbreaking climate solutions and mitigating the University's carbon footprint," Napolitano said in a statement.
Howle also accused UCOP of intentionally interfering with the auditing process when auditors sought independent perspective from campuses about the quality and cost of services the UCOP provides.
"It inappropriately screened the campuses' survey responses before campuses submitted the surveys to us," Howle said.
UCOP spent over $2 million on its staff's business meetings with agency employees and entertainment expenses over a five-year period, which other state agencies would only typically cover in limited circumstances, according to the audit.
In light of recent tuition hikes, Howle recommended UCOP refund available funds in the reserves by returning them to the campuses for the benefit of students.
"Significant reforms are necessary to strengthen the public's trust in the Office of the President," she said in her conclusion.
Though she disagreed with the audit's claim that UCOP accumulated $175 million in reserves, Napolitano said in a statement she agreed with most of the audit's recommendations on improving budget processes and spending.
"We welcome this constructive input, which aligns with our proactive efforts to continually improve UCOP's operations, and UCOP intends to implement the recommendations," she said.
Lieutenant Governor Gavin Newsom, who sits on the Board of Regents, said in a statement he thinks the board should reconsider the tuition hikes it approved in January in light of the audit's findings.
AFSCME 3299, the largest workers union representing UC employees, said the audit's findings reflect a continuing pattern of deception to justify tuition hikes, raised executive salaries and exploitation of low-wage contractors.
"We are grateful to the State Auditor for exposing UCOP's disgraceful conduct and financial mismanagement, and join her in demanding real reform and increased legislative oversight," said union president Kathryn Lybarger in a statement. "Our students, patients and colleagues deserve better."
Regents Monica Lozano and Charlene Zettel expressed concern in a letter to Howle about several recommendations, including one that would direct the legislature to directly appropriate funding for UCOP.
"As written, we believe these recommendations threaten the University's standing as a constitutionally autonomous entity and the Board of Regents itself," the regents said.