Founding chief of pediatric surgery remembered for innovation, devotion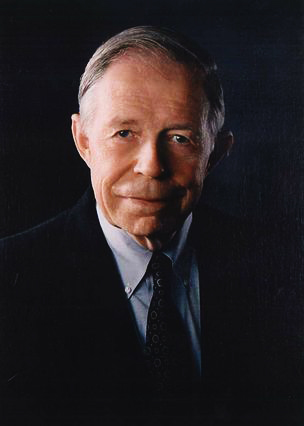 Eric Fonkalsrud served as the founding chief of the department of pediatric surgery at Ronald Reagan UCLA Medical Center. (David Geffen School of Medicine)
Eric Fonkalsrud would often invite students to his office to share a soda and popcorn while teaching them surgical procedures.
Throughout his life, Fonkalsrud developed connections with students, and performed more than 15,000 operations, according to a UCLA statement.
"All in all, he (was) humble, extraordinarily innovative (and) hardworking," said Charles Chandler, a general surgeon at Ronald Reagan UCLA Medical Center. "(And he applied these qualities) to patient care, clinical research and dissemination of knowledge, both in our institution, internationally, and on a personal level."
Fonkalsrud, chief emeritus of pediatric surgery and professor emeritus of surgery at Ronald Reagan UCLA Medical Center and David Geffen School of Medicine, passed away of natural causes in his home April 6. He was 84 years old.
Fonkalsrud grew up in Seattle, and attended medical school at Johns Hopkins University before completing his surgical residency at UCLA and his training at Nationwide Children's Hospital of Ohio State University. He later returned to UCLA and served as chief of pediatric surgery, according to the UCLA statement.
Chandler said one of Fonkalsrud's biggest achievements was his development of a wide range of surgical procedures. For example, Fonkalsrud helped develop a treatment for ulcerative colitis that has allowed patients to have a normal quality of life, he said.
Ronald Tompkins, a professor emeritus of surgery at UCLA David Geffen School of Medicine, said he felt Fonkalsrud had a knack for dealing with children and infants since the first time they met about 60 years ago.
"I was a second-year medical student and he was a first-year resident in the emergency department, when I took my 1-year-old son who cut his hand (there)," Tompkins said. "Suturing my boy's hands, he did it very skillfully and was able to keep him calm."
When he started his career at UCLA more than 50 years ago, Fonkalsrud was the only pediatric surgeon on staff, Tompkins said.
"It was a one-man division, but he ran it very effectively," Tompkins said. "It was when UCLA hospital was a four-story building."
Chandler said Fonkalsrud remained involved in the lives of his patients, sometimes years after their surgeries. He connected patients who had undergone similar procedures so they could help each other adapt to new lifestyles.
"Now people do it online, but 30 years ago hardly anybody was doing such a thing (as connecting patients), but he had the insight to, and provided the place where patients can help each other and regain a normal life," Chandler said.
Eric Fonkalsrud Jr., Fonkalsrud's son, said one of his father's patients visited his father's house when the patient's health was declining so that he could thank him one last time.
The patient talked about how the surgery Fonkalsrud gave him changed his life. He went from being unable to perform basic daily tasks to becoming a successful pilot, which was his childhood dream, Fonkalsrud Jr. said.
Tompkins said his favorite memory of Fonkalsrud were his dinner parties, where surgical residents were invited to meet visiting pediatric scholars from around the world.
Although Fonkalsrud had many commitments at work, he never failed to balance his time between work and family and always tried to be home for dinner, even if it meant returning to work afterwards, his son said.
"One of my fondest memories with him was canoeing with him down the American River with our Boy Scout troop," Fonkalsrud Jr. said. "He had been a Eagle Scout when he was growing up and really supported his three sons in one of the local Boy Scout troops."
Fonkalsrud Jr. added his father continued to be involved in his life after he grew up.
He said after he finished college, he started swimming and jogging with his father. They enjoyed bonding over workouts and together participated in many triathlon races.
Chandler, who was Fonkalsrud's physician before he passed, said Fonkalsrud never lost his core values of kindness, humility and optimism even in his last days of life.
"When students (came to) visit him with me, he would ask them what they (were) interested in," Chandler said. "He maintained interest in other people even when he was going through the end of his life."
Officials are in the process of gathering funds to establish The Eric W. Fonkalsrud, M.D. Endowed Chair in Pediatric Surgery at UCLA at Fonkalsrud's request.