UCLA students march for science in LA, Washington, D.C.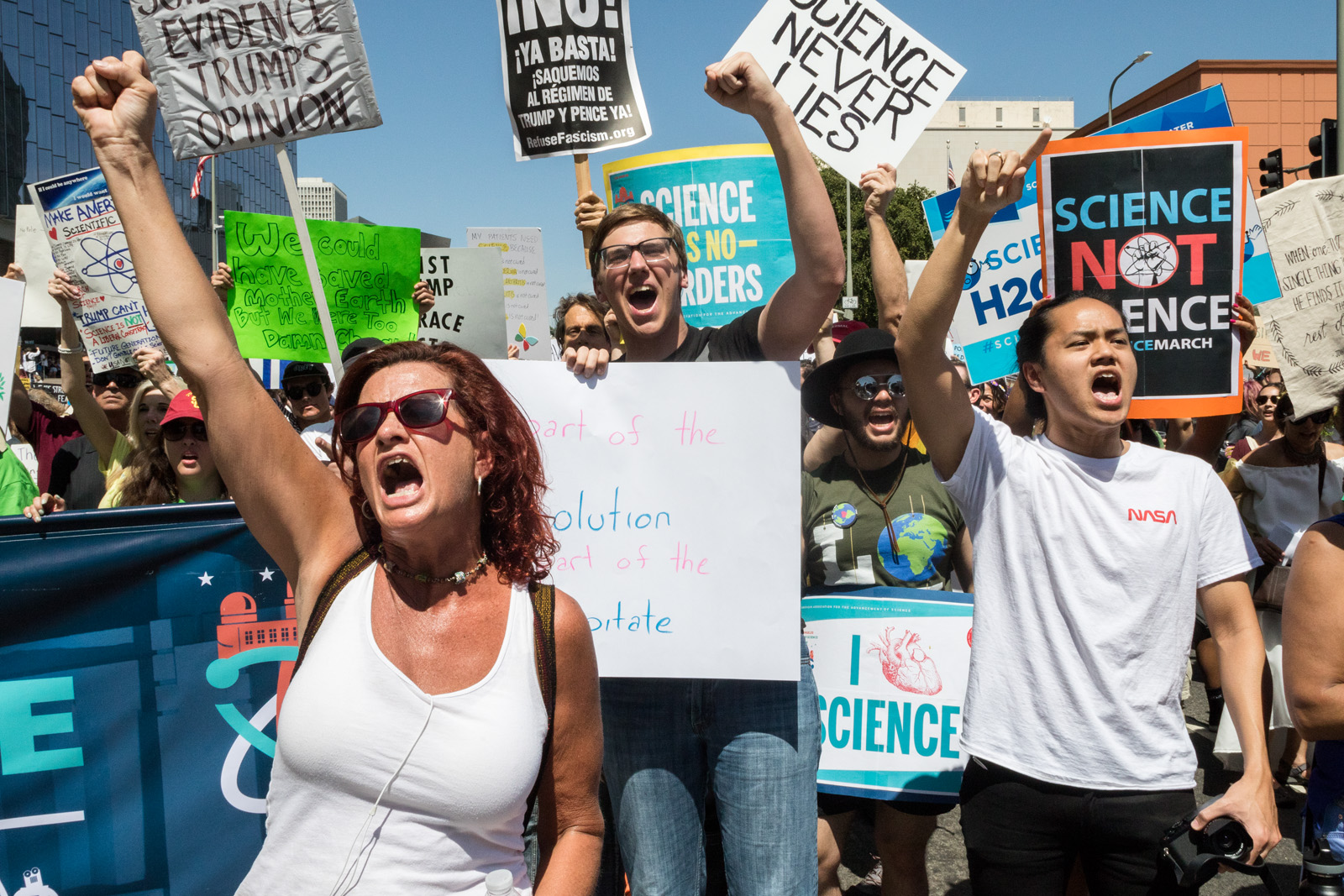 Thousands of scientists from across Southern California took to the streets of downtown Los Angeles to advocate for more science funding and greater communication between scientists and the public. (Ken Shin/Daily Bruin)
April 22, 2017 10:55 p.m.
Thousands of scientists, students and citizens marched in the heat from Pershing Square to Los Angeles City Hall, holding signs with science puns, calls for action and protests against President Donald Trump.
University of California students, including many from UCLA, participated in the March for Science in Los Angeles and Washington, D.C. A UCLA graduate student was one of the organizers for the march in Los Angeles, while other marches were organized across the country.
Among the large crowd of marchers, several people stood in a circle and waved a rounded blue blanket over their heads, making stuffed animals of fish jump up and down from the blanket. Other participants wore green dresses with floral crowns to represent Mother Nature, donned lab coats and imitated Albert Einstein to support science and the environment.
"Here's the deal: You can debate abortion, you can debate gun rights, you can debate crimes, but you can't debate science," said Harsh Gupta, a second-year mathematics and economics student. "Science is not a thing in which your opinion is valid. Science is an entire process that needs to be respected."
Gupta said he attended the march because he aspires to be a scientist.
Inan Chowdhury, undergraduate student government general representative and a fourth-year environmental science student, said he felt lucky his lab received a $60,000 federal grant for research from the United States Environmental Protection Agency during former President Barack Obama's administration.
"A lot of my professors have been working for decades on certain initiatives that have made so much progress, and now all of that is getting defunded or shut down," Chowdhury said. "Ask any environmental science professor."
[Gallery: See images from Saturday's March for Science in Los Angeles]
At Pershing Square, numerous people set up stands and gave out science posters, NASA stickers, magazines, lab pamphlets and published research.
As the march continued to City Hall, people gathered around a podium and a large truck that projected the March for Science logo. Several speakers in Los Angeles, including California Center for Sustainable Communities at UCLA director and Institute of the Environment and Sustainability professor Stephanie Pincetl, discussed several topics pertaining to the state of science.
Pincetl specifically spoke about how crucial it is to stand in solidarity against massive federal cuts in research.
Scientists also took time to discuss their research and network among each other. One researcher set up a marker board to teach linear systems to passing marchers.
In front of the Los Angeles Police Department, a small group of Trump supporters tried to voice their support for the president, chanting "Lying media" and "U.S.A." One man, dressed as Trump, danced in the crowd. The group was separated from the march by police.
Many of the signs and remarks at the March for Science referred to statements made by members of the Trump administration. One sign stated there are no "alternative facts" in science.
UCLA students also attended the March for Science in Washington, D.C., from the National Mall near the White House to the United States Capitol, even as it rained much of the day.
Mauricio Alarcón, a fourth-year history student, said he found it significant to attend the march in Washington.
"D.C. is the center of the country that has the most resource to address the climate change," he said.
Alarcón said he was disappointed by some of Trump's appointments, such as Scott Pruitt, who is the now the head of the Environmental Protection Agency.
"How can he be a climate protector when he denies climate change?" Alarcón asked. "Scientists need to be the one making the policies."
Melissa Myers, a science educator and a fourth-year political science student who attended the Washington, march, said she thinks the Trump administration has not prioritized science education.
"Having someone in the high office who says science isn't important. … That's got to be incredibly damaging to the next generation," Myers said. "Wouldn't we want to educate American scientists if we want to put America first?"
Myers said she hopes the march enables the public to understand the significance of science and science education.
"Changing anti-intellectual attitude is important. … (Otherwise), we may end up with a brain drain," she said.
Nakahara is the assistant news editor for the science and health beat. She was previously a contributor for the science and health beat.
Nakahara is the assistant news editor for the science and health beat. She was previously a contributor for the science and health beat.