Throwback Thursday: The medical benefits of LSD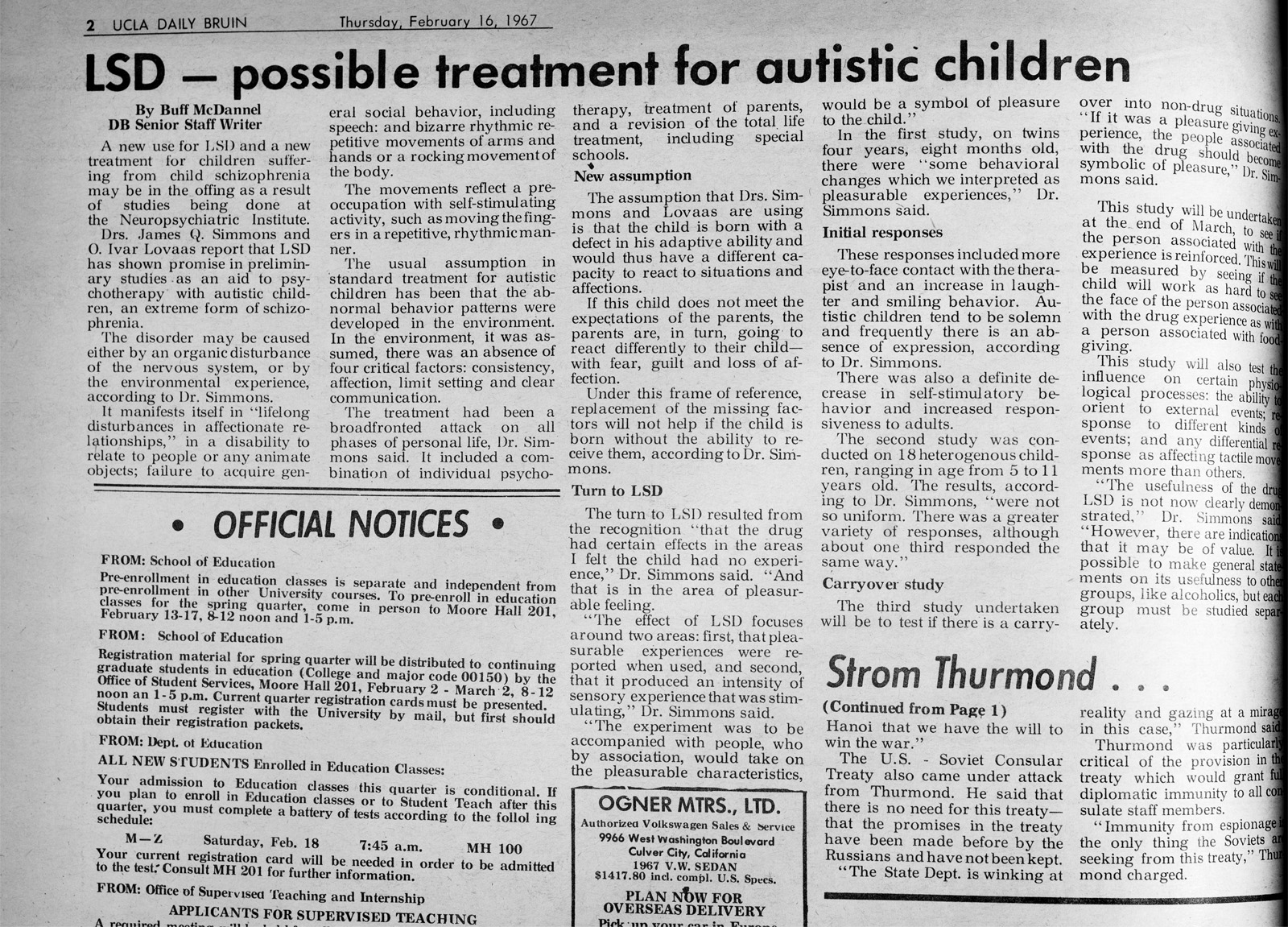 It's April 20, better known as the day everyone smokes a lot of weed. But today, we're going to give attention to a different drug, one that was popular in the 1960s.
A Daily Bruin article from 1967 describes how UCLA's then-Neuropsychiatric Institute found that LSD may offer treatment for children suffering from child schizophrenia, according to the late Drs. James Q. Simmons and O. Ivar Lovaas.
Simmons and Lovaas were pioneers in child psychiatry and treatment in the 1960s, when the field was still relatively new. The two created groundbreaking inpatient evaluation and therapy for children and teens whose mental illnesses warranted hospitalization under their care.
An organic disturbance of the nervous system or environmental experience may cause schizophrenia, Simmons told The Bruin. It is characterized by a disability to relate to people, failure to acquire social behavioral norms and rhythmic, repetitive movements of the limbs.
Remember, at the time, this area of study was in its childhood itself. Simmons and Lovaas took an interest in children on the autism spectrum and performed groundbreaking work, including this experiment with LSD.
See, they had an assumption: "The drug had certain effects in the areas I felt the child had no experience in, and that is in the area of pleasurable feeling," Simmons told The Bruin.
The studies, of which there were three, included twin 4-year old participants and a few other children ages 5 through 11 years old. Simmons characterized as them solemn and lacking facial expression, but this changed during the experiment to include more "eye-to-face contact with the therapist and an increase in laughter and smiling behavior."
In the first two studies, the drug was paired with a person "who, by association, would take on the pleasurable characteristics (of the drug)."
This throwback article only described results of the preliminary studies, but anticipated a third carryover study in which only the person associated with the drug would be presented to the child absent of LSD. This would test if the results were reinforced and measured by seeing if the child works as hard to maintain the "eye-to-face" contact.
Simmons explained to The Bruin that the drug's "usefulness" was not clear, "However, there [were] indications that it may be of value. It is possible to make general statements on its usefulness to other groups, like alcoholics, but each group must be studied separately."
This was definitely an interesting – and timely – attempt at finding innovative benefits of drug treatment. While it had some positive outcomes, there is no cure for schizophrenia to date, though there are viable treatment options available.
Jasmine Aquino was an assistant Opinion editor in the 2016-2017 year. Previously, she was an Opinion and News contributor.
Jasmine Aquino was an assistant Opinion editor in the 2016-2017 year. Previously, she was an Opinion and News contributor.