USAC recap – April 18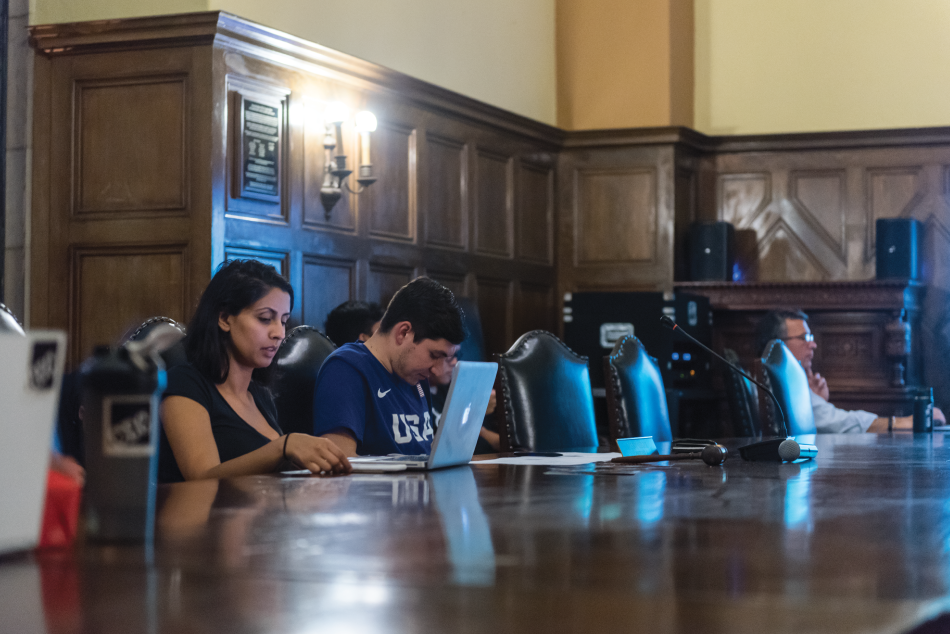 USAC council meetings take place every Tuesday. This week, the council could not vote on any agenda items because only seven out of 13 members attended. (Petek Kuscu/Daily Bruin)
The Undergraduate Students Association Council is the official student government representing the undergraduate student body at UCLA. Council meetings take place every Tuesday at 7 p.m. in Kerckhoff 417 and are open to all students. Watch a livestream of the meetings on the USAC Live! YouTube channel.
Special presentations
The new UCPD police chief, Tony Lee, introduced himself to the council and encouraged students to visit the UCLA police website to learn more about campus safety programs.
Interns from the Community Service Commission presented events they are hosting for Earth Month to promote sustainability on campus.
General Representative 3 Inan Chowdhury and a representative from California Public Interest Research Group presented a resolution on climate change that aims to commit the university to renewable energy.
Directors of the Office of the President presented their winter Appointments Transparency Report, which highlighted committee accomplishments and future plans.
Agenda
The council did not make appointments because there were not enough members to vote. Seven out of 13 members attended.
Danielle Fitzgerald, a representative from the election board, gave a presentation on ballot randomization for 2017.
Council members discussed possibly restructuring officers' room reservation system.
Officer and member reports
USAC President Danny Siegel said he met with officials to promote career engagement with alumni and inclusion of outside student groups, and attended the Academic Senate awards for diversity and inclusion. He added he will sit on the newly established UCPD advisory council.
External Vice President Rafi Sands said his office lobbied for a range of bills in Sacramento. On Wednesday his office will host a Guns in our Community panel to discuss gun violence prevention. He added his office will host another trip to Washington, D.C., during week seven.
Academic Affairs Commissioner Ashly Mohankumar said her office has held events for Fight for Education Week. Her office will also hold a Brewin' Networking Night Thursday and a Diversity Symposium to promote diversity inclusion Friday. She added her office released a survey about undergraduate teaching assistants to improve undergraduate education.
Campus Events Commissioner Jordan Dang said his office is screening three movies and working with the Cultural Affairs Commission to co-host a student film festival.
General Representative 2 Ruchit Majmudar said his office co-programmed with the Student Wellness Commission to hold a beach cleanup on Tuesday, and will host a resume workshop.
General Representative 3 Inan Chowdhury said his office is hosting a sustainability event next week similar to last quarter's Totes Sustainable event. His office is also working with the Academic Affairs Commissioner to bus students to the March for Science Los Angeles on Saturday. On Wednesday, his office will co-host an event with the Comedy Club for students with no improv experience to perform.
Community Service Commissioner Zack Dameron said his office is hosting multiple events this month for Earth Month. His office is also hosting events for Homeless Awareness Week next week. He proposed a bylaw for next week's council meeting.
Fund allocations
The council could not vote to allocate funds because they did not have enough members present to meet quorum. The council decided to approve funds by consent and retroactively approve the funds at next week's council meeting.
The President authorized retroactive approval of the Contingency Programming Fund and Capital Contingency Fund.
The council approved by consent allocations to the EVP Bruin Defenders.
The council approved by consent an allocation of $1,000 discretionary funding for ballot randomization.