Editorial: UCLA should use Luskin Conference Center for hotel management program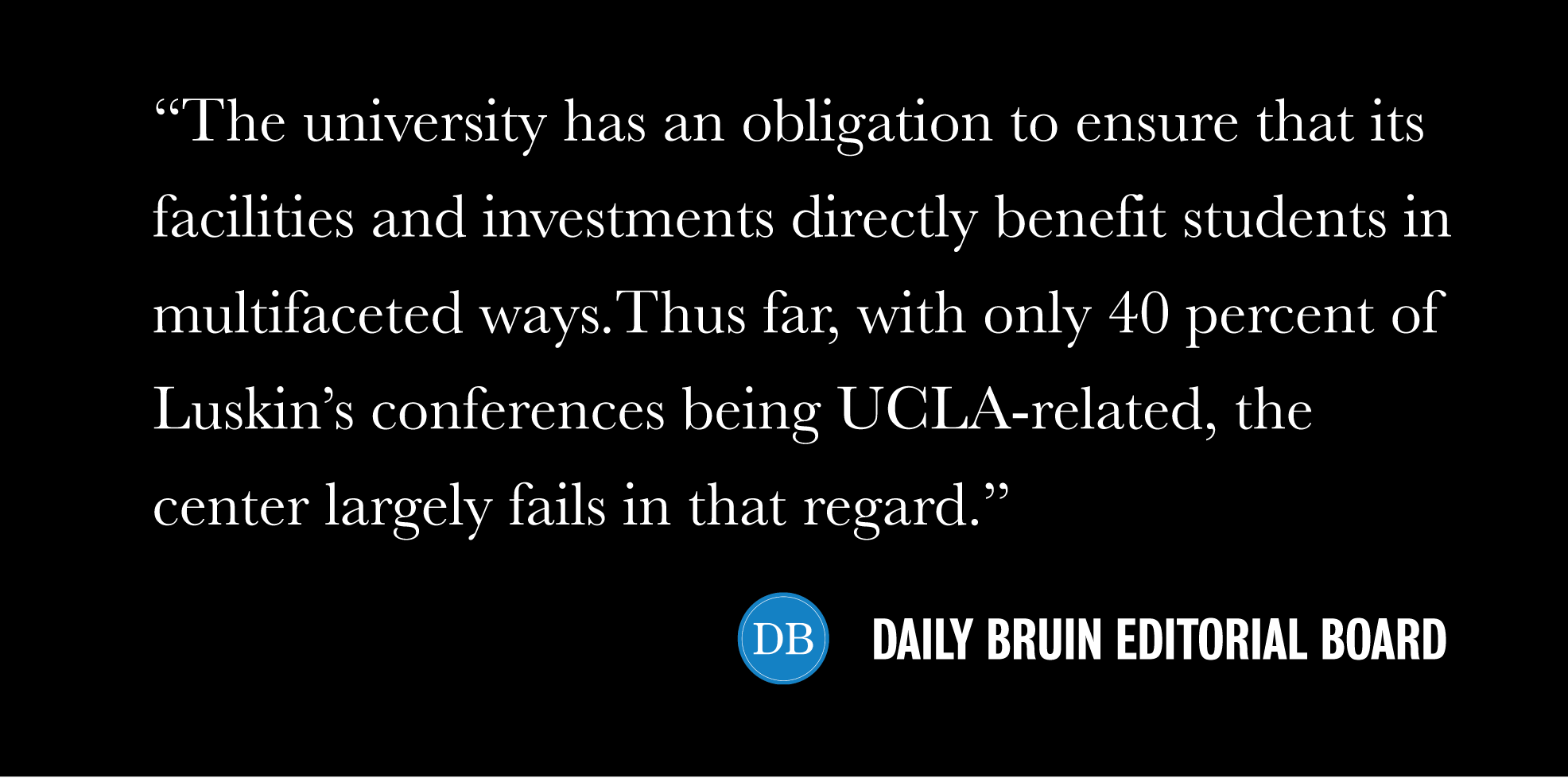 The opening of the Meyer and Renee Luskin Conference Center came with a proclamation from Chancellor Gene Block: The center would "serve our Bruin Community with distinction." Nine months and $3.7 million in losses later, the promised benefits for students are almost nonexistent.
This is the center's first year in operation, so the monetary losses aren't surprising. But they are troubling, especially considering the occupancy numbers for the past fiscal year revealed that barely any of the bookings for rooms came from students.
If UCLA really wants to serve the entire Bruin community, it should implement a hotel management program at the undergraduate or graduate level that would use Luskin's existing facilities to provide a formal academic program for students interested in hospitality or hotel services as a career.
Students would get hands-on experience learning to run a multimillion-dollar facility that hosts marquee events and accommodates hundreds of guests daily. Furthermore, UCLA's location in a city with a bustling tourism industry would allow many students to take their skills into lucrative job opportunities.
Hotel management courses are not common at the undergraduate level, but they do exist in several prestigious universities across the nation, providing practical skills for students interested in careers in real estate, entrepreneurship and customer service.
For example, Cornell University provides undergraduate and graduate programs in hotel administration, giving students specialized business skills in hospitality management. A full-scale hotel in the center of the Ithaca, New York, campus serves as a training ground for hundreds of students from Cornell's School of Hotel Administration.
Granted, UCLA did not borrow $112 million and build the conference center simply to train students in hotel management. Its primary purpose, of course, is to host conferences and provide lodgings for guests.
However, the university has an obligation to ensure that its facilities and investments directly benefit students in multifaceted ways. Thus far, with only 40 percent of Luskin's conferences being UCLA-related, the center largely fails in that regard.
In order to make this hotel management program a reality, the conference center could partner with existing departments and schools, like the Anderson School of Management and School of Law, to create an interdisciplinary curriculum. The program could imitate other interdisciplinary majors on campus like the entrepreneurship minor, giving students interested in property management a chance to explore those pursuits.
In addition, given its current financial losses, a hotel management program could help make up for the center's financial difficulties by making UCLA stand out with its program offerings and helping improve its rankings, thus incentivizing more people to book rooms and events there.
The Luskin Conference Center has so far had a mixed record on its ability to attract customers. Therefore, by adding an academic purpose to its mission and providing courses in hotel management, the center could more closely align itself with what an elite public university is meant to do: Educate students.