Students able to hang out on campus with hammock, blanket rentals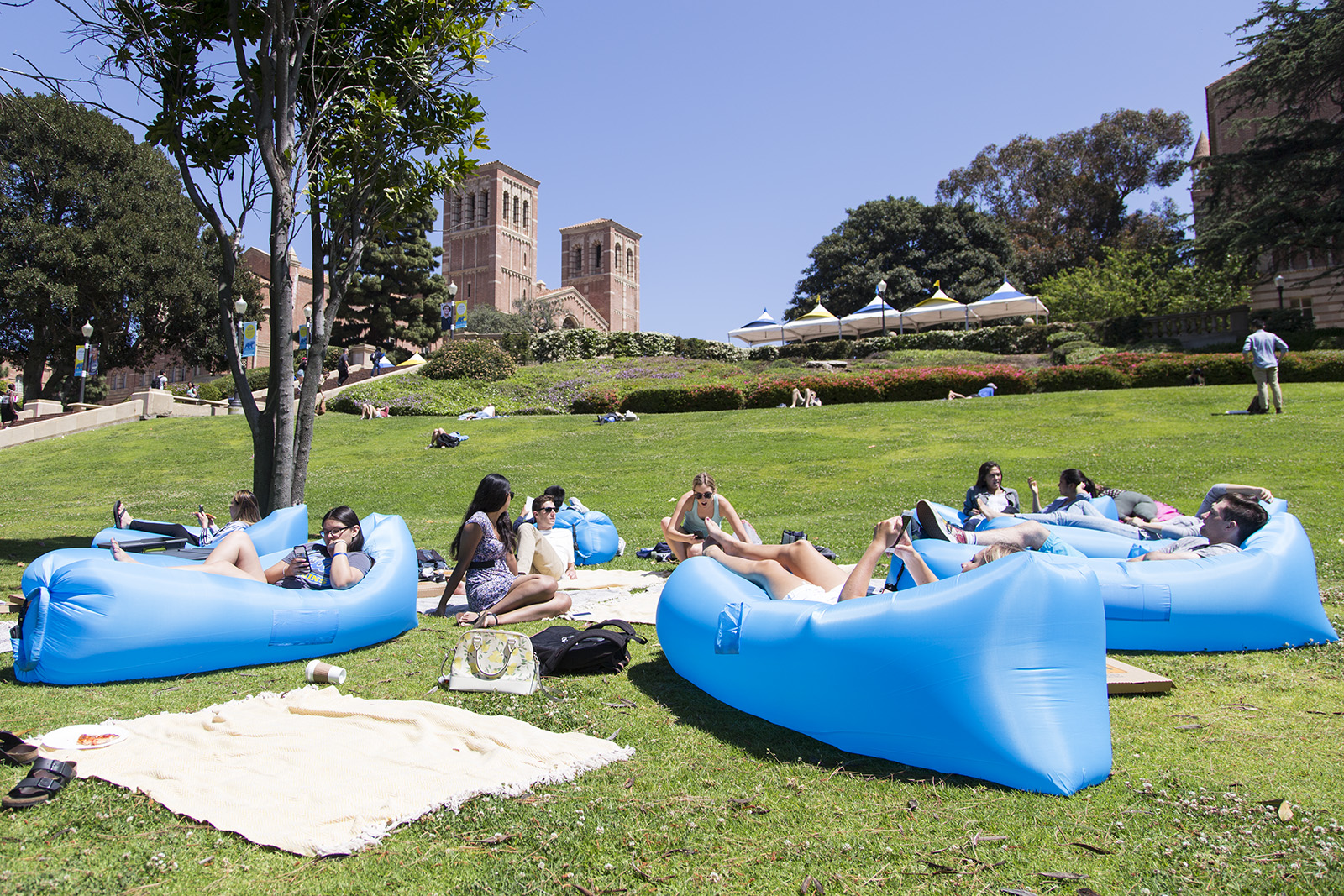 Undergraduate student government leaders provided free hammocks and lawn blankets for students to try out at an event Wednesday afternoon. (Alyssa Dorn/Daily Bruin staff)
April 13, 2017 12:04 a.m.
Students can now borrow inflatable hammocks and lawn blankets for free on campus.
The equipment is available to rent at the Ackerman Student Union A-Level for a maximum of three hours, said Zoe Borden, the Undergraduate Students Association Council general representative who created the service. Students can give their BruinCards to an employee in exchange for the supplies until they are returned.
On Wednesday, Borden held a kick-off event to get students acquainted with the new rental program. The event, called "UCLA and Chill," took place from noon to 5 p.m. next to Janss Steps and provided students with 20 hammocks and 11 blankets to try out. Borden said 215 students attended the event.
When Borden ran for office last spring, she promised to provide a BruinCard-based rental system for sports equipment, such as Frisbees and hammocks, under her platform "Make Campus Chill Again."
The services thus far have cost $726, and funding came from the Student Wellness Programming Fund, Contingency Programming Fund and Student Government Operational Fund, she said.
"I noticed that there weren't opportunities for students to enjoy our campus," she added. "Being able to be outside between classes is important for student mental health and well-being."
She said she hopes the new rental system will help promote a sense of community.
"I often think that there are factions on this campus," Borden said. "Student groups tend to stay within their own communities so we wanted to make sure students were able to come together in a way that was fun and wasn't centered around a political motivation."
Some students who attended the event said the new service is convenient.
Deborah Orret, a first-year cognitive science student who attended the event, said she lives on the Hill and likes having the option of being able to rent equipment instead of having to carry it back and forth.
"It's a really good idea because a lot of the time the grass is wet," Orret added.
Joseph Phillips, a first-year pre-international development studies student, said he has an inflatable hammock in his dorm but likes having the option to rent one on campus.
"It's a nice way to spend the gap between classes," Phillips said.
Paul Lim, a fourth-year neuroscience student, said he thinks the program is a good use of funds as long as students utilize and are aware of the service.
"The weather is really nice right now, and for this quarter it's important for student health to be outside," said Camille Chan, a second-year anthropology student.
Lucy Jiayuan, a first-year pre-human biology and society student, said she has always wanted an inflatable hammock.
"It's good because sometimes I don't know what to do because I have an awkward gap between classes and I don't know if I should go back to the Hill, but now this is probably where I'll live," Jiayuan said.
Borden said her office hopes to expand the service to the Sunset Canyon Recreation Center and add more equipment that promotes outdoor activities, such as yoga mats and Frisbees. She added that her office has also been working with Jessica Alexander, the division manager of student government services, to ensure the undergraduate student government can carry out this service after Borden's term ends.