GSA President Michael Skiles to continue plans after running unopposed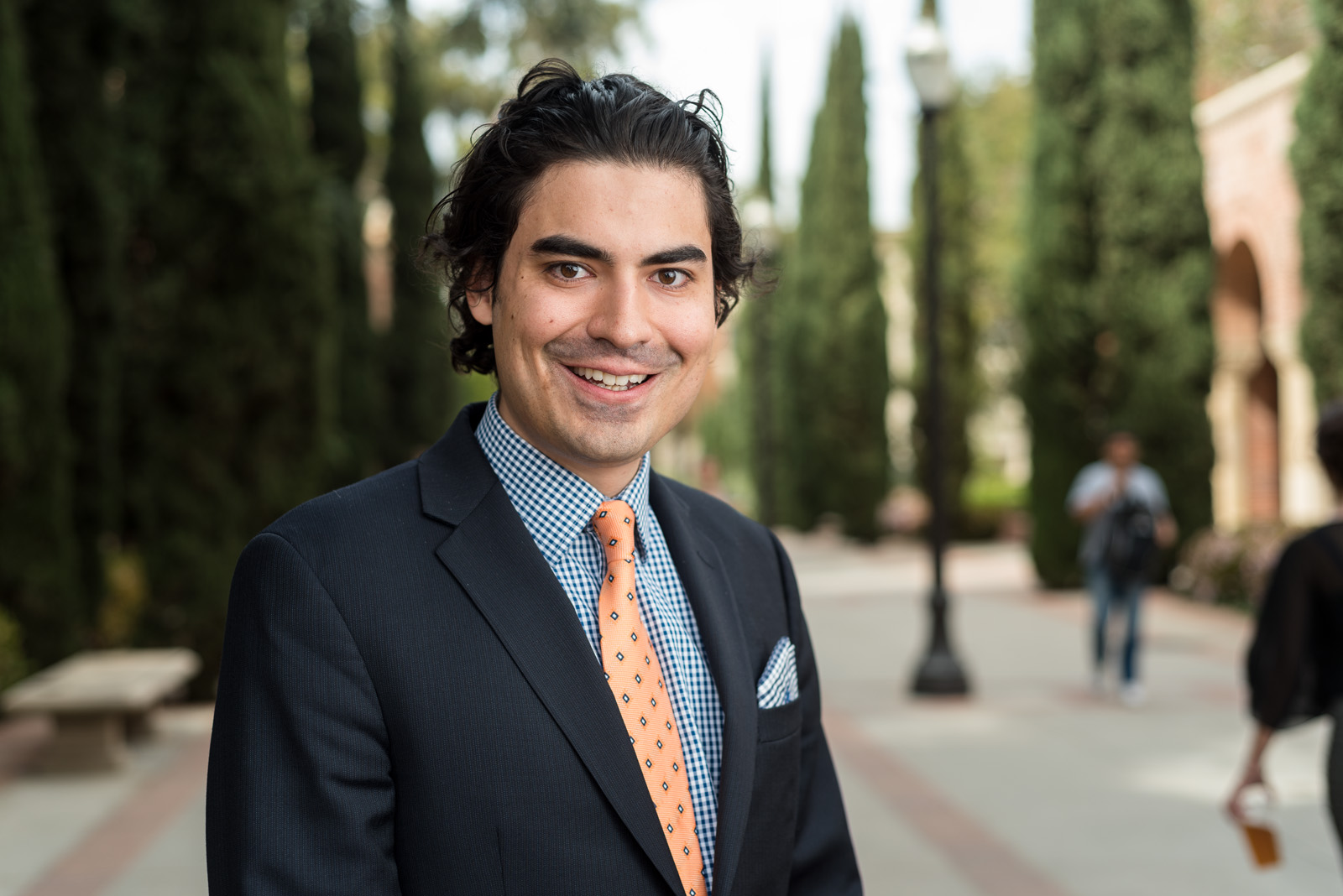 GSA President Michael Skiles, who will run again unopposed, said he hopes to tackle recurring issues next year, such as working for more affordable graduate student housing. (Jintak Han/Assistant Photo editor)
The graduate student government president will run again, unopposed, in the upcoming student elections to finish the work that he started this past year, he said.
In the past year, Graduate Students Association President Michael Skiles has increased GSA's effort to connect with students, though some students remain unengaged in graduate student politics. Skiles also completed several of his platforms, including helping secure a new location for the Kinross Recreation Center, organizing more social events and expanding GSA involvement at the University of California level. However, he did not have any campaigns to increase mental health resources.
Skiles, a fifth-year graduate student in philosophy, said he will continue his work on making graduate student housing accessible and affordable and increasing research funding through his next term.
"A lot of initial efforts of this year focused on getting things up and running," Skiles said. "Next year, I will focus on seeing what results this wonderful, functioning council can bring to students."
To achieve his goals of advocacy and graduate student involvement, Skiles said his cabinet will need to increase representation at neighborhood and city council meetings, as well as create and support an increased number of graduate student interest organizations. Specifically, Skiles said he would like to add groups to the GSA Student Interest Board.
Skiles said his cabinet's most significant action was helping ensure a new graduate student gym would replace the recently closed KREC. This year's GSA also worked to give graduate students access to LA Fitness passes until the new gym's projected opening this summer.
The current cabinet also organized bimonthly social events, provided 30 new parking spaces to graduate students and collaborated with undergraduate student leaders on a student van service.
He said his goal for next year is to build the outreach network of GSA, and to do so by increased community involvement.
Graduate students have historically been uninvolved in campus politics, with many of the past elections exhibiting uncontested candidates and low voter turnout. This year's GSA election also has zero contested candidates.
[Editorial: Engagement in student government is critical for graduate student body]
Skiles said decided he to run for GSA president last year after seeing the void in graduate student connectedness on campus. Some of his fellow cabinet members said Skiles work has been a step in the right direction to achieving real change for students.
Ioan Istrate, current GSA vice president of internal affairs, said he thinks GSA's momentum will continue throughout the next year, but he would like the student body to increase its engagement in campus politics.
"A lot of our time (this past year) was spent trying to improve the prior situation, and now that we've managed to do it, Michael can take on bigger projects," Istrate said.
Some graduate students said they have noticed the increased efforts of GSA to connect with the student body, but others said they think more could be done to assist and inform students.
Derek Wong, a first-year masters student at the Anderson School of Management, said he thinks graduate departments at UCLA feel very insular, and GSA could do more to bridge that gap.
"There is not a lot of interaction across the different programs," he said. "Maybe the GSA could compile a newsletter that encompasses all the different missions and projects from each graduate department, so that students are more informed."
Daeun Jung, a second-year masters student in dance, said she is relatively unaware of the GSA or Skiles' specific projects and platforms and that graduate students need more assistance accessing university resources.
"I think graduate students need a voice on resources we can use and where to find them on campus," she said. "Maybe (the GSA) could provide a contact number that you could always reach out to for information and answers to these questions."
Shirley Ceja, a second-year masters student at the Anderson School of Management, said she is not aware of who Skiles is, but thinks GSA is doing a good job sending emails to graduate students, especially about upcoming social events.
Skiles said he thinks the fact that he is running unopposed for re-election is affirmation that GSA's work this year has been well-received by graduate students.
"I've actually talked to many graduate students who said they wanted to run, but when I said I was running again they were happy to hear that I would be continuing on with the work of the past year," Skiles said.
Graduate students can vote from April 11 to 17, and results will be announced at the April 19th GSA forum meeting.