Dance Marathon speakers to discuss experiences with, research for AIDS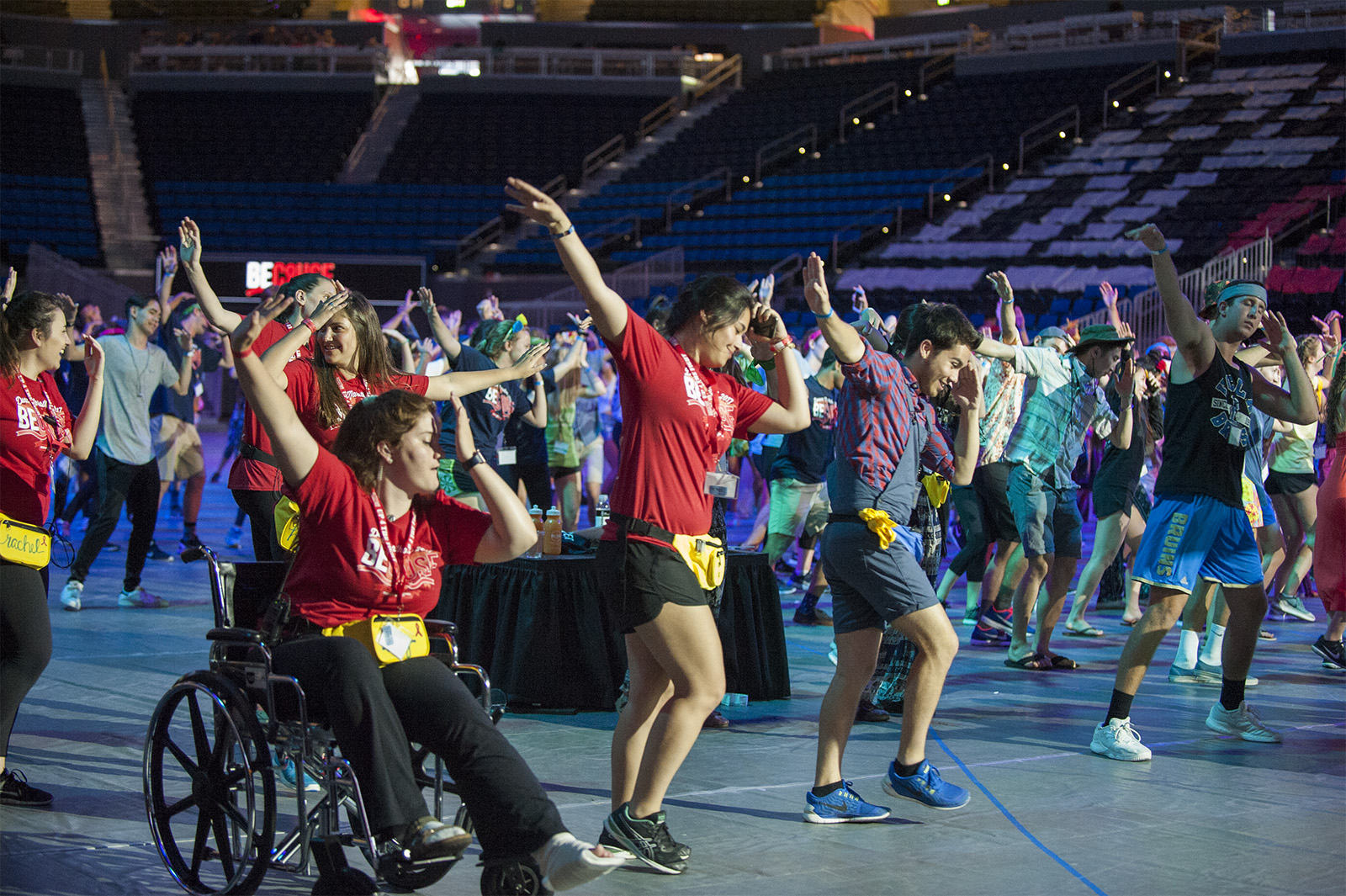 Dancers at the event follow the movements of onstage performers following a speech delivered by Ashley Rose Murphy, an ambassador for the Elizabeth Glaser Pediatric AIDS Foundation. (Angelina Ruiz/Daily Bruin)
Correction: The original version of this article incorrectly stated four ambassadors for the Elizabeth Glaser Pediatric AIDS Foundation attended and Ben Banks underwent treatment to ensure his child would be cancer-free. In fact, three ambassadors attended and Banks' treatment was to ensure his child would be born without HIV.
The first speaker at this year's Dance Marathon was infected with HIV at birth and adopted as an infant, even though she wasn't expected to live for more than a few months.
Ashley Rose Murphy, an ambassador for the Elizabeth Glaser Pediatric AIDS Foundation, shared her story of growing up with HIV with the crowd. She spoke about the discrimination she faced as a child, which included being uninvited from birthday parties and being banned from playing with her neighbor's children when she shared her status.
Murphy attributed her health and happiness to the support of her parents, who adopted her despite her circumstances.
Murphy was the first of many speakers who will take the stage at Dance Marathon before the event ends Sunday.
"One of the goals of having speakers is to go beyond the facts and hear the personal stories behind them, and be able to connect with people on that level," said Claire Fieldman, a member of the Pediatric AIDS Coalition's public relations committee and second-year English student.
Two other Elizabeth Glaser Pediatric AIDS Foundation ambassadors will speak at Dance Marathon, as well as a pediatric physician and members of Camp Kindle, a summer camp and advocacy program for children living with HIV and AIDS, Fieldman added.
"The kids will have a chance to stand on stage during the vigil (at 3:30 a.m.) and tell their story," said Ryan Eason, the Pediatric AIDS Coalition's director of cause. "It's an opportunity for them to be open with their stories … and some of them are as young as 6 or 7 years old."
Grace Aldrovandi, the chief of the Division of Pediatric Infectious Diseases at UCLA, will speak Saturday evening about funding and research for HIV and AIDS. Aldrovandi was part of a consortium in 2014 that was awarded $21 million by the National Institute of Allergy and Infectious Diseases to advance prevention and treatment of HIV for children, adolescents and pregnant or postpartum women.
Ben Banks, also an Elizabeth Glaser Pediatric AIDS Foundation ambassador who will speak at the marathon, received a blood transfusion during cancer treatment as a child that infected him with HIV. Banks succeeded in becoming cancer-free, getting married, and undergoing treatments that ensured that his child would be born without HIV.
Matthew LaChance, who will be one of Dance Marathon's last speakers Sunday morning, is the main liaison between UCLA and the Elizabeth Glaser Pediatric AIDS Foundation, said Carolyn Francis, president of the Pediatric AIDS Foundation. LaChance helped UCLA launch its very first Dance Marathon in 2002.
Hearing the speakers at last year's Dance Marathon inspired Fieldman to join the Pediatric Aids Foundation this year.
"It's heartbreaking the stigma people as young as 10 or 12 have to face because of people misunderstanding HIV and AIDS," Fieldman said. "Hearing people speak is incredibly powerful."