UCLA study shows LGBTQ youth more likely to face violence in custody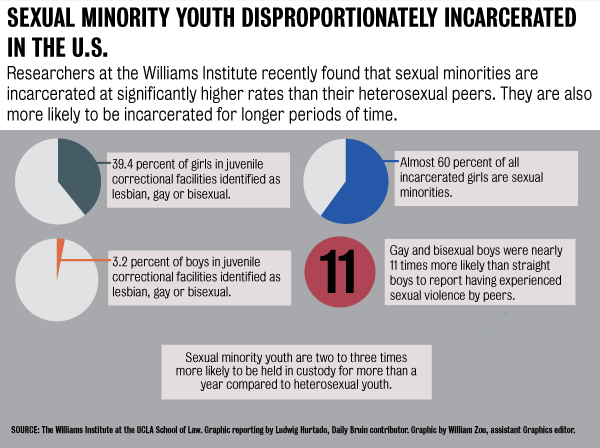 A UCLA report found nonheterosexual youth in criminal detention are victims of violence more often than heterosexual youth.
The study, published in January, found that nonheterosexual youth are disproportionately incarcerated and are more likely to experience sexual violence and other forms of abuse while incarcerated.
Researchers at the Williams Institute at the UCLA School of Law, which studies law and public policy regarding sexual orientation and gender identity, analyzed responses to the 2012 National Survey of Youth in Custody-2. The NSYC is one of multiple data collection efforts mandated by the Prison Rape Elimination Act of 2003.
The study focuses on sexual orientation, not gender identity, because researchers were not able to identify all transgender youth.
Compared to heterosexual youth, gay, lesbian and bisexual youth are two to three times more likely to spend more than a year in custody. The paper also noted that a majority of incarcerated girls under 18 are not heterosexual.
Researchers also found that gay, lesbian and bisexual youth are more likely to encounter sexualized violence and administrative punishment while incarcerated. Nonheterosexual boys are nearly 11 times more likely than straight boys to report incidences of sexual victimization while in custody.
"The findings support calls by policymakers and advocates for the need to pay attention to the unique needs of LGBT youth in state systems," said Bianca Wilson, the study's lead author, in a press release.