Women's basketball coach, key players hope to lengthen NCAA run next year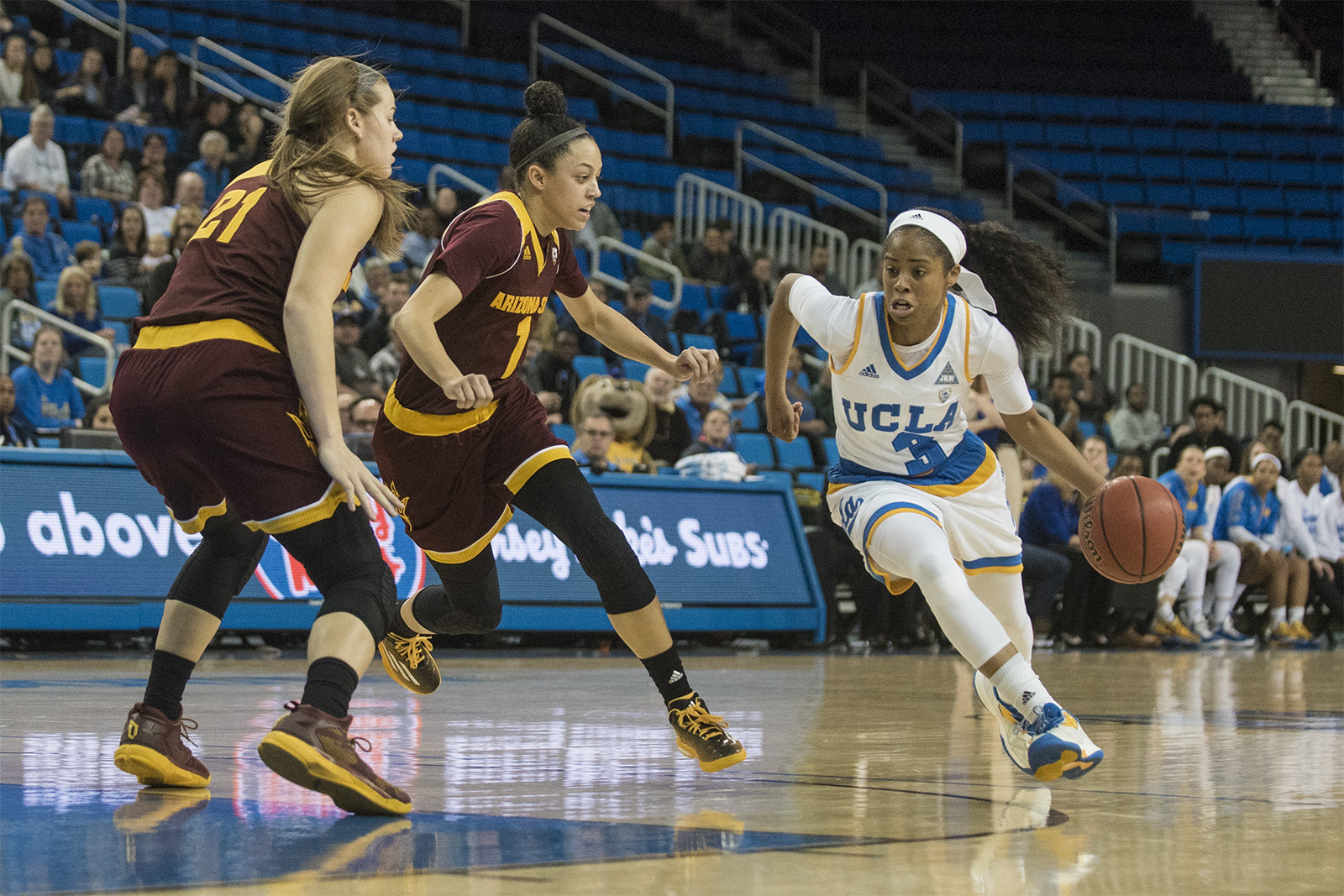 (Kriste Hoang/Daily Bruin)
BRIDGEPORT, Conn. — University of Connecticut coach Geno Auriemma made a point of talking to Jordin Canada after the Huskies' 86-71 win over the Bruins on Saturday.
He congratulated Canada on a great career and wished her luck at the next level.
Canada, though, hasn't finished her time at UCLA and isn't going anywhere immediately. The guard is only a junior, unbeknownst to Auriemma at the time.
"I just went with it: I told him 'Thank you,'" said Canada, amid laughter.
Auriemma, when asked about the incident, said that players who become starters as freshmen, like Canada, always feel older than they actually are.
At the same time, he said the sentiment about her career was unchanged.
"I've watched the majority of their games, and not many people have been able to guard her," Auriemma said. "I just wanted to let her know that. Her career has been great."
Three years earlier, Canada turned down an offer from UConn to stay in Los Angeles. She and junior forward Monique Billings were two of the five members that comprised that year's top-ranked recruiting class for UCLA.
The team struggled for most of that first year, but managed to come together to win the Women's National Invitation Tournament. They rode that momentum into the next season, going 14-4 in conference play and making the Sweet 16 for the first time since 1999.
Canada entered this season as an all-conference player with two years of leading the offense under her belt.
Still, when injuries forced UCLA to redshirt freshman forward Ally Rosenblum, freshamn guard Lindsey Corsaro and junior forward Lajahna Drummer, Canada was asked to do even more.
She responded to the call, leading the team in points, assists, steals, and 3-point percentage, while also making the conference All-Defense team.
Canada helped lead the team through a few midseason slumps to get back to the Sweet 16 and put up a fight against the Huskies. Her improvement over the years has been noticed across the country.
"We played them (early in the season) two years ago and we didn't have to guard her that much," Auriemma said. "Now, she controls the entire game for them. She not only gets the ball to players, she gets in the lane and she causes problem. You have to build your whole defense around how to guard her."
Coach Cori Close had tears in her eyes when talking about Canada.
"This little kid from LA here said that she wanted to stay home, and build a program, and take a risk, and do something special," Close said. "Even though we fell short that's exactly what she's done."
Canada isn't the only player from the 2014 recruiting class who helped the Bruins reach their second straight Sweet 16. Billings, who now dunks in practice on occasion, has become an all-conference player. Guard Kelli Hayes is considered one of the best defenders on the team, and Drummer will come off of her redshirt year and help UCLA with defense and rebounding, where it has struggled against teams like Baylor and UConn, by whom it was outrebounded by 13 and 8 respectively.
Close believes the team is almost ready to complete with the country's dominant programs.
UCLA was defeated by 36 points by UConn in 2014, but have since taken a then-No. 3 Notre Dame team to overtime and played close games against Baylor and South Carolina, both ranked No. 2 at the time.
"I really believe we've been knocking on the door of the nation's elite on a consistent basis, but we haven't thrown the door down," Close said. "That's what you gotta do. You have to want it so bad, that you're not knocking on the door, you're just throwing it open and busting to the next level."
Luckily for her, Canada and the class of 2014 still have a year of basketball left to play. None of them are seniors.
Based on the way they play, it's easy to see why that would be a matter of confusion.
MacDonald joined the Bruin as a sophomore in 2015 and contributed until he graduated in 2018. He spent time on the women's basketball, women's soccer and rowing beats.
MacDonald joined the Bruin as a sophomore in 2015 and contributed until he graduated in 2018. He spent time on the women's basketball, women's soccer and rowing beats.