Women's basketball ends NCAA Tournament run with loss to No. 1 UConn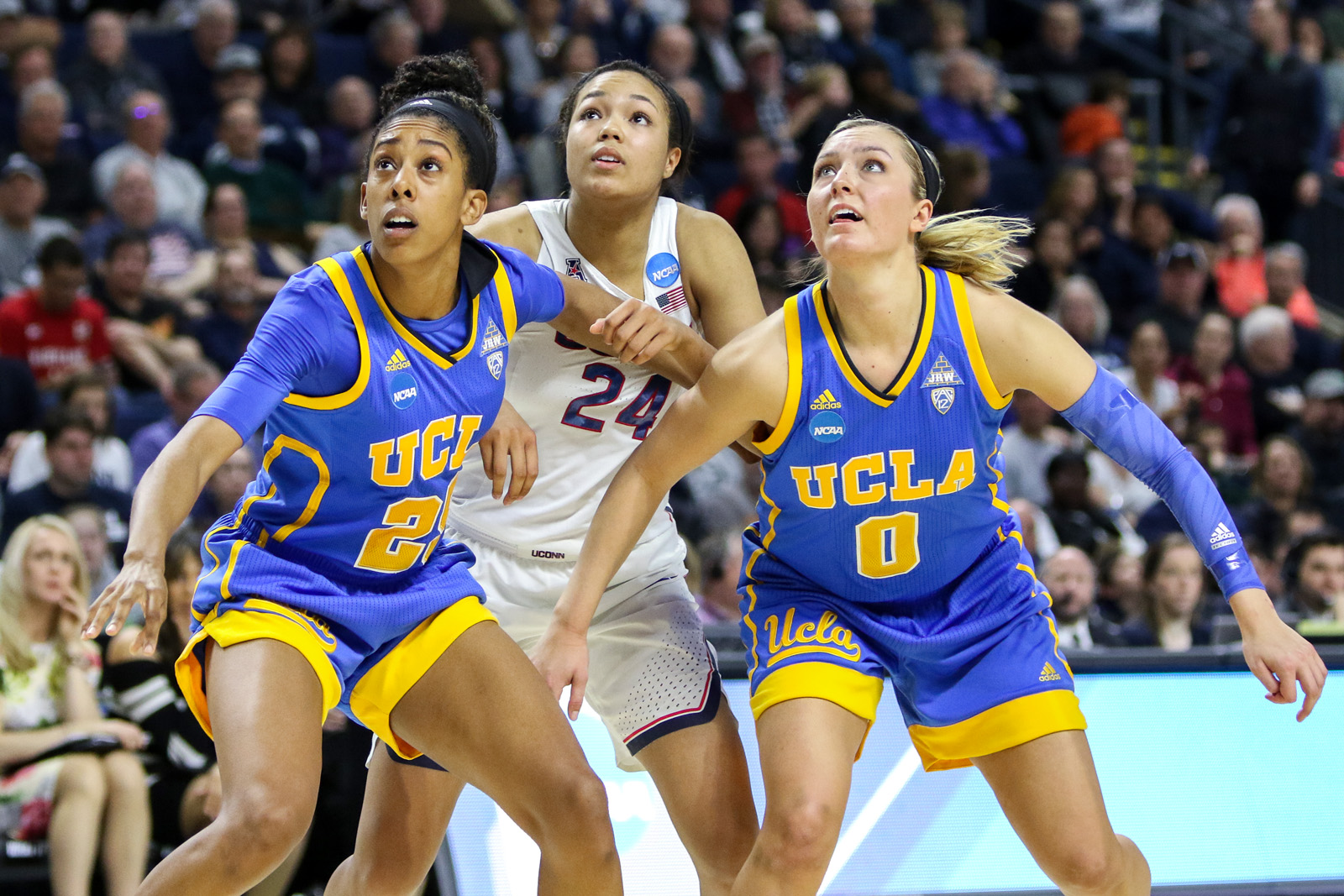 UCLA had the early lead, but ultimately fell 86-71 to UConn, the four-time defending NCAA champions, in the Sweet 16. Junior forward Monique Billings had 17 points and 16 boards for the Bruins. (Jackson Haigis/The Daily Campus)
BRIDGEPORT, Conn. – Women's college basketball is a different world in Connecticut.
During the No. 4-seeded Bruins' (25-9, 13-5 Pac-12) 86-71 loss to the No. 1 overall seed UConn Huskies (35-0, 16-0 American Athletic Conference) in the Sweet 16, the team didn't want the atmosphere and situation to affect them.
Regardless of UConn's four consecutive national titles or its 109-game winning streak that would be extended to 110, UCLA wanted to play the same. It didn't want to be intimidated.
"I thought we were prepared," said coach Cori Close. "I thought we believed in what we were doing."
[Related: Coach Cori Close studies basketball at every court she steps on]
Despite the size disadvantage at every position and the fact that the stadium was packed with people, the Bruins came out like they usually do.
Junior guard Jordin Canada scored a crafty layup around the basket. Redshirt senior Kari Korver hit a 3.
Less than three minutes into the game, the Bruins were up 9-2. Maybe this would be just another game of basketball.
But it wasn't.
Uconn immediately went on a 35-9 run with forwards Gabby Williams and Napheesa Collier dominating the boards, combining for 44 points and 23 rebounds in the game.
"We had some mental lapses in the second quarter," Canada said. "That's when they got on their run. For a second we looked defeated, and that's when they capitalize on their opportunities to score in transition and get offensive rebounds."
It wasn't the first first mental lapse the Bruins had this season, but the Huskies are a uniquely talented team, different than any team UCLA had seen before.
There is nothing normal about UConn's guard Katie Lou Samuelson being able to dribble like a point guard, shoot like a 3-point specialist and still be as tall as any player on UCLA.
She helped orchestrate that run and finished with 15 points and six rebounds. After every play she made the crowd would synchronously sing out her name: "Lou".
It sounded like they were booing, but they weren't. The fans had no reason to.
Canada played like the crowd didn't affect her. She was undaunted by the Huskies size, skill or reputation. She continued to drive to the rim, sometimes using sheer acrobatics to get the ball to the rim.
Junior forward Monique Billings had the same aggressive mentality.
"I couldn't be any more proud of their fight," Close said. "On the court in the second half, I thought they fought their guts out."
The team refused to be embarrassed, like so many of UConn's opponents have been, even cutting the deficit to 12 points in the fourth quarter.
Canada and Billings would end the game with 20 and 17 points, respectively.
"(The Bruins) are hard to play against," said UConn coach Geno Auriemma. "Even when we were up 20, it wasn't like being up 20 against someone else where you knew it was going to go from 20 to 30. I never had that feeling. It was a grind for our guys."
Ultimately, the Bruins' road ended in Connecticut, where basketball is played differently.
The UConn women's basketball team is treated like a professional one. The team plays half of its home games on its campus, the other half in the state's capital of Hartford.
There is a sense that the team belongs to more than just the school. A local man said that he thought if Auriemma ran for governor, he'd win.
There is a reason that UConn has won 110 straight games. The culture that it has created is distinctly its own.
Still, the Huskies' historic dominance does not make things any easier on those 110 teams.
"I just love these women," Close said, pointing to her team. "I don't want it to end."
MacDonald joined the Bruin as a sophomore in 2015 and contributed until he graduated in 2018. He spent time on the women's basketball, women's soccer and rowing beats.
MacDonald joined the Bruin as a sophomore in 2015 and contributed until he graduated in 2018. He spent time on the women's basketball, women's soccer and rowing beats.