Injuries prevent football standouts from participating in Pro Day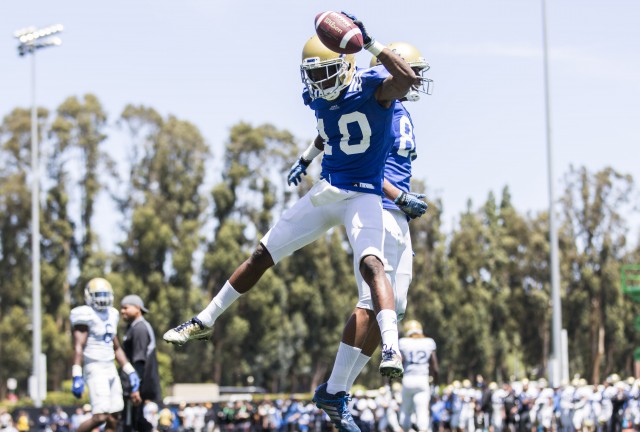 Wide receiver Kenneth Walker III improved his draft stock at UCLA's Pro Day Tuesday afternoon. Walker consistently caught the ball during receiving drills and ran the 40-yard dash in 4.26 seconds. (Jintak Han/Daily Bruin)
Neither of UCLA's potential first-round picks performed on-field drills at the Bruins' Pro Day Tuesday.
Defensive end Takkarist McKinley walked around with a sling on his right arm, still recovering from a March 6 shoulder surgery, and cornerback Fabian Moreau injured his chest during bench-press testing early in the day.
McKinley said he is on track to return to the field in about four months, and coach Jim Mora said he did not think Moreau's injury was serious, though it was still being evaluated.
"Anything that happened to him, I believe, is minor and nothing to worry about," Mora said of Moreau. "His numbers were good enough at the (NFL) Combine that for him to come out here and work out today isn't that important."
Moreau was one of the most impressive performers at the Combine in early March, running a 4.35-second 40-yard dash to vault himself into first-round consideration. He finished in the top-10 among cornerbacks in the 40-yard dash, the vertical jump, the broad jump and the three-cone shuttle.
"It's fun to see people start to recognize what a good player Fabian is," Mora said. "I've gotten a ton of calls about Fabian – I think at the Combine, he really opened some eyes. All the measurables were there, and teams are looking for cover corners, and he can do that. He can line up and play bump-and-run and cover."
Since the Combine, Moreau has been projected by many mock drafts as a late first-round pick. NFL.com's Bucky Brooks slotted him as the 26th pick in a mock draft released Monday.
McKinley, whose surgery was to repair a torn labrum he said he unknowingly played with for the past two seasons, has been considered a first-round pick for longer. A 10-sack performance in his first year operating as an edge rusher has garnered McKinley interest from teams in need of a player to get after the quarterback.
"Takk, with all the success he's had here, really just kind of started playing that position," Mora said. "So he's still got great upside."
McKinley underwent the surgery the day after the NFL Combine, at which he ran a 4.59-second 40-yard dash, and said it has not caused teams to worry about drafting him.
"Their biggest thing was, 'What is the plan, how is it treated?'" McKinley said. "Once they figured out what the plan was, at the end of the day they're worried about what I do on the field."
It helps, Mora said, that McKinley has been able to bolster his draft stock simply by meeting with teams while he's sidelined.
"What happens with a guy like Takk … is they get to know his personality, what drives him, and how motivated he is," Mora said. "Football's very important to Takk. He's passionate about the game and he's passionate about improving as a player in every way."
McKinley said he has several individual visits scheduled with teams, starting with the Cleveland Browns on April 2.
He didn't want to get surgery on his shoulder, he said, but his agent instructed him that it was the necessary option.
"I missed the Senior Bowl, I wanted to play in that. I missed Pro Day, I wanted to participate in that," McKinley said. "But at the end of the day it's about getting healthy. Your body is your money, your body is your future. Eventually it had to get fixed."
Other notes
Wide receiver Kenneth Walker III might have done the most to improve his chances of getting drafted Tuesday, running the 40-yard dash in 4.26 seconds, performing 19 bench-press reps of 225 pounds and looking smooth in receiving drills.
Linebacker Jayon Brown, already projected as a mid-round pick, also helped himself, running the 40-yard dash in 4.58 seconds and performing 20 bench-press reps of 225 pounds, both improvements on his numbers from the Combine.
Brown measured at 6 feet and 228 pounds, which some teams will consider undersized for an NFL linebacker position. But Mora said that in talking to pro evaluators, he's compared Brown to former Pro-Bowler Sam Mills, whom he coached in New Orleans.
"A guy that they thought was too small but he got it done because he was smart, instinctive, worked at it, studied the game," Mora said. "Jayon's got a lot of those qualities. I think Jayon has the ability to go in right away and be an impact special teams player, and then probably grow into a nickel role and then hopefully into a starter role."
Defensive tackle Eddie Vanderdoes weighed in at 302 pounds Tuesday, much slimmer than he was during the season. The weight loss has helped him improve his quickness, Mora said. He ran a 4.99-second 40-yard dash at the Combine, and NFL teams are still interested in the lineman after a so-so senior season.
"You're going to go a little bit on potential with Eddie – he didn't have the type of senior year that probably he would have wanted to have," Mora said. "(But) he ran really well at the Combine, he's moving athletically. … I think Eddie's going to be an outstanding NFL player because he has initial quickness, he has power, he plays with leverage."
Mora also pointed out that Vanderdoes' potential to play either nose tackle or three-technique could make him a more valuable addition for NFL teams in search of positional versatility along the defensive line.
Even for players who weren't invited to the Combine, UCLA's Pro Day was not their only chance to impress NFL scouts, Mora said. Defensive back Randall Goforth recently went through an individual workout with the Tennessee Titans and many other players will go through individual workouts with teams over the next three weeks.
Cummings joined the Bruin as a freshman in 2014 and contributed until he graduated in 2018. He was an assistant Sports editor for the 2015-2016 academic year and spent time on the football, men's basketball, baseball, cross country, women's volleyball and men's tennis beats.
Cummings joined the Bruin as a freshman in 2014 and contributed until he graduated in 2018. He was an assistant Sports editor for the 2015-2016 academic year and spent time on the football, men's basketball, baseball, cross country, women's volleyball and men's tennis beats.