UCLA implements new procedures, systems to improve campus safety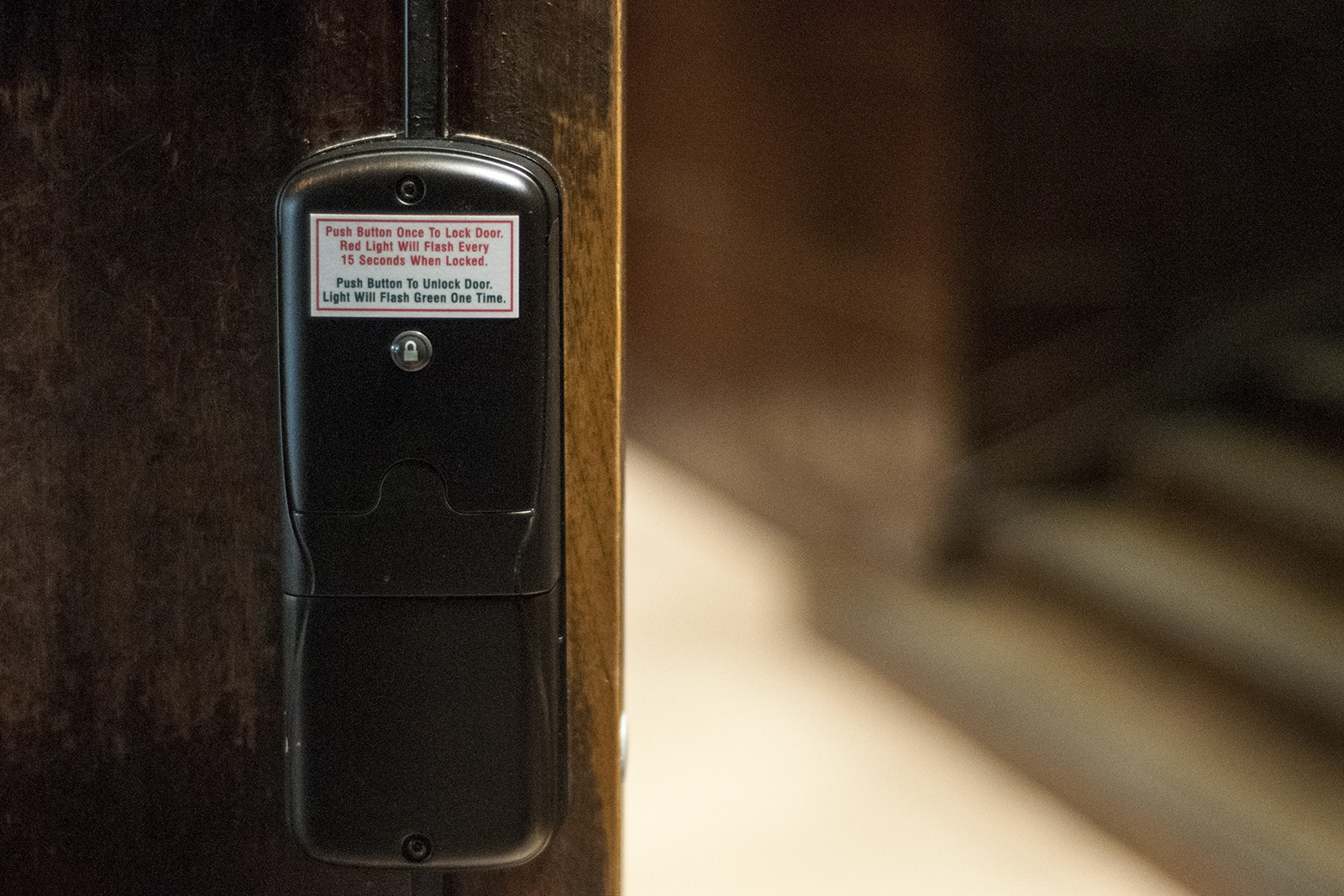 Electronic emergency locks have been installed inside 192 general assignment classrooms on campus since January. When pressed, the button with a lock icon flashes red to indicate the room is inaccessible from the outside. (Michael Zshornack/Assistant Photo editor)
March 20, 2017 12:46 a.m.
UCLA has implemented new campus safety initiatives since the murder-suicide in June, including trainings with updated protocol for active shooter incidents and an improved Bruin Alert system.
However, these trainings are not mandatory, and some students feel information about active shooter safety protocol isn't circulating as widely as it should be.
In the summer, UCLA officials created a Campus Safety Task Force to develop recommendations for campus safety improvement. The changes were prompted by the murder-suicide in Engineering IV, in which a former student fatally shot professor William Klug.
The event triggered confusion throughout campus. According to the task force's report, some students complained that professors continued teaching despite alerts, while others said Bruin Alert messages were not reaching everyone.
The Office of Emergency Management held a student preparedness training that included a section on active shooters Jan. 24.
"Most often people wait for an incident to occur to express interest in emergency preparedness," said Lorraine Schneider, an emergency management training specialist at OEM. "We are working on reaching more students via hands-on workshops, (Community Emergency Response Team) training and activities such as our upcoming 'Beat the Quake' escape room."
But Ruperta DeSimon, a third-year biology student, said she hasn't seen many training opportunities available for students who want to learn how to respond in the event of an active shooter.
"We've been trained for earthquakes since we were young, so it's second nature to get under a table," DeSimon said. "But nobody really talks about (shootings)."
Stephen Yeazell, chair of the Campus Safety Task Force, said OEM has also updated faculty trainings with active shooter protocol. About 50 people attended the first session Jan. 25.
Schneider added OEM staff have trained more than 400 staff and faculty over the past three months, with most people interested in receiving their 90-minute "Emergency, Crisis & Disaster Management Preparedness" training.
[Related: Under the gun: Preparing for an active shooter situation at UCLA]
"Preparedness takes the longest time to get right," said Yeazell, a professor emeritus of law. "You can't train someone once; you have to circle back. But faculty members, as a group, recognize that (being trained) could actually save your life."
Robin Derby, an associate professor of history, said her department organized one training before the incident and one after. Neither meeting was mandatory, and some faculty skipped the first.
"People I know never thought this could happen, so why bother?" Derby said. "After the incident, there was much more interest … it felt more relevant."
Neil Garg, a professor of chemistry and biochemistry, also said OEM trainings, to his knowledge, have not been mandatory.
Garg said OEM emailed all faculty Tuesday instructing them how to use recently installed electronic emergency locks. As of January, they have been installed in 192 general assignment classrooms such as Moore 100 and La Kretz 110.
A button on the lock flashes red when pressed to indicate the door is inaccessible from the outside; when pressed again, the button turns green.
Some students said they were unaware of the new door locks. DeSimon and Eddie Munguia, a second-year psychology student, said they weren't told how to operate the locks, or even that they had been installed.
Schneider said there has been a greater focus on on-campus student trainings since the shooting. She said the UCLA Office of Residential Life and the On-Campus Housing Council meet with representatives of the police department and the Community Safety Officer program every two weeks to develop safety programs and brainstorm ways to make them more inviting to students.
Previously, the Los Angeles Fire Department arranged and hosted trainings for on-campus groups at a location of LAFD's convenience. LAFD emergency preparedness trainings now take place on campus throughout the week and on weekends. Schneider said all student organizations, including fraternities and sororities, can request customized emergency training workshops.
OEM has also implemented other measures for campus improvement, said Director Art Kirkland. For example, Bruin Alert – the campus' emergency notification system – added the capability for two-way communication since the murder-suicide last year. Students can now click on embedded links within the alert to confirm receipt of the message, or share their status during an emergency.
In addition, users can respond to Bruin Alerts with a "1" for "I'm safe" or a "2" for "I'm not safe" during emergencies. If someone sends "2," OEM can communicate with that individual to gauge location, situation and course of action.
Kirkland added that Bruin Alert now allows subscription of multiple emails and phone numbers to the system, which would allow parents and significant others to receive updates in an emergency situation.
Additionally, OEM designed an application, called Bruins Safe, to assist students, faculty and staff campuswide with emergency protocol and community awareness, he said. OEM plans to formally reveal the app at the beginning of spring quarter.
The app includes additional features for everyday safety: a tab for calling campus escorts and a tab that lets people track their friends' GPS location as they walk. It will also alert students if their friend has disconnected.
OEM is also making changes to campus infrastructure, Kirkland said, including an outdoor siren and speaker system for emergency poles, and digital signs for classrooms that will display Bruin Alert messages in an emergency.
They expect 90 percent of all classrooms to receive the digital signs by the start of fall quarter.